Londoners, take note: Fulham is posh. Sutton is alive. Whitechapel is Satanic. And Lambeth is Britain's angriest borough.
At least that's according to a light-hearted experiment by the Londonist.
Editor Matt Brown said: "Just for a giggle, we typed in the names of London areas into Google search, to see what the autocomplete function would spit out.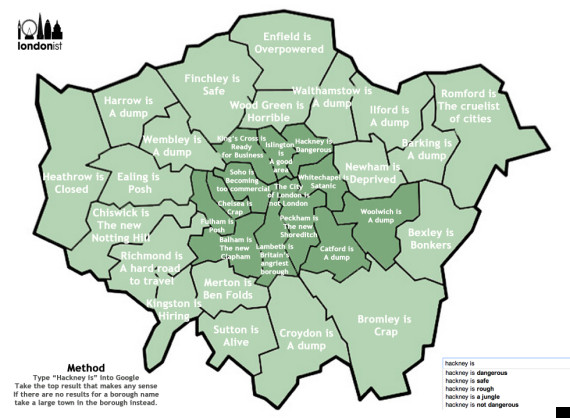 The Londonist's Google Autocorrect map of Britain's capital city
"The results are intriguing, if also somewhat meaningless."
While there were some spurious suggestions – such as Enfield relating to an Enfield Rifle rather than the borough and Richmond's 'A hard road to travel' reference to an American Civil War Song, there may well be a kernel of truth in some of the findings.
After all, it could well be argued that Soho is "becoming too commercial" and Balham is often cited as "the new Clapham".
SEE ALSO:
However denizens of Bromley would be within their rights to take umbrage to the "crap" label.
A 2012 report by Experian Property Check found the borough to be the best location for families with young children and also scored highly for the quality of shops, health facilities and schools.
What do you think?