Paolo di Canio, the new Sunderland manager, has issued a statement declaring he does not support "the ideology of fascism".
The Italian's appointment has sparked controversy on Wearside, with a number of supporters vowing to boycott the club, feeling "sickened and ashamed" by Di Canio's political beliefs.
While at Lazio, Di Canio declared "I'm not a racist, I'm a fascist" and made fascist gestures to Lazio's far-right supporters.
At his press conference on Tuesday he said the fascist accusations were "ridiculous and pathetic", before today's statement clarifying his stance. Di Canio poses outside Sunderland's Academy of Light
"I have clearly stated that I do not wish to speak about matters other than football, however, I have been deeply hurt by the attacks on the football club," Di Canio said.
"This is a historic, proud and ethical club and to read and hear some of the vicious and personal accusations is painful. I am an honest man, my values and principles come from my family and my upbringing.
"I feel that I should not have to continually justify myself to people who do not understand this, however I will say one thing only - I am not the man that some people like to portray.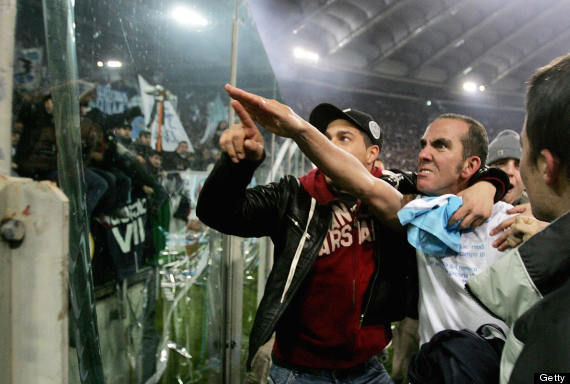 Di Canio makes his infamous salute in 2005
"I am not political, I do not affiliate myself to any organisation, I am not a racist and I do not support the ideology of fascism. I respect everyone.
"I am a football man and this and my family are my focus. Now I will speak only of football."
Di Canio bears the DVX tattoo on his shoulder - the Latin appellation for the former National Fascist Party leader Benito Mussolini - and former foreign secretary David Miliband resigned from the club as vice-chairman and non-executive director - citing Di Canio's "past political statements" as the reason.
On the website of supporters' magazine A Love Supreme fan Rob Johnson wrote: "Words can hardly express how sickened and ashamed I am by the appointment of Paulo Di Canio as our new manager.
"Lest we forget, during World War II 267 people were killed and over 1000 wounded in Sunderland by Nazi bombers."
Richard Parker added: "For the first time in nearly 40 years, I find myself questioning whether I can continue to support our great club in the way I have done over the years.
"I am sickened by our appointment of Paolo Di Canio."