When tweeting a link to a news story about the serious policy issues of the day, it is probably best to check you are not directing your followers to pornography instead, especially if you are a Conservative MP.
Reading East MP Rob Wilson was left red faced on Wednesday after he tweeted a link to the SexyDigg 'ultimate adult site' rather than a Guido Fawkes story about work and pensions secretary Iain Duncan Smith.
"I see Guido has a piece about the #BBC's interview with IDS. A formal complaint to Lord Hall. Deserved in this case," Wilson said.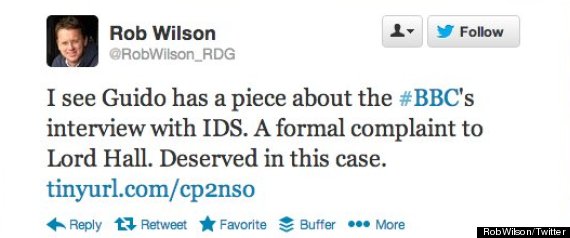 Unfortunately for Wilson, the shortened URL did not link to what he had presumably intended it to and the tweet was swiftly deleted.
LIKE HUFFPOST UK POLITICS ON FACEBOOK | FOLLOW US ON TWITTER
The MP's office explained away the error as a "mess-up with the tinyurl creator".
HuffPost UK understands Wilson, who is PPS to health secretary Jeremy Hunt, had been sent the incorrect link by Conservative Campaign Headquarters (CCHQ) and he copied it into a tweet trusting it was correct.