George Osborne has been engulfed in a PR disaster after his car was caught parked in a disabled parking space.
On Friday morning the Daily Mirror published a photo of the chancellor's car parked in a disabled parking bay.
ITV News reports that the car was parked by the chancellor's driver on Wednesday while Osborne bought some lunch from a motorway service station on the M4.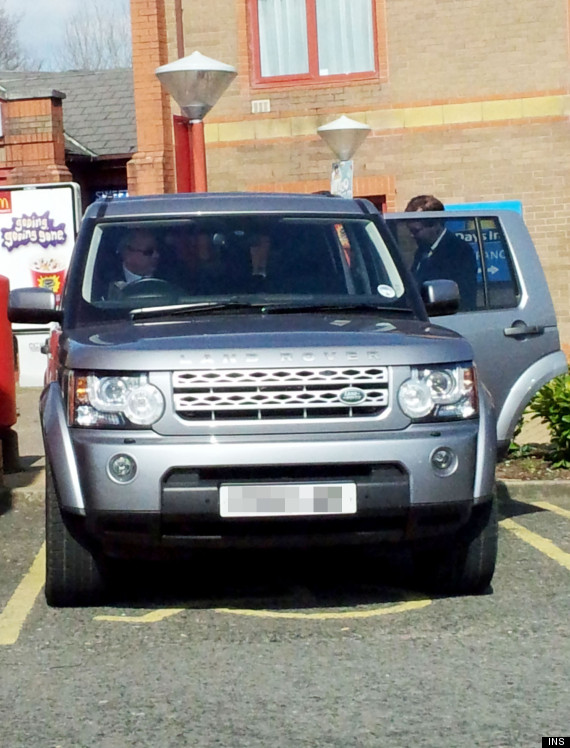 George Osborne's car parked in a disabled bay in a service station near New Port, Wales
Treasury sources told the broadcaster that Osborne did not realise his car was illegally parked when he returned to the vehicle and that "George does not condone this in any way".
The Press Association reports that the chancellor's protection officers reversed into the space while he bought a McDonalds lunch.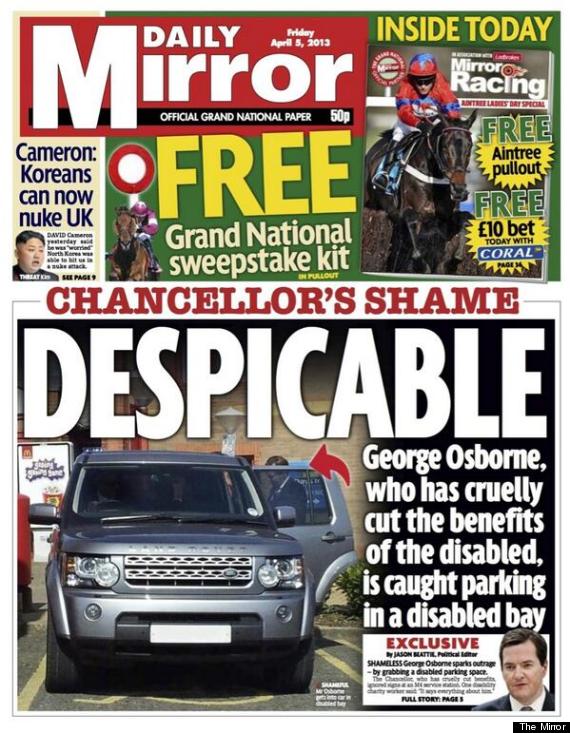 The damning front page
The timing of the tabloid's front page splash could not be worse for Osborne, who has spent the week fiercely defending the coalition's cuts to welfare, including disability benefits, which came into force on Monday.
Richard Hawkes, chief executive of the disability charity Scope, told the Mirror that the incident "shows how wildly out of touch the Chancellor is with disabled people in the UK".
He said: "They will see this as rubbing salt in their wounds.
LIKE HUFFPOST UK POLITICS ON FACEBOOK | FOLLOW US ON TWITTER
"Many are already struggling to make ends meet, yet the Chancellor's response has been to cut vital financial support and squeeze local care budgets."
Mr Hawkes added: "This picture tells you everything about George Osborne's toxic attitude to benefits.
MPs have rushed to capitalise on Osborne's mis-step, with Shadow minister for Wales tweeting that maybe the Chancellor thought he had "feudal rights" in Magor, where the incident allegedly took place.
Osborne was in Cardiff to meet parents and hear their views on his recent budget, which plans to subsidise childcare costs.
The plans have come under attack from some mothers who feel their choice to stay at home and look after their children has been undermined. George Osborne was meeting with parents in Wales
The debate over welfare reform took a controversial turn after it was linked to the case of Mick Philpott. The Derby man, who lived in a council house and claimed thousands of pounds in benefit, was jailed for life after being convicted of killing his six children.
When asked yesterday if the family were a product of Britain's benefit system, Osborne said: "Philpott is responsible for these absolutely horrendous crimes, these are crimes that have shocked the nation. The courts are responsible for sentencing.
"But I think there is a question for government and for society about the welfare state, and the taxpayers who pay for the welfare state, subsidising lifestyles like that. And I think that debate needs to be had."
The chancellor's comments came after the Daily Mail caused controversy by running a story about Philpott with the headline 'Vile Product Of Welfare UK'. Critics accused the paper of manipulating the tragedy to make a political point.
In his high profile speech explaining the coalition's cuts to welfare, Osborne, unfortunately in light of the parking space photo, said "governments of all colours let too many unemployed people get parked on disability benefits".
However the chancellor almost got away with it. One service station worker told the Daily Mirror: "Not many people recognised him as George Obsorne. We thought it was Ed Balls."