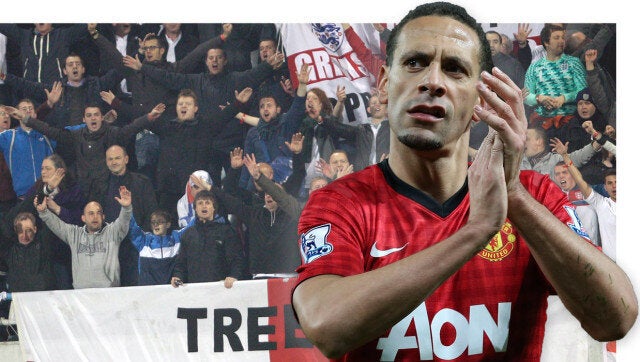 The Football Association has confirmed it has found no evidence of any racist chanting aired by England fans during the national team's World Cup qualifier in San Marino last month.
However the FA say they have not been able to identify any racist chanting but will continue to review footage from the fixture.
"We continue to work hard to ensure that any individual who did chant anything of a racist nature in San Marino is identified and, if proven, appropriate action will be taken," said Adrian Bevington. "Therefore we continue to review our video footage from the fixture. England fans in Podgorica, Montenegro, last month
"Both FARE and members of the media have a duty to report such matters, and we fully support them in their right to do so.
"I want to be clear I am not calling into question the integrity of any journalist who reported what they had heard in good faith. We have to ensure an environment exists where anyone is able to report their concerns to us, be those players, supporters or the media."
Holt claimed England fans chanted, "Builed a bonfire, build a bonfire, put Rio on the top, put Anton in the middle and burn the f*****g lot."
England fans could audibly be heard singing "Rio Ferdinand is a w****r" during the game, in reference to the Manchester United defender's commitment to his "intricate pre-planned programme", as he declined to play for England in San Marino and Montenegro. Ferdinand has not played for England since June 2011
Ferdinand's brother Anton was racially abused by John Terry last season, which led to a four-match ban and £200,000 fine for the former England captain, who retired from international football four days before his punishment was announced.
Chelsea fans last season chanted "Anton Ferdinand, you know what you are" after he reported Terry for racism. A display of support for their club captain, the chants were condemned yet re-emerged near verbatim at the Stadio Olimpico, as England supporters substituted "Anton" for "Rio", fuelling potential racial connotations.
The FA decided the "Rio Ferdinand, we know what you are" chants did not have a racist undertone and England captain Steven Gerrard, perhaps not aware of how vile the Ferdinand brothers chant was, commented that the national team's followers were "entitled to their opinion", having paid "good money".
Popular in the Community