An unemployed man has run up a £91,000 phone bill after repeatedly calling a sex chat line in the wake of his split with his girlfriend.
Kevin Waldrum, who called the £2-a-minute Studio 66 TV chat line every day from 10am to 9pm for two months, says he has been left "suicidal" after receiving the bill from Vodafone.
Waldrum says the phone giant is "crazy" for letting him amass the "ridiculous" amount and that the company should have cut him off.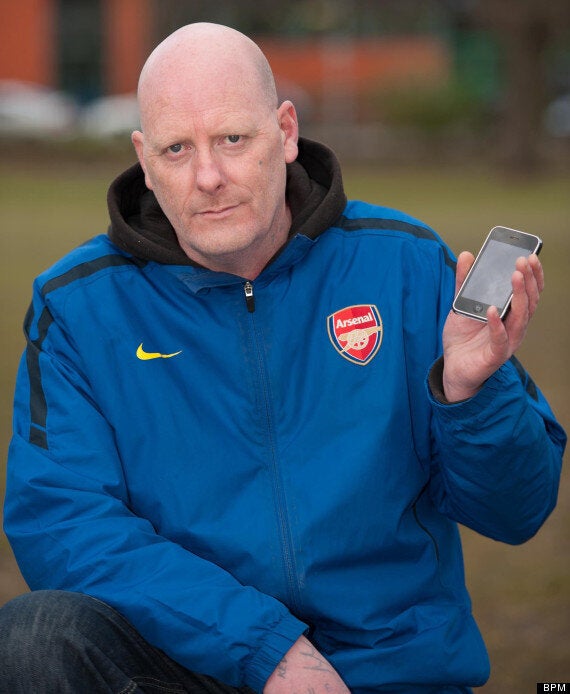 Lonely Kevin Waldrum ran up a £91,000 phone bill with daily calls to a sex chat line
The 45-year-old, of Loughborough, Leicestershire, became hooked as the girls told him they sympathised with his heartache.
One named Hannah informed him she too was experiencing problems with her boyfriend, leading Waldrum to believe the pair were forming a special bond.
Such was his conviction of their bond, he continued to call the chat line even after a £19,333.63 bill arrived.
It wasn't until he opened another bill for a staggering £71,850.67 that Waldrum realised that he had to take action and complained to Vodafone.
Following an investigation, the phone company has cut his bill to £29,083. According to a spokesman, Waldrum had already been barred from one mobile phone for the charges, but he had ordered a replacement SIM in order to continue calling the premium line.
The spokesman admitted Vodafone had missed an opportunity to alert Waldrum to the higher costs at an earlier stage.
However, Waldrum has called Vodafone's gesture "rubbish" and says he should not be held liable for the enormous bill at all. Waldrum says he feels physically sick whenever he sees a Vodafone shop
He claims to suffer with suicidal thoughts, depression, anxiety and panic attacks and has to take a mixture of sleeping tablets and anxiety medication to get through each day.
He said: "They should drop the whole lot. They have to think about my health. This is not about money anymore, it is about respecting people."
Revealing the chat line girls nicknamed him "Loughborough Kev" because he called them so much, Waldrum has admitted his first bill of nearly £20,000 didn't put him off.
"I was back calling them pretty much right away," the former security guard said.
"They used to warn you when a call was coming to the end of the 20 minutes you were allowed, and then I'd just phone straight back.
"I lost two stone in weight through the stress of having to pay such a huge bill though."
"Vodafone need shutting down because they're ripping people off left, right and centre.
"I'm not putting all the blame on them but not even multi-millionaires would want to spend this much on a phone bill, surely, so why I have been allowed to go up to £91,000.
"I admit I rang these numbers and it's partly my own fault but the line should have gone dead before I started to incur such high charges.
"They must be taking millions from poor people like me. It has absolutely screwed my head up.
"I've been totally traumatised by it. I have realised now, I just think 'Why did I ever do that?' I have deep regrets over it now.
"Every time I see a Vodafone shop I start to feel physically sick and get a migraine and it makes me shake.
"I want people to be aware how it can destroy lives. They have ruined my life."
A spokesman for Vodafone said: "By his own admission, Mr Waldrum made calls to premium rate adult entertainment services more or less continuously over a period of two months until we suspended the services on October 21 when the total debt was £91,000.
"We had previously barred a phone used by Mr Waldrum on September 11 for high usage but he got round this by requesting a replacement SIM card from a retail store, saying he had lost the original.
"He was then able to continue to build up debt. We cannot manage our customers' spending for them, but we will try to alert them to it if we are aware of an unusual high spending pattern.
"Looking back at the records, we can see that we could have alerted Mr Waldrum on September 18.
"It can sometimes take several days for billing to register on our system, and by this time, his extreme use of premium rate services meant his bill was already £29,083.
"Since we missed the opportunity to alert him at this stage, we will waive the charges of around £61,000 incurred after this point as a gesture of goodwill. Mr Waldrum remains liable for charges of £29,083."
Studio 66 TV were unavailable for comment.