Richard E Grant paid tribute to his Withnail and I co-star Richard Griffiths by sending a wreath of root vegetables to his funeral - a reference to their roles in the cult comedy.
Stars including Daniel Radcliffe, Michael Palin and Alan Bennett were among 400 mourners at the funeral at the Holy Trinity Church in Stratford-Upon-Avon on Tuesday.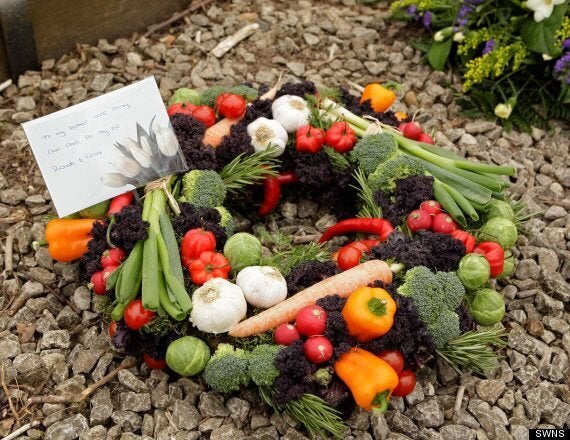 Richard E Grant's wreath paid tribute to Richard Griffith's role in Withnail And I
Grant's wreath included several large carrots - a reference to the scene in the cult film where Griffiths' eccentric Uncle Monty tells the two main characters of his love of root vegetables, insisting: "I think the carrot infinitely more fascinating than the geranium. The carrot has mystery. Flowers are essentially tarts. Prostitutes for the bees. There is a certain je ne sais quoi - oh, so very special - about a firm, young carrot."
Dame Judi Dench sent a more traditional floral tribute - a single rose.
Downton Abbey star Penelope Wilton read from Edward Lear's The Owl and the Pussycat and his three sons also spoke at the service in the church where William Shakespeare was baptised and buried.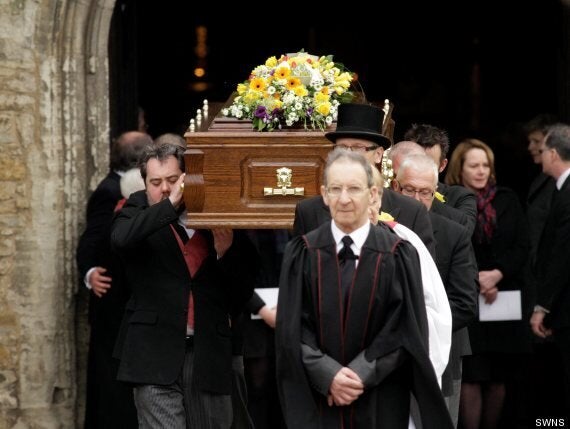 Richard Griffith's agent Simon Beresford said the fineral was a 'wonderful celebration' of the actor's life
His agent Simon Beresford said: "It was a sad day but there were also lots of smiles and laughs.
"It was a wonderful celebration of Richard's life."
Griffiths' death at the age of 65 followed a stellar career which drew him plaudits on both sides of the Atlantic.
Alongside his Harry Potter role, he was best known for the part of inspirational teacher Hector in Bennett's The History Boys - which earned him a Laurence Olivier and a Tony award - and for playing Uncle Monty.
The portly actor was awarded an OBE for services to drama in 2007.
Born in Thornaby-on-Tees, North Yorkshire, on July 31, 1947, Griffiths left school at 15 but he later returned to education to study drama, before joining the Royal Shakespeare Company.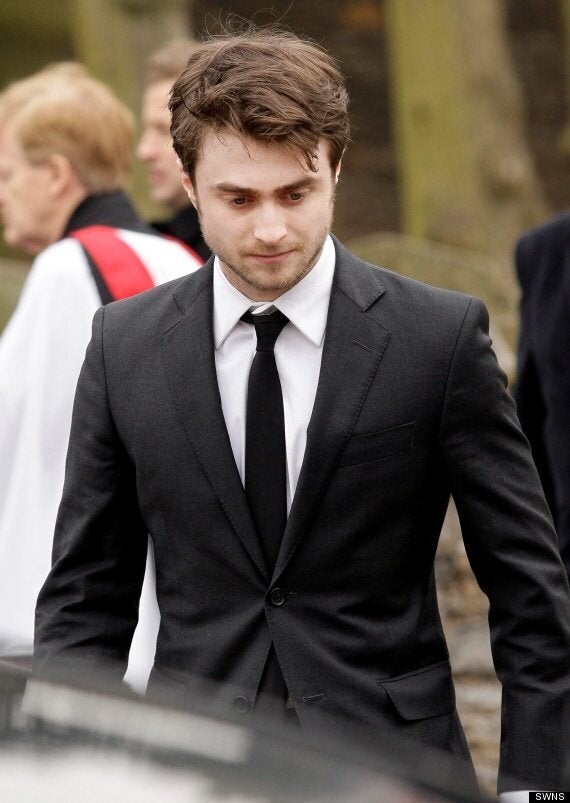 Daniel Radcliffe, who starred alongside Richard Griffiths on screen and stage, at the service
He married Heather Gibson in 1980 after they met during a production of Lady Windermere's Fan in 1973.
His early television career saw him land bit parts in series such as Minder, The Sweeney and Bergerac.
Film credits included Chariots Of Fire, The French Lieutenant's Woman, GoldenEye, Gandhi and The Naked Gun 2 1/2.
Withnail & I was released in 1987. Shot on a shoestring budget and with little plot to speak of, it was largely ignored when first released but is now regarded as a British classic.
Griffiths went on to star as a crime-solving chef in TV series Pie In The Sky during the 1990s, and made his first appearance as Uncle Vernon in Harry Potter And The Philosopher's Stone, released in 2001.
On stage, he was known for his zero-tolerance approach to mobile phones.
In 2004 he ordered a man out of the National Theatre when his mobile repeatedly rang during a performance of The History Boys. The following year he stopped mid-speech during a production of Heroes at Wyndham's Theatre to scold a woman whose telephone kept ringing.
Related