Six police officers have been injured in Bristol after a scuffle broke out at a party celebrating the death of Margaret Thatcher.
Police were called to Chelsea Road in the Easton area of the city during the early hours of today where 200 people had gathered.
One officer remains in hospital and one person was arrested for violent disorder. Hundreds of people gathered to celebrate Thatcher's death in Bristol
Chief Inspector Mark Jackson, of Avon and Somerset Police, said: "We were called to Chelsea Road, Easton at around 12.30am today.
"Around 200 people had gathered to have a street party and refused police requests to peacefully disperse.
"Bottles and cans were thrown at officers, six of whom suffered injuries. One remains in hospital.
"A police vehicle was damaged and one person was arrested for violent disorder.
"Some small bin fires were also started and the fire service also attended."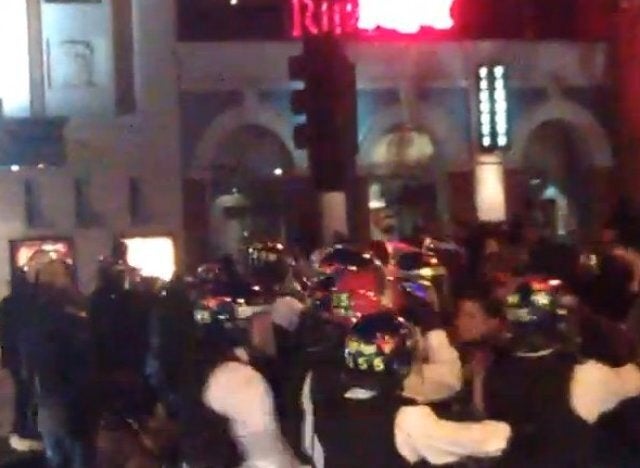 Extra officers were deployed to Brixton
The advertisement for the street party read: "Let's see the evil Tory off in style. May she never ever RIP."
Details of the event were posted on the Bristol Indymedia website, which lists "10 reasons to hate Thatcher", including her anti-trade union policies, employment policies, politics of individualism and approach to the Falklands.
Other parties were held across the UK to "celebrate" the death of the former prime minister, including Glasgow and Brixton in London.
A crowd of 300 people assembled in Glasgow's George Square, where in 1989 protests at the introduction of the infamous poll tax took place. A Labour councillor described the parties as 'disgraceful'
Some wore party hats and launched streamers into the air, while a bottle of champagne was opened with a toast to the demise of Baroness Thatcher.
Some scaled the nearby Ritzy Cinema to rearrange the lettering advertising films to read "Margaret Thatchers dead".
Police said they deployed officers to deal with around hundred people in Brixton causing "low level disorder including throwing missiles at officers." Two women were arrested on suspicion of burglary after a shop front was smashed.
Lambeth Labour councillor Alex Bigham branded the event "disgraceful" on Twitter. Replying to one user of the micro-blogging site who had posted a link to the 'Thatcher death party' he described the party as "tasteless posturing."
Popular in the Community