Under pounding rain, they came with cider and champagne, in party hats and witches' hats, from as far afield as Durham and Brighton, to mark the death of Margaret Thatcher with a party in London's Trafalgar Square - first organised nine years ago.
Amid an enormous police presence, protesters brought sparklers, party poppers and balloons and chanted slogans about Lady Thatcher, who died at The Ritz on Monday, in a lively, vocal, but mostly peaceful event.
A spokesman for the Metropolitan Police said they made nine arrests on suspicion of being drunk and disorderly or for inflicting grievous bodily harm.
Protesters hold a sign saying 'The Lady Is Not Returning' during a party held in Trafalgar Square following the death of the former British Prime Minister Margaret Thatcher
Threats to disrupt the event had been received from some Millwall supporters, in the evening following their team's FA Cup clash, where 10 of their supporters were arrested for violence.
Police formed a cordon around the area, to prevent any fans seeking violent confrontation from reaching the area.
Members of the National Union of Mineworkers travelled to the capital from North East England, with others joining them from Scotland and Wales.
The party took place at the scene of the 1990 Poll Tax riots, in central London.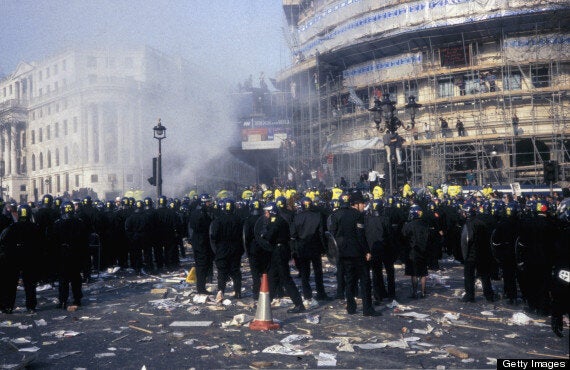 A large group of police officers in Trafalgar Square, London, during the Poll Tax riot, 31st March 1990
UK Uncut members, protesting about welfare cuts, also joined the demonstration, although the leaders of that group said they had nothing to do with the event's organisation.
Security was tight, with police officers stationed throughout the square, and police vans parked in all the streets surrounding it. There were reports of minor scuffles between protesters and police.
Scotland Yard said they had an "appropriate policing operation" in place.
The Greater London Authority had also brought in security officers to manage the crowds.
One protester, drinking from a mug that read "I still hate Thatcher", said the event - initially planned by now defunct anarchist group Class War - had been years in the planning.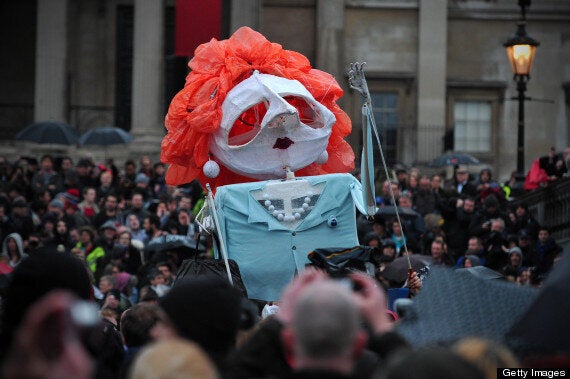 An effigy of late British former prime minister Margaret Thatcher is carried
The 49-year-old, who gave his name only as Steve, said: "I was here during the Poll Tax riot in the 1990s.
"Subsequently, I was given a leaflet saying Class War was going to organise a party on the first Saturday after she died, and I've never, ever forgotten it.
"I've come from Brighton to be here today. I believe it's something not to be celebrated, but something that needs to be marked in history."
Andy Withers, 49, who carried a sign saying "There is such a thing as society", said: "I'm not here to celebrate Thatcher's death - but what's going on tonight is part of the legacy she created."
Richard Watson, 45, from Brentwood, Essex, was joined by daughter Sian, 20. The pair wore party hats and danced around in the square, with Mr Watson saying: "We've been waiting a long time for this. It's not a spur of the moment decision. I've known about this party for years - it's an opportunity of a lifetime."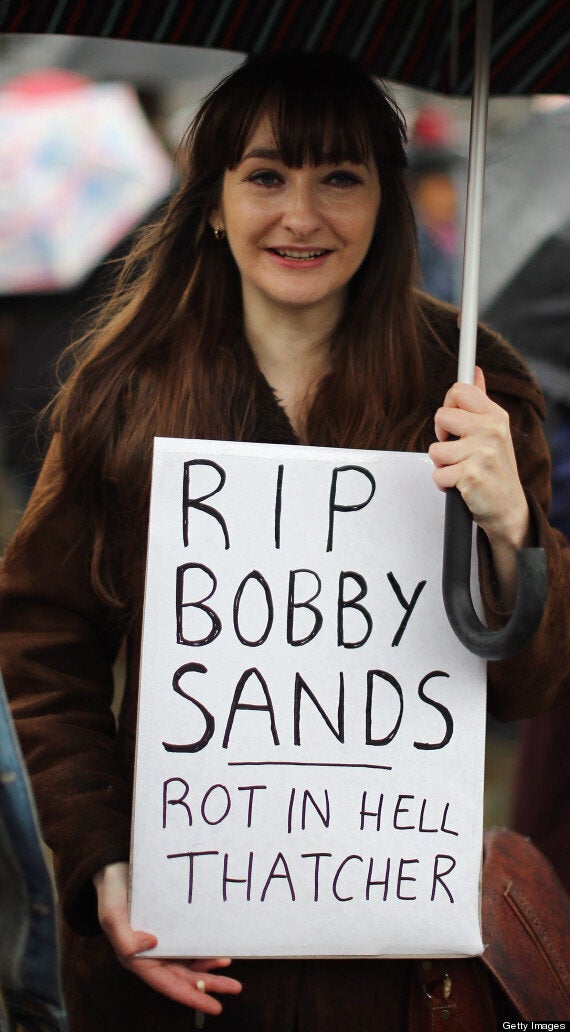 A protester holds a placard, showing sympathy for deceased hunger striker Bobby Sands
He questioned the decision that taxpayers' money would be used in part to pay for Lady Thatcher's ceremonial funeral next week, saying of her family: "Why can't they pay for it out of their estate?".
Fergus Ray Murray, 34, from north London, made an effigy of Lady Thatcher from recycled materials, which was cheered as he carried it through the crowds. He said: "It's a chance to lay her to rest as much as possible."
Former miner Dave Douglas from Newcastle, part of the delegation from the miners' union, said Lady Thatcher was a "terrible woman".
He said: "We're absolutely furious at this image that is being presented on television, that the whole country is in mourning.
"In the north of England, in Scotland, Wales and the Midlands, people are celebrating the fact she's gone because we don't support what she did to our community, our industry and our unions."
Douglas described the mood at the protest as "buoyant".
"It's brilliant," he said. "Everyone's happy."
The emotion of the occasion was almost too much for Fred Reynolds, 80, from Sidcup, Kent, who tearfully said: "She destroyed the way of life in our community."
Reynolds, who lost his job as a Daily Express union official during Lady Thatcher's time in power, added: "I don't want to see any violence at all tonight. What causes the violence is youngsters, who don't even know what it's all about, drinking and treating it as a night out. But it's not. We're here to protest about what she's done and the misery she caused in the country, especially for the miners.
"That's why I'm here. I told my grandchildren I was coming and they said: 'No, don't go'.
"But I said I was going, and nothing was going to stop me."
No large-scale protest is planned for the funeral on Wednesday, although some plan to line the funeral procession route and turn their backs to it.
More than half of voters believe the taxpayer should not have to pick up the bill for Baroness Thatcher's ceremonial funeral, according to an opinion poll published on Saturday night.
A ComRes survey for the Independent on Sunday and the Sunday Mirror found just 25% thought the funeral should be paid for out of public funds as against 60% who were opposed.
The one-in-three - 33% - who believed Lady Thatcher was Britain's greatest peacetime prime minister were outnumbered by the 41% who disagreed.
But while 59% said she was the most divisive prime minister they could remember, almost as many - 56% - said the country needed more "conviction politicians" like her.
Related