Family, friends and close political colleagues of Baroness Thatcher have paid their respects to the former Prime Minister in a private service in the Palace of Westminster, as she made her final visit to the scene of so many battles and triumphs.
Daughter Carol had tears in her eyes following the brief but emotional service in the crypt chapel of St Mary Undercroft, ahead of wednesday's ceremonial funeral at St Paul's Cathedral.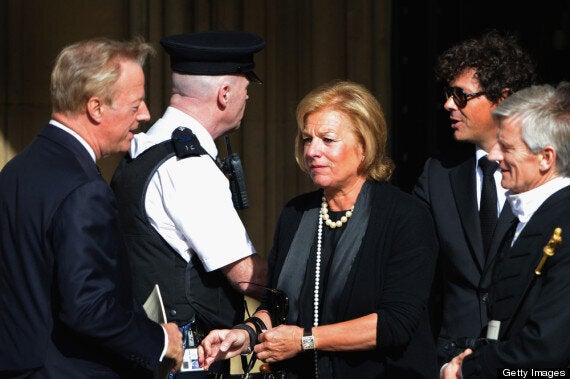 Sir Mark and Carol Thatcher leave the service in Westminster
Around 150 guests, also including son Sir Mark Thatcher and several members of Lady Thatcher's government, filed past her coffin, many pausing to bow in respect to the UK's first female prime minister, who died last week at the age of 87.
On top of the coffin, draped in the Union flag, was a large bouquet of white roses bearing a hand-written card inscribed "Beloved Mother - Always in our Hearts".
As Carol Thatcher left the chapel following the 15-minute service, she paused to wipe away tears before descending the staircase into Westminster Hall. Brother Mark patted her back to comfort her while they walked away, surrounded by family, close friends and senior political figures.
The simple service of reception of the body, led by the Dean of Westminster the Very Reverend Dr John Hall, featured prayers, the psalm O Lord, Thou Hast Sought Me Out and Known Me, and a reading from the Gospel of St John.
Work and Pensions secretary and former Conservative Party leader Iain Duncan Smith, who was one of the most senior political figures to attend the ceremony, said: "It was very moving, short but moving, very sombre.
"It's different from tomorrow, because this event was personal.
"Lots of people were there for personal reasons - each of us summing up what you owe her."
Conservative MP Brooks Newmark, who got to know Baroness Thatcher through his involvement in the Women2Win campaign, said: "It was a short ceremony, very moving, for people to say a prayer to her.
"Each guest had a turn to pay their respects at the coffin, most people with a bow." Baroness Thatcher's coffin lies in the crypt chapel of St Mary Undercroft at Westminster
Among senior figures attending were Thatcher-era ministers Lord (Cecil) Parkinson and Francis Maude, with Conservative MPs and peers including Nicholas Soames, Lord (Patrick) Cormack, Andrew Tyrie, Bernard Jenkin, Philip Davies, Julian Lewis, Bill Cash, Mark Pritchard and Priti Patel.
Commons Speaker John Bercow was present, with deputies Lindsay Hoyle and Nigel Evans, as were Leader of the House Andrew Lansley and Chief Whip Sir George Young and their Labour counterparts Angela Eagle and Rosie Winterton.
David Cameron's official spokesman said the prime minister was not attending the service, adding he was "not aware" of any plans for him to pay his respects in the chapel later.
The spokesman said: "I think this afternoon's ceremony is one that is, very understandably, very much family-led.
"The right thing has been for the prime minister to lead tributes to Lady Thatcher in the House last week and to attend tomorrow's funeral ceremony."
Tory MP Conor Burns, a close friend and confidant who visited the former premier almost every Sunday evening at her home, said the service was "beautiful".
"It was very small, very intimate, very personal, and it was the first time I think since last Monday that the focus has come onto Margaret Thatcher the human being, Margaret Thatcher the person of Christian faith," Mr Burns told the BBC.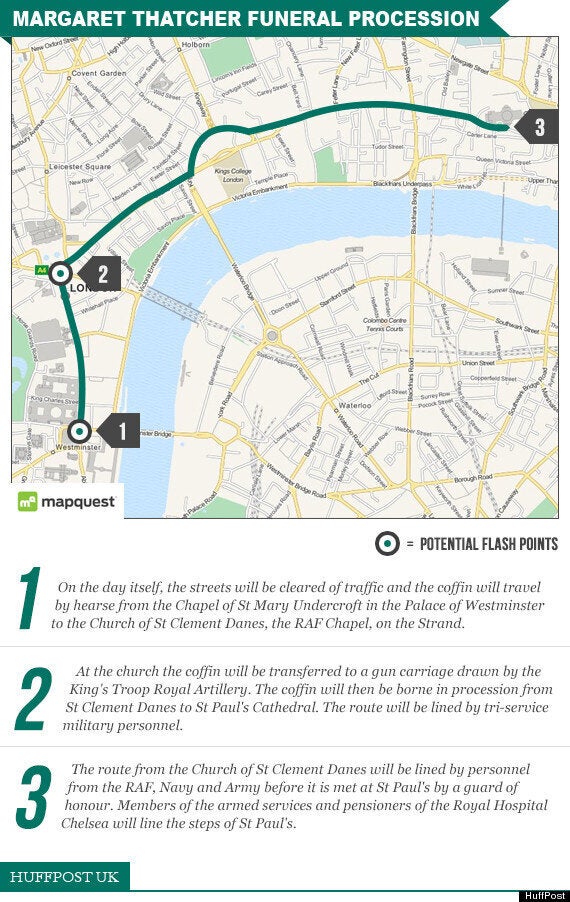 He said he "got a bit of a jolt" when he entered the chapel and saw the coffin but said it was "absolutely fitting" that before tomorrow's final send off "she came back to the place that really made the legend of Margaret Thatcher."
Andre Walker, of the Conservative Way Forward group, said that apart from the grand setting it felt like a normal family funeral, in stark contrast to the "pomp and circumstance" of tomorrow's ceremonial occasion.
"Obviously there has been a lot of talk about Margaret Thatcher the icon and the political leader, but basically this was family and friends and it felt like a normal funeral," said Mr Walker.
"It was definitely a sad, mournful occasion. There were certainly people there filling up. Tomorrow there's going to be a huge occasion, all the pomp and circumstance. Today was for family and friends."
The ornately-decorated medieval chapel - underneath St Stephen's Hall in the Palace of Westminster - was this evening remaining open for MPs, peers and parliamentary staff to pay their respects to Lady Thatcher.
Her body will then lay in rest overnight in the chapel, where the Speaker's Chaplain, the Rev Rose Hudson-Wilkin will keep vigil until the morning.
Just yards away from the chapel, MPs were this evening expected to take part in a potentially bitter debate on Lady Thatcher's legacy.
Related