Even before the doors of Easington Colliery Club opened at 11am, dozens were gathered outside, wind whipping their jackets.
Lighting fags and calling out throaty greetings, men assembled in black t-shirts emblazoned with pictures of gravestones, with slogans saying "A generation of trade unionists will dance on Thatcher's grave". There will be no tears or tributes for the Iron Lady here.
At the entry of the club, which served as a soup kitchen for the miners during the 1984-85 strike, buses pulled up with a steady stream of still more attendees pouring out, and cameras clicked from beyond the bushes.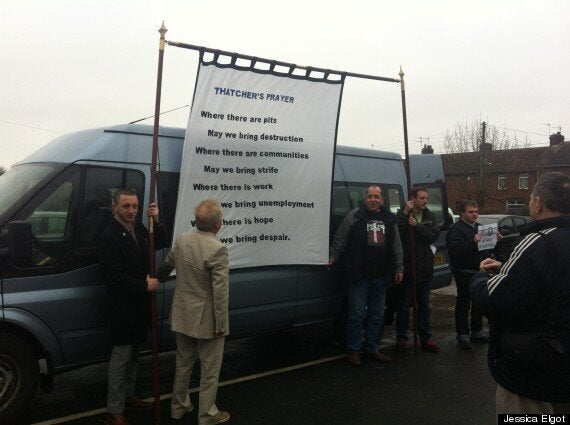 Thatcher's funeral was celebrated in Easington
One of the ex-miners pointed to the assembled crowd of photographers. "Who are all they, what are they doing here?"
"That my friend, that's the world's media. In London, and in Country Durham,' his pal replied. "Don't they know this is private property, like?"
The TV cameras though are barred from coming through the doors, but they get one picture to take home. Members of the Durham Miners Association held up banners, and posed grim-faced.
One banner had the slogan 'The Lady's Not Returning', the other with a 'Thatcher's Prayer', a version of the St Francis of Assisi prayer Thatcher said in a speech outside Downing Street when she was first elected.
It read: "Where there are pits, may we bring destruction. Where there are communities, may we bring strife, where there is work, may we bring unemployment, where there is hope, may we bring despair.
Inside, the warmth is palpable. Cackles of laughter ring out, old friends greet each other with wide grins, and pints of Guinness are passed along the bar, £1 a pint. Bright yellow stickers, with the old slogan 'Coal Not Dole' are passed around. There's not a naked lapel in the house.
Officially, today's event is the 20th anniversary of the pit closure, and this commemoration was in fact organised a month before Thatcher's death.
But Dave Hopper, the General Secretary of the Durham Miners' Association, soon makes sure no-one is in any doubt why they are there, as soon as the crowds are inside, and the doors closed behind them.
"I have to correct the confusion that has arisen in relation to what this event is about. Durham Miners Association are paying for this event, and our hospitality extends to everybody who has come to celebrate Thatcher's death."
The crowd erupted in cheering, as he continued: "I did an interview outside just now and the woman interviewing me said 'Thatcher beat you.'
"And I said what do you mean? She's not here! We're still here. They'll never beat the miners and they'll never beat our supporters."
Another union committee member, with a tie heavy with badges, said to the assembled crowd: "It's been a hell of a fortnight, Thatcher died and then Sunderland beat Newcastle. It's been a shit fortnight for the Maggies all round."
Racuous laughter ensued, many of the men lining the back walls stand and raise their glasses in a toast.
He continues: "So here we are to celebrate the death of Thatcher. And I make no apology for that.
"I remember something that woman said when a miner was crushed to death by a truck when he was on picket duty. She said he knew what he was in for and he deserved what he got.
"So she if she couldn't show compassion why the fuck should we?"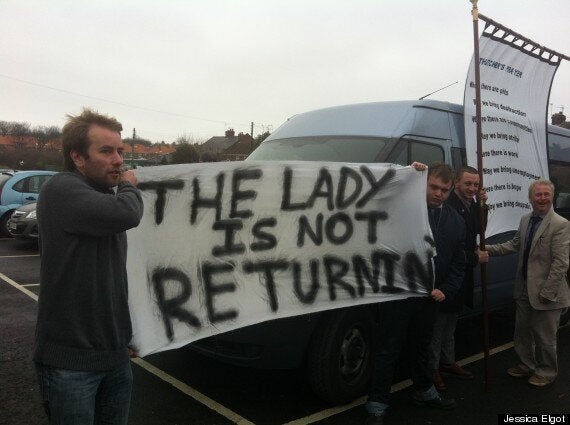 The atmosphere in Easington was more celebratory than funerial
By the bar Dave Adams, a 63-year-old ex-miner said he was here to find his old pals, who he said he would drink with when Thatcher died. "She's dead now, but her ideas aren't. The Tories are still here, and the Liberals are traitors. We haven't won until Thatcherism's dead."
Many of those inside the party won't give their names, this town has a history of bad blood with the press. But they are not shy about giving their opinions.
"A Thatcher statue, library or museum or whatever they are planning, we don't need one. We've already got a monument to Thatcher. It's called the Easington Colliery," one ex-miner says, sitting decked in union badges at the back of the hall.
Another, who gives his name as Carl said he objected to how the press had portrayed the event as a "funeral party", even if those here were pleased Thatcher was dead. "Why should we move our party? If there's a problem with it, they should have moved the funeral. I'm offended that they put her funeral on this day, that's what's offensive to me.
"I see those front pages, and look at those MPs and hear how they say what a wonderful woman she was and I think, really, is that my country? I don't recognise that country?
"And then you realise that means that bloody woman won, she made us feel like we don't even belong in this country. All we wanted to do was get on, like, feed our families, do a day's work. And then after the pits closed, they called us 'scroungers' and said we were lazy and workshy.
"How there's ever going to be enough work to go around again, I don't know. They build the new flats, but where's the factories, where are the jobs supposed to come from so people can live in them?"
Outside, there's a hog roast and bowls of broth, provided by the union. A committee member reminds merry-makers not to bring the food inside the club. "We've had enough pigs in here."
There's lively Irish music and the colliery band, one of the most famous in the country. But not all of today's events are raucous festivities. There is time for remembrance and reflection.
Top of the bill is a film of Keith Pattison's startling photographs from the six months he spent documenting the strikes and its effect on families.
Black and quite photographs, set to music from the likes of Billy Bragg, show the town at its most beleaguered, the lines of police men by the picket lines, the queues for soup, the shoe shop which donated two pairs a week to the children of striking miners.
The crowd watches in hushed silence, apart from the odd exclamation of recognition. The people on the film are the people in this room. "That's our lass," one woman shouts. "Doesn't she look skinny?" As the pictures flick past, many murmur that the subject is deceased.
The monochrome stills look like scenes from a movie. Billy Elliott was the film which most recently put the spotlight on the miners' strike as a young ballet hopeful's dad joins the "scabs" on the bus to the pit, breaking the strike to fund his son's dancing. It was set in the fictional "Everington" but employed 400 extras from Easington.
In 2008, an Audit Commission report into coalfield regeneration described the district of Easington as "perhaps the area worst affected by pit closures in the country", and it still has around 12% unemployment.
Outside smoking a cigarette, one ex-miner, who would only give me his first name, Jimmy, said, surveying the crowd of people assembled: "I hate it here, I've lived here all my life and I hate it. I loved the mine, it was a real community, now look at the place, all the shops are closed, all the kids hanging around. £10m [the cost of Thatcher's ceremonial funeral] should be spent on teachers, it could do a lot of good here."
Eleven pits closed in the area since 1985 until Easington Colliery shut its doors in 1993. It died later than most, as it was one of the most profitable pits, but jobs were already scarce as miners from other closed pits began to move to East Durham, and apprenticeships were sorely fought over.
At the time of the strike the colliery employed 2,730 people. By 1993, when the last 1,900 workers lost their jobs, nearly 40% of the population of the village was on invalidity benefit – the highest of any community in the country.
Many have grim and graphic tales of ill health and injuries from the mines, yet still remember it fondly. Adams said: "I was injured badly in the mine, I was lying in hospital, in 1993, and a fellow's coming round, shouting, is anyone in here a miner? And I said I was, and he said, here's where you can sign for your pension. And I told him I wanted to go back to work, and he said 'No, you're not. Pit's closing.' And I had to sign it.
"I remember my fingers were that stiff, I felt like I was signing my life away. I have had two operations on my knees since then, and my big toes are broken, from crawling in the pits. But I didn't want to stop it."
Standing outside, eating the hog roast laid on by the union, on ex-miner says he believes no industry will ever match the coalminers for camaraderie. "People who don't understand it say, how can you miss working down a mine? People don't understand that kind of community any more, we were brothers. We were. We were a family, there were young ones, old ones you looked up to.
"There's no respect here. No-one goes down the pub together, young and old. that's what I remember the most.
"That's what makes me sick. I am still angry, really, really angry. I'm not pleased she's dead, because all the shit that's been in the papers, on the BBC, all the bollocks that's talked by the politicians, by Cameron, that's shows she's still conning people, still dividing people. What's to celebrate?"
Apart from the crowd outside the club, the streets are eerily quiet. Most of the town are at the party, but down at the local Co-Op, two men are discussing the events going on further up Seaside Lane, the main street that cuts uphill through the centre of the village.
David Jameson, 45, a taxi driver, explained why he did not attend the party, and it's not for the love of the Iron Lady. "I don't like crowds, I couldn't go to the party.
"For me, like, I don't even want her to acknowledge it. I don't want it to look like we're still bitter.
"My father was a miner, and he never wanted me to go underground. He couldn't walk up to the top of Seaside Lane without stopping on a bench to have a breather. I finished school, I never had to work down that mine. My son's studying, he's going to university.
"It's no thanks to Thatcher, mind you, I wouldn't want you to think I mean that, but Easington has moved on, for better or worse. The past is the past. My mother always said people forgot that it wasn't exactly all roses when the pit was open. People struggled, life was hard."
Margaret Thatcher life in pictures