Margaret Thatcher's funeral service has finished at St Paul's Cathedral after a procession through the streets of London.
The Bishop of London, the Right Reverend Richard Chartres, addressed a congregation including politicians, celebrities and foreign leaders.
Earlier there was applause, cheers and a few boos as the coffin passed the crowds lined up by the roadside.
Draped in the Union Flag, the coffin was transferred inside a gun carriage drawn by the King's Troop Royal Horse Artillery.
At the same time, a gun was fired every minute from the Tower of London.
At 10.45am, The Queen arrived, dressed in black, and was greeted by the Lord Mayor of London.
The order of service includes readings from David Cameron and Amanda Thatcher, the former Prime Minister's daughter, and music from Elgar and Vaughan Williams.
Royalty, world leaders and celebrities rubbed shoulders at St Paul's, including former Prime Ministers Tony Blair and John Major, ex US Secretary of State Henry Kissinger and broadcaster Terry Wogan.
Other figures synonymous with the Thatcher years included Falklands veteran Simon Weston, and the Iron Lady's former Chancellor Sir Geoffrey Howe, thought to have been a key figure in her downfall. David and Samantha Cameron arrive
It was a massive security operation. Some 4,000 police officers have been drafted in to police the operation with protests expected along the route.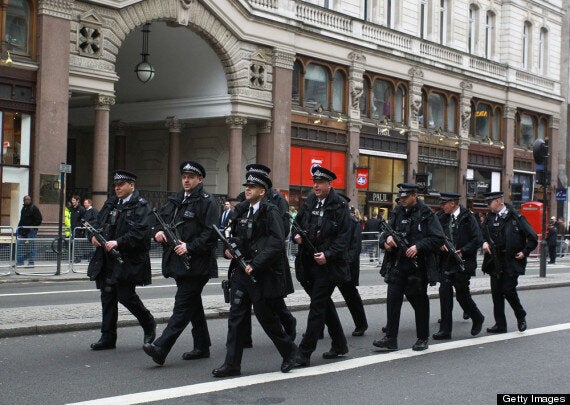 Armed police walk up The Strand
The former Prime Minister's coffin travelled from Westminster to St Paul's Cathedral at 10am.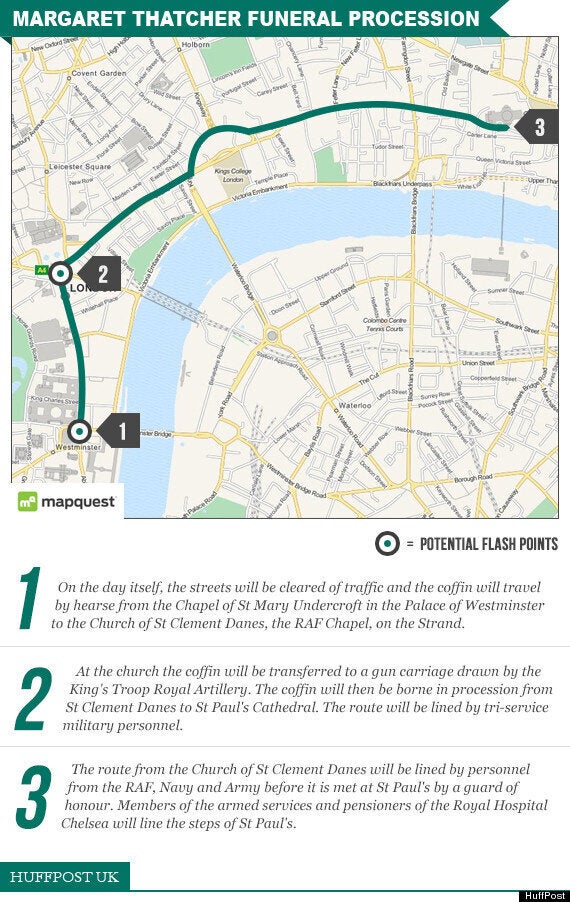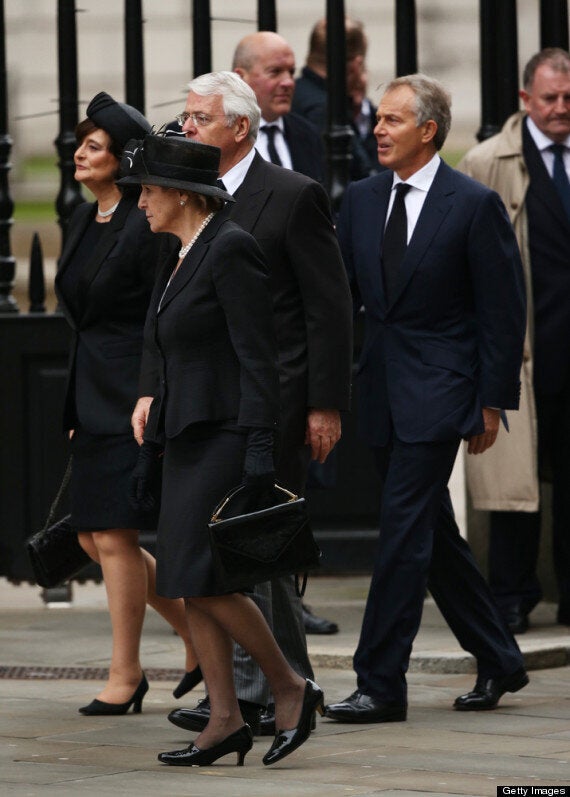 Former Prime Ministers John Major and Tony Blair arrive at the service
The crowds swelled outside St Paul's, including some protesting at the cost of the funeral, as rain started to fall in Westminster. Flags were lowered to half mast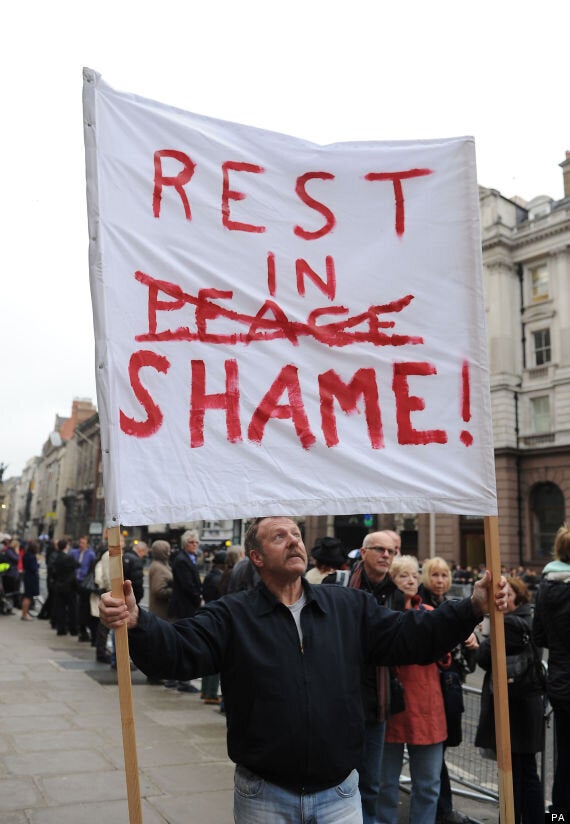 Protestor Phil Williams from Chester with his banner outside the Courts of Justice in The Strand Some protesters turned their backs on the coffin when it passed.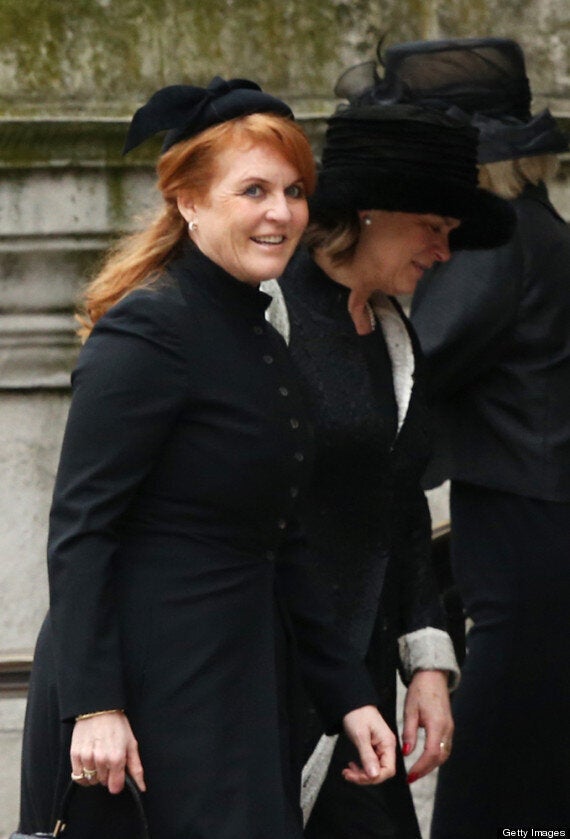 Sarah Ferguson, Duchess of York, arrives at the funeral
The carriage was drawn by six black horses - led by one called Mister Twister - down The Strand, Temple Bar, Fleet Street and Ludgate Hill to St Paul's.
The wheels of the 1.5-ton carriage were changed from steel to rubber so it ran more quietly on the road.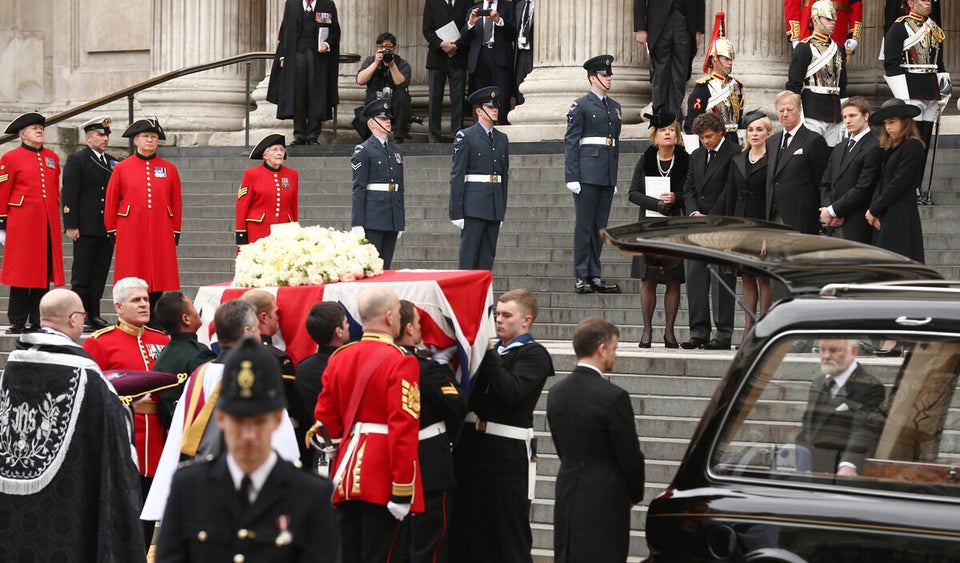 The Ceremonial Funeral Of Former British Prime Minister