Explosions and gunfire have been heard in Watertown, about six miles from Boston city centre, after a police officer was shot dead at a university campus.
Officials from the FBI and the Homeland Security were seen in the area after a police officer at Massachusetts Institute of Technology suffered "multiple injuries" and died in hospital.
Television footage showed one man sprawled on the ground, holding his arms up as police swarmed around him. A screen grab of a video obtained by CNN showed the man cuffed and naked as he was taken into custody.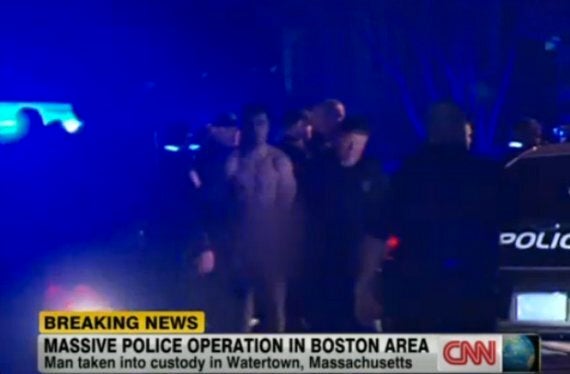 NBC reported that explosives and a pressure cooker were found at the scene in Watertown. An official briefing on the Boston Marathon bombings earlier this week said the bombs were fashioned out of pressure cookers and packed with shards of metal, nails and ball bearings.
A bomb squad truck has also been pictured.
Police have not confirmed any link with the Boston bombings but said: "There is an active incident ongoing in Watertown. Residents in that area are advised to remain in their homes". Police are now going door to door.
There are reports a manhunt is underway after a man drove off at speed after the first arrest, according to witness accounts reported by Sky News. However the latest update on the MIT website said the campus was safe.
It read: "Police have determined that the suspect in this evening's shooting is no longer on campus. It is now safe to resume normal activities. Please remain vigilant in the coming hours."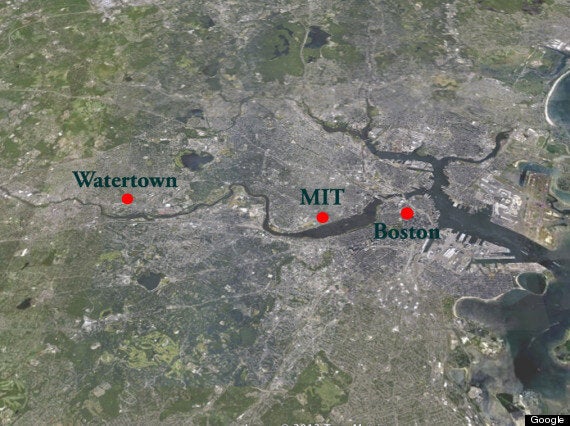 The latest reports come hours after the FBI released images of two suspects they are seeking in connection with the Boston Marathon explosions. Officers warned individuals not to approach the men, saying they believe them to be "extremely dangerous."
"Suspect 1" is wearing a dark hat, "Suspect 2" is wearing a white hat.
"They appear to be associated," FBI Special Agent Richard DesLaurier said. "Suspect 2" dropped a backpack at the site of the second explosion in front of the Forum restaurant and proceeded west, he added.
PHOTOS: (Story Continues Below)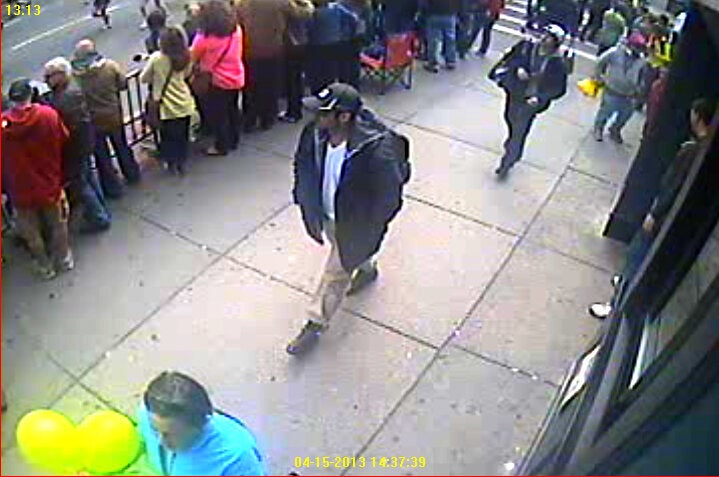 Boston Marathon Bombing Suspects
Speaking at an interfaith healing service earlier on Thursday, President Obama said: "We may be momentarily knocked off our feet, but we will pick ourselves up. We will keep going. We will finish the race," he told congregations at the Cathedral of the Holy Cross in Boston.
At the service, Mr Obama called the perpetrators of the attack "these small, stunted individuals who would destroy instead of build".
He has called the marathon bombings an act of terrorism.
His visit to Boston came after it emerged he was sent a letter apparently containing poisonous ricin.
There was no indication the letter, which was intercepted by the White House, was connected to the marathon bombings, the FBI said.
Nobody has claimed responsibility for the twin explosions which injured more than 180 people and killed eight-year-old Martin Richard, Krystle Campbell, 29, and a Chinese graduate student, named in reports as Lu Lingzi.
The bombs were made from ordinary kitchen pressure cookers packed with metal and ball bearings. Investigators suspect the devices were then hidden in duffel bags and left on the ground.
They exploded within 15 seconds of each other near the finishing line as thousands of runners were pouring in.
The Boston Marathon is one of the world's oldest and most prestigious with about 23,000 runners taking part, including hundreds from the UK and Ireland.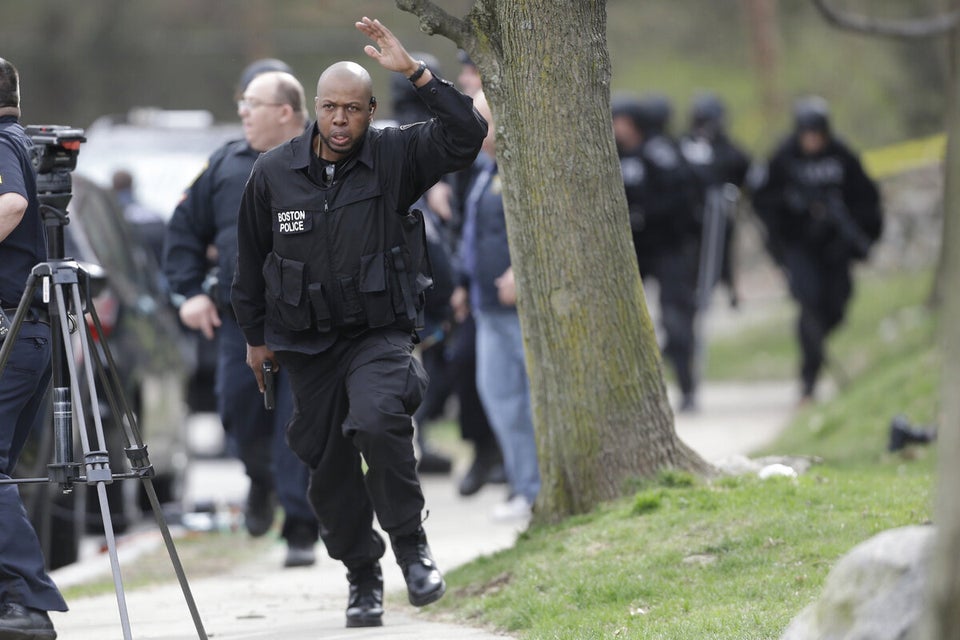 Police Search For Suspects In Watertown, Massachusetts, Following Reports Of Explosions