The mother of murdered teenager Stephen Lawrence has said she does not expect to see a black British Prime Minister in her lifetime.
Doreen Lawrence said for some black teenagers life in the UK was no better than it was when Stephen was murdered at the age of 18 in 1993.
In an interview with the Observer, she also criticised the Coalition for not building on the findings of the 1999 Macpherson report, which accused the Metropolitan Police of institutional racism.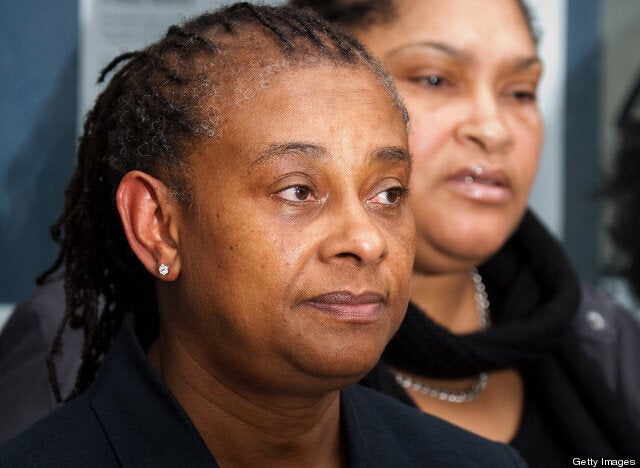 The mother of Stephen Lawrence, Doreen
Answering a question in the paper from Shami Chakrabarti, the director of Liberty, about racial equality in the UK, she described going to see US president Barack Obama's first inauguration in 2009.
Mrs Lawrence said it was something "I never expected to see in my lifetime, a black man running a country like the US", adding: "I don't think I will ever see it happening here though.
"There are plenty who could do it, but I don't think we would give them the opportunity.
"They would never think you are good enough, not really."
Last year, Gary Dobson and David Norris were jailed for their roles in the mindless killing of 18-year-old Stephen - who was stabbed as he waited for a bus in Eltham, south-east London on April 22 1993.
A group of five or six racist thugs set upon the aspiring architect, but none of the other attackers has been brought to justice.
Sir William Macpherson's was highly critical of the police and an independent review is now being carried out into allegations of police corruption in the initial murder investigation.
Mrs Lawrence told the newspaper: "This Government could have built on Macpherson and they haven't," she said.
"When my son was murdered the Conservatives were in power and they did nothing.
"And it seems in coalition, now, they still don't do anything.
"I have not met David Cameron in the same way I met (Tony) Blair and (Gordon) Brown."
She also told how she met Theresa May, the Home Secretary, and told her she felt "really let down" by budget cuts that affected the foundation she set up in Stephen's memory, resulting in some emergency funding.
Asked by another reader whether things for young black men in London and the wider UK were better now than in 1993, she replied: "That depends upon which young black man you speak to," saying when she talked to Stephen he would always tell her he had done nothing wrong.
"I think that is how a lot of young black men feel still today. But that doesn't stop them being harassed in stop and search, or if they drive a nice car it is always assumed they are drug dealers.
"That is as true now as it was then."
Detective Chief Inspector Clive Driscoll said that "all avenues remain open" and he and his team will follow any leads to try to catch the remainder of the teenager's killers who are still at large.
Thousands of miles away from the public memorials to Stephen Lawrence, his father will be marking the 20th anniversary of his racist murder in a simple and private way.
Neville Lawrence will take flowers his son's grave, a ritual that no parent would want to carry out. He will say a prayer with a pastor friend who has flown out from England for support.
"I have painted and freshened up the grave nicely, so it looks fine for Stephen," Mr Lawrence said.
The grave is in a secluded plot in Jamaica. It was picked as somewhere for Stephen to rest in peace because Britain did not deserve him in death, Mr Lawrence notes.
He is still an intensely private man despite his personal tragedy having been played out in public. He is also very security-conscious.
The night when Stephen was knifed to death in an unprovoked race-hate attack by a gang of white youths in south east London also devastated a hardworking family.
It rocked four other lives - his own and those of his ex-wife, Doreen, and his surviving children, Stuart and Georgina, now aged 35 and 30.
Mr Lawrence is now divorced and has moved abroad.
"In England I could not feel free and for my own peace of mind I had to leave. I did not feel safe."
At 71 years old, he now has salt-and-pepper hair but he remains strong if still a little anguished.
On his regular trips back to Britain, and away from the spotlight, he gives talks to schoolchildren and prisoners about the impact of crime.
A hard-fought campaign, which lasted almost as long as Stephen was alive, saw David Norris and Gary Dobson both convicted of murder in January 2012.
There were more than two people in the gang and Mr Lawrence says: "A lot of people have let us down. I am not bitter.
"It took us nearly 20 years to get this result (guilty verdicts) and we did not know whether we would get it.
"I do not know if I am going to live another 20 years but I have not given up on the detectives finding a way to get the others."
On whether he thinks this is realistic after all this time, he puts down a gentle but firm marker, stating: "I think that all those people who told me to give up do not understand the nature of love."
Considering the hardened people who would have any knowledge of the crime, Mr Lawrence is open-minded about potential future breakthroughs in the case.
It is possible that someone might confess or talk about what happened, he suggests.
"I have a feeling that one of them will do," he said.
"If that was me and I knew that I was paying for a crime I would be thinking about all the other ones who are just walking free. I would do something.
"Whenever people do something, sooner or later they get found out - that has always been something that has kept me going."
The working-class Lawrence family - Mr Lawrence was a decorator - faced a steep learning curve in their campaign to punish Stephen's killers.
It took place in the courts rather than through marches.
They met Nelson Mandela, who said he had always known that black lives were cheap in South Africa but he thought it was different in England. That was when people started listening, according to Mr Lawrence.
"Without him I do not think we could have achieved so much. We have got a lot to thank him for. No-one was interested. The press stayed away."
He can recite the names of other black youngsters who, like Stephen, were killed in racially-motivated attacks in Britain in the 1990s.
Asked if he feels his son died in vain, he said: "I wish he had not died and that a lot of the changes that have happened could have occurred without him dying - but for us that was not possible.
"In a civilised world it should not be left for a grieving family to go through pain and anguish before people even start to care."
Now with his close friends, family and three grandchildren as a "comfort", he adds: "One of the things that went through my mind was that I would not live very long after Stephen was killed.
"I thought I would die of a broken heart.
"I just thought that with my first child gone, and I love my other children just as much, that my heart would not be able to take it."
"Sometimes, when I see my grandchildren, I wonder what his (Stephen's) children would have been like and what kind of lifestyle he would have," he muses.
"When I see new buildings I also think 'Could that have been one of Stephen's?' because he wanted to be an architect."
Progress has been made against racism since then but the battle has not been won.
"I still feel uneasy when I go back to Britain," Mr Lawrence states.
"I worry about my grandchildren but also everybody I know who has sons or daughters.
"There are people who feel they can go and take other people's lives - and they believe they can do it without anything being done to them."
The system his family had to fight against included an appallingly mishandled original police investigation.
Officers are now trained to know how to talk to bereaved relatives. The case led to a major legal change with the ending of the double jeopardy rule meaning that murder cases can be re-tried if fresh evidence comes to light.
People now feel able to report racial abuse.
One of his burning concerns is to help the younger generation to respect other people and to fulfil their potential.
"I would not like it to go back to the system in which we had to fight," he adds.
For all the things he has achieved he does not think of himself as a hero.
"I am just a father who is doing the best that he can for his son," he insists.
And what would he hope that people think now when they hear the name of Stephen Lawrence - which is usually linked with crime, a bungling police investigation and the term institutionalised racism?
Mr Lawrence said: "He was a human being. He did not see colour. It did not matter what you looked like, it mattered what you were.
"I would hope they would think as I do - what was done to him was a tragedy. It stopped him from making his contribution to society and his contribution would have been positive."