Prime minister David Cameron and Britain's most senior police officer were among the guests at a memorial service for murdered teenager Stephen Lawrence on Monday.
The 18-year-old died when he was attacked by a gang of racists as he waited for a bus in Eltham, south east London on 22 April 1993.
Twenty years to the day since his death, his mother Doreen was joined by friends, relatives and supporters of the charitable trust that she set up in her son's name at St Martin-in-the-Fields church near Trafalgar Square in central London.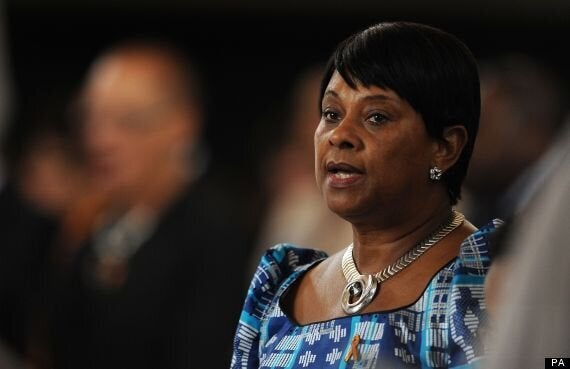 Doreen Lawrence speaks at her son's memorial
She told the congregation: "I've always tried to look forward and to focus on the positive since Stephen's murder, and looked to see how I can make the lives of others better.
"The pain of losing someone never goes away, you just learn to live with it at cost.
"Over the years as a family we have mourned in our separate ways, not daring to speak out loud about our feelings. My pain is raw, and that of my children."
A number of senior political figures including deputy prime minister Nick Clegg, Labour leader Ed Miliband and home secretary Theresa May also attended.
The first candle at the service was lit by Mrs Lawrence and her surviving son Stuart and dedicated to building hope in memory of Stephen.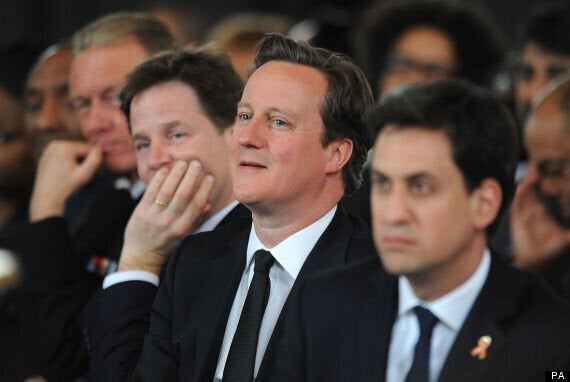 Cameron read Our Last Awakening by John Donne, while Miliband and May gave readings from the Bible
There was also an address by Dr Richard Chartres, the Bishop of London, who said he would have liked to have known Stephen.
The music spanned traditional hymns, through to Gospel and a powerful rendition of Fallen Soldier by singer Beverley Knight who has performed the same song, especially written for Stephen Lawrence, at previous memorials.
Mayor of London Boris Johnson told the congregation: "On a dark street in Eltham 20 years ago there took place a crime that caused shock and pain, and disbelief, and outrage.
"And it was left to those who had suffered the greatest pain and loss, the family of Stephen Lawrence, to search for the truth and for justice."
But he said that the success of the Olympics had shown the best of the diversity of London.
He said: "The world was watching us, and they saw that incorrigible happiness and that unity in diversity.
"And what people prophesied five decades ago would be a defect and difficulty in our society has been alchemised into the genius and magic of London.
"Of course it has not happened easily. It is thanks to the work of countless thousands. It is thanks to Doreen and of course to Stephen, too, because it was the campaign for justice in his name that became the blueprint for change.
"And that benign change has happened, and is happening and will keep happening.
"And out of that dark night 20 years ago has come great hope, and it is in a spirit of hope for London, the greatest city on earth, that we remember Stephen Lawrence today."
The service today included the hymn Be Still for the Presence of the Lord, which has been sung at every memorial service for Stephen since he died.
Guests included pop star Emeli Sande, Duwayne Brooks - Stephen's friend who was with him on the night that he died, and lawyers Michael Mansfield and Imran Khan who have represented the Lawrence family throughout their battle for justice.
Metropolitan Police Commissioner Sir Bernard Hogan-Howe also attended the service, the theme of which was "building for the future".
His predecessors had been invited to the event, despite the troubled history of the investigation into Stephen's murder.
It took 19 years for any of the aspiring architect's killers to be brought to justice - David Norris and Gary Dobson were jailed early last year, but the remaining three or four have never been convicted.
Cameron told BBC News: "A change obviously has taken place since that dreadful murder 20 years ago, a change in policing.
"But perhaps as important is the change in culture, of just not accepting racism in our country.
"We have made huge steps forward on that front, but there is always more that needs to be done."
Miliband said in a statement before the service: "Stephen Lawrence's death exposed the deep-seated racism in parts of our society, including within the police.
"Over the last 20 years, this has dramatically improved, but we must continue to ensure that people in our society are not discriminated against because of the colour of their skin.
"Today is also a day to pay tribute to Doreen and Neville Lawrence, who have shown incredible strength as they fought, and continue to fight, for justice for their son."
Popular in the Community