Is Abu Qatada, an Islamist "hate preacher" from Jordan, accused of being "Osama Bin Laden's right-hand man in Europe", really running rings around the British government?
The terror suspect has thwarted attempts to have him removed by both the Conservative-led coalition government, and its Labour predecessor, over the past decade.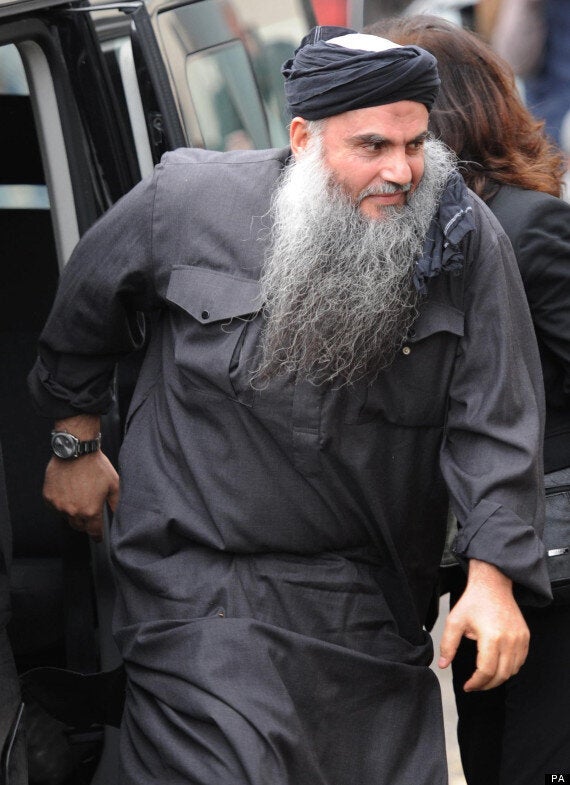 Abu Qatada has been fighting extradition to Jordan
Less than a year ago, in May 2012, the Home Secretary was promising that the preacher would soon be "out of Britain for good".
But last month, the Court of Appeal upheld a decision by the Special Immigration Appeals Commission (SIAC) that Qatada shouldn't be deported from the UK because any trial in Jordan could be tainted by evidence obtained under torture.
For the Tories, the inability to deport a benefit-claiming terror suspect because, some argue, of rules set down by a court in France is an ongoing political nightmare.
Waving goodbye to him, if that ever happens, would be a coup. A victory over terrorism, Europe, and 'benefit scroungers' all at once.
For May personally, who is said to be positioning herself to succeed David Cameron as Tory leader, sticking Qatada on a plane would do wonders for her standing on the Tory backbenches.
Failure to deport Qatada, however, allows shadow home secretary Yvette Cooper - also seen as a party-leader-in-waiting - to continue attacking May from the right. As David Cameron targets Labour for being the left-wing "Welfare Party", the Opposition would no doubt welcome a chance to hit the government from the other direction.
Agitating to leave the ECHR, even on a 'temporary' basis, would also trigger a huge rift in the coalition, as the Liberal Democrats are committed to the UK remaining in the convention.
In March, when the idea was last floated, a senior Lib Dem source told the BBC there was "absolutely zero prospect" of Britain leaving the ECHR while the Lib Dems were in government. "The Tories can posture all that they want about what's in their manifesto next time around, but that is up to them," they said.
Asked today if the Lib Dems maintained their commitment to seeing the UK remain part of the ECHR, a party spokesman said: "Yes, of course we do."
Such a drastic and radical move would also cause internal Tory party rumblings. Attorney general Dominic Grieve has said there was "no question of the UK withdrawing from the convention" and former justice secretary Ken Clarke, who still roams around the cabinet, said "it is not the policy of this government to withdraw for a short period or a long period from the ECHR".
Francis FitzGibbon QC, a criminal barrister at Doughty Street Chambers, said that withdrawing from Article 6, the right to a fair trial, was possible, but was "much, much trickier than they would have us believe."
He explained: "You can a temporary exemption from the European Convention, via Article 15, which says that 'in times of war or other public emergency threatening the life of the nation', the state can derogate from the convention.
"So there has to be a war, which there is not. Or a public emergency, which there probably isn't. It seems very unlikely that one man could create a public emergency threatening the life of the nation, however dangerous or unpleasant he may be. And we don't know what that is because the government will not reveal the evidence they have on him.
"Mrs May, even if she goes back to the first immigration tribunal with this new treaty and starts the whole process all over again, was pretty optimistic to think he'd be on a plane within months. It was a very ambitious claim to have made in a case this complex."
Prominent lawyers have cast doubt as to whether the government will ever succeed in a case where there is no point of law to argue in an appeal - only a finding of fact, namely that assurances from the Jordanian government cannot be relied upon when it comes to witnesses who may have been tortured. That was decided by the Special Immigration Appeals Commission (SIAC).
FitzGibbon told HuffPost UK: "The government is determined to pursue this case, they are pursuing to the Supreme Court, even though they have been told they have no grounds to appeal. They roundly lost in Court of Appeal, who said they had no case, no point of law to appeal on.
"The government, ironically, is restricting the rights of citizens to challenge government action by judicial review when it is a "hopeless" case. But they are taking a case, which is clearly hopeless, to the highest court in the land, employing three QCs on public money."
Dan Hyde, a partner at law firm HowardKennedyFsi, said he had doubts any new treaty would make a legal difference.
"The whole purpose of all the recent negotiations with Jordan was to get these assurances, that evidence obtained by torture would not be used. And it was presented to the Special Immigration Appeals Commission who rejected it," he said.
"Now they are presenting a treaty, which is legally binding, but I still wonder if that is going to get them home because how enforceable, how reliable is that?
"This is coming from desperation and I am not convinced at all that it would work. It is effectively a contract, and we all know contracts can go badly wrong."
Hyde too, is unconvinced that a solution can be found, but said that it was unlikely to set a human rights precedent when Qatada is such an unusual case. "It's often rash and not wise to change the law because of one unique and individual case, any lawyer will tell you that."
Adam Wagner, human rights barrister at One Crown Office Row said that the treaty could give the assurances UK courts needed in order to deport Qatada, though the whole legal process would have to begin again.
He said: "The new proposed treaty appears to provide exactly the assurances that the European Court of Human Rights is seeking, namely that where a UK court has found a real risk that evidence was obtained by torture, that evidence cannot be used in any subsequent criminal trial against the person being deported.
"The only exception would be when a prosector proved "beyond any doubt" that the evidence was not obtained by torture.
"This new Treaty means beginning the process all over again, starting with a deportation order against Abu Qatada. But SIAC (Special Immigration Appeals Commission) would probably hear the case quickly.
"This is a far more plausible solution to the Abu Qatada problem than any kind of withdrawal, even temporarily, from the ECHR, especially in this Coalition.
"The Lib Dems have made quite clear that withdrawal from the ECHR would be a deal breaker for them."
Popular in the Community