A six-year-old girl has been raped and mutilated in a public toilet in New Delhi, India, just a week after a five-year-old suffered a similarly horrific attack in the country's capital.
The youngster, who was living in one of the city's slums, was using a facility in the southeast of the capital.
"She left the house to use the toilet around 3.30pm. When her uncle went looking for her, he found her in a semi-naked condition, bleeding and howling in pain," a police officer told the Hindustan Times.
The girl was in a serious but stable condition after doctors performed life-saving surgery.
A senior doctor at the AIIMS trauma centre told the Times of India: "Preliminary medical examination shows severe damage to private parts which could be due to sexual assault or inserting of a foreign object. Her condition is critical."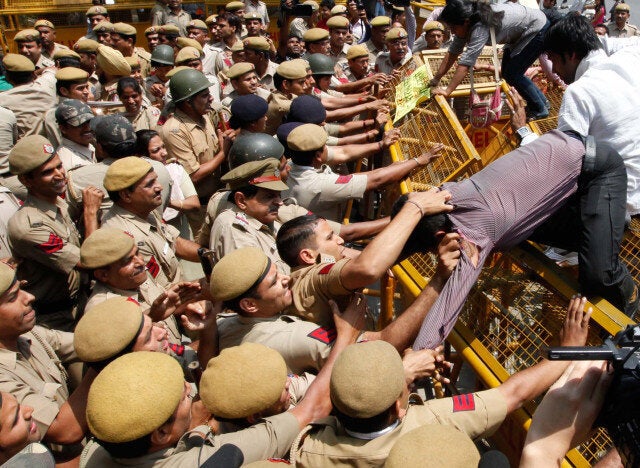 There have been protests after police were accused of not doing enough to protect children
Protests have taken place outside Delhi Police Headquarters and in front of AIIMS Hospital in solidarity with the victim.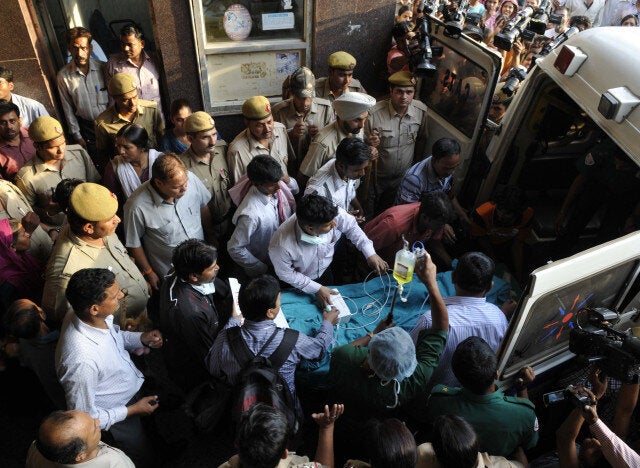 Hospital staff move the body of the five-year-old
The latest wave of protests come in the wake of a number of attacks. The death of a 23-year-old student who died after being brutally raped on a bus in New Delhi earlier in 2012 shocked the nation and gave new vigor to the women's rights movement.
Her horrific death prompted a national outpouring of grief and angry protests against a government which is perceived to have done little to tackle violence against women.
In the wake of the latest attacks, President Pranab Mukherjee said last week it was important to identify the causes behind the repeated failure of society to ensure security of women and children, reported the Times of India.