Human rights campaigners have urged the British government to put further pressure on the UAE to investigate claims of torture, and flaws in the legal system which could leave foreigners without access to translators, lawyers and forced to sign documents they do not understand.
"Beneath the glitz and glamour of Dubai's shining skyscrapers lies a series of harsh laws, poor prison conditions and disregard for the rule of law," Jago Russell, chief executive of Fair Trials International, told HuffPost UK.
"The UAE's criminal justice system is no stranger to criticism about its failure to protect even the most basic fair trial rights, including the rights to legal advice, translation and interpretation for foreign nationals, who make up a very large proportion of the UAE's prison population," he added.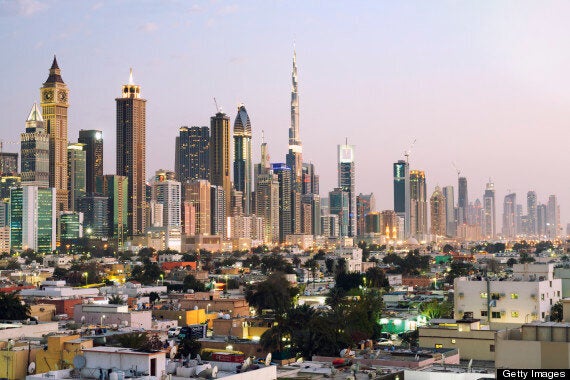 The Dubai skyscrapers and beaches have attracted many foreigners to visit or work in the UAE
In the wake of the sentencing of three British men who accuse the Dubai police of torturing them, David Cameron will come under intense pressure to bring up the human rights record of the country when he meets Sheikh Khalifa bin Zayed Al Nahyan, president of the UAE, on Tuesday.
The men claimed they were tortured by police following their arrest, alleging that they had guns held to their heads by police, and Williams also said he had electric shocks administered to his testicles. They said they were forced to sign Arabic documents they did not understand.
In a letter to Cameron, the organisations urge him to raise the "UAE's discriminatory and disproportionate response to peaceful criticism, its severe violations of due process and fair trial rights, and credible reports of torture – including the alleged torture of three British nationals," during the visit of Sheikh Khalifa bin Zayed Al Nahyan.
In 2007 Amnesty International documented credible allegations of torture at state security facilities in the UAE, with similar reports documented by Human Rights Watch in 2012.
Dubai police have denied allegations they tortured the three Britons. Dubai's National Media Council said a neutral party had been appointed to investigate, but had found the claims to be untrue.
Dubai police said that the three men were given opportunity to bring up the torture allegations in court but declined to do so.
But Ahmed Mansoor, a human rights campaigner who was recently imprisoned himself in the UAE, told HuffPost UK: "There must be an international, neutral body to investigate each accusation of torture. How can the police investigate the torture allegations themselves? There can be no justification for this."
Mansoor, a prominent critic of the Emirati authorities, was arrested in 2011 for signing a petition in favour of an elected parliament - one of the "UAE Five" designated political prisoners by Amnesty.
He told HuffPost UK he was denied access to his family and lawyers for five days after his arrest, after four interrogations. Amnesty International later condemned his trial as "fundamentally unfair" and "marred with irregularities". He was pardoned shortly after being sentenced to three years in prison but continues to receive death threats.
Drewery Dyke, UAE researcher for Amnesty International, said foreigners are often mistreated after being arrested in Dubai - although the vast majority of those denied access to justice are foreign migrant workers, rather than Western tourists.
"The vast majority of tourists visit the UAE with no issues, and the Foreign Office do warn about the cultural differences to do with drinking, holding hands, kissing in public. And the UAE are prepared to tolerate it to a certain extent, because of the benefits that come with tourism," he said.
But he added: "The experience of these three young British men is consistent with what we know can happen. There are serious flaws in the administration of justice. These kind of allegations of banal levels of brutality from the police can happen five or six times a year, and accusations can be anything from drugs, to same-sex affection.
"We know that the UAE is very concerned with its image abroad, and it signed up to the United Nations Convention Against Torture in June 2012 - so if the UK government wanted to put the pressure on, it's pushing at an open door."
Mansoor told HuffPost UK that, despite his own experiences, he believes rights for foreigners and access to justice in the UAE is slowly improving.
"In the last five years, there has been more educating people about their rights. They have better access to translated documents and lawyers. And police officers have been arrested for mistreating and assaulting detainees," he said.
"But still, that does not compensate for torture, which must be eradicated in any circumstances."