Pictures have emerged of the two-year-old girl accidentally shot dead by her five-year-old brother.
Caroline Sparks died shortly after being shot in Kentucky's Cumberland County on Tuesday afternoon.
Her unnamed brother had received the .22-calibre Crickett rifle - known as 'My First Rifle' as a gift and used it when hunting with his father, WKYT reports.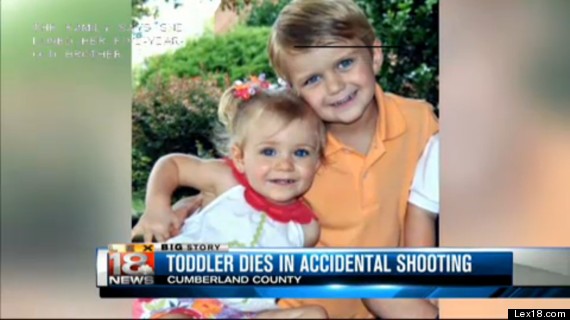 Two-year-old Caroline Sparks and her brother, 5
Neighbour Wanda Cole told the channel: "Oh it's devastating. An entire community, a whole county is devastated. Very happy children. Very loving children. A great family, give you the shirts off their backs."
Coroner Gary White told the Lexington Herald-Leader the boy had received the gun as a gift last year.
He said: "It's a Crickett. It's a little rifle for a kid. The little boy's used to shooting the little gun."
Describing the shooting as "just one of those crazy accidents", White revealed the gun had been kept in the corner of the home and that the family did not realise a shell had been left in it.
Autopsy results are not expected for a week, Kentucky State Police Trooper Billy Gregory said.
He added no charges had been filed, but a grand jury could have the final say.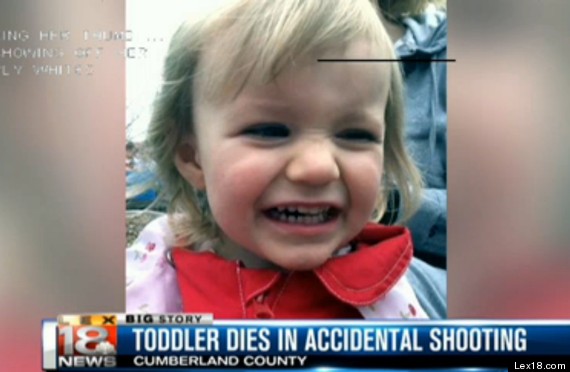 The little girl died on Tuesday
Retailer Crickett prides itself on selling "quality firearms for America's youth".
The website's "Kid's Corner" features pictures of children holding rifles from the range, including babies in fatigues and cowboy outfits with guns resting in their laps.
The Huffington Post UK has sought comment from Crickett.
SEE ALSO: Gun-Themed Weddings In Las Vegas Continue To Boom In Wake Of Sandy Hook Shooting (PICTURES)
In December we reported there had been a rush on guns and ammunition in the wake of the Sandy Hook school shootings.
In particular the AR-15 style-rifle, the weapon used by Adam Lanza, proved particularly popular as a Christmas gift.