While many clothes companies have been associated with the Dhaka factory tragedy, low-cost, fast fashion provider Primark has taken the culpability crown.
The sweatshop criticism plays well when you're manufacturing some of the cheapest clothes on the high street and your company occupied a floor of the collapsed building where workers supplied the brand.
Yet Primark has yet to put a foot wrong in its bid to quench consumer thirst for retribution.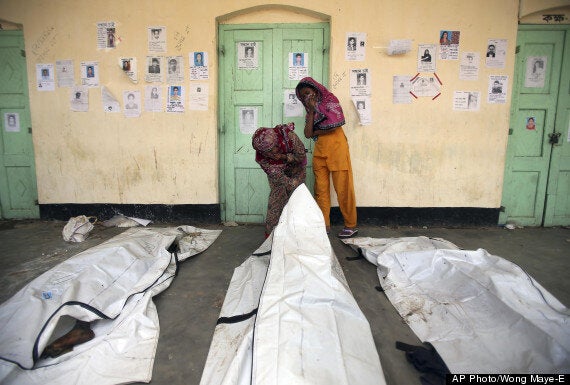 People search through a line of dead bodies in hopes of identifying their relatives at a school turned make-shift morgue in Savar, near Dhaka.
As the disaster has unfolded, victims have been promised compensation, emergency food aid and there have been reports of an industry-wide plan to increase safety across Bangladesh's garment factories.
At the same time, experts predict Primark shops will remain as busy as their old factory floor.
Sarah Morris, business development director of Trajectory Partnership, a consumer insight and futures consultancy, predicts that the death of 450 people (at time of writing) "will have zero impact on the company's growth".
"Just 10% of consumers are committed to shopping ethically. Around one-third of consumers are utterly disengaged from the very notion of ethical shopping.
"The Bangladesh tragedy will reinforce the view of the 'ethical' 10% that the true cost of disposable fashion is human life. But since they didn't shop at Primark in the first place..."
Inhumane tales of poor factory conditions with scant protection for workers have became common in past decades with the rise of disposable fashion. Just last November, a large fire in a textile factory in Dhaka killed over 100 people, while low-cost high street brands continued to enjoy a period of booming sales.
Tarlok Teji, retail analyst at Manchester Business School, says research indicates that consumer behaviour changes very briefly, if at all, when incidents like this are reported.
"Consumer memory is short and the bargain buy and instant gratification tend to win out when making a purchasing decision. So there is unlikely to be any significant impact on the long-term future fortunes of Primark."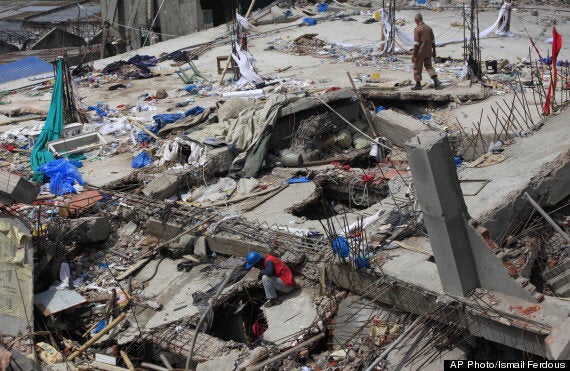 Workers and army personnel search for bodies in the collapsed garment factory
Studies also indicate that when it comes to ethical behaviour, there is no evidence that poor people are less virtuous than rich ones.
A study last year revealed that poor people are more likely to act ethically than the wealthy. Although the reason for this behaviour could stem from wider opportunities to cheat the system.
So, while it might seem likely that in times of wage stagnation, chronic under-unemployment and rising living costs, people on a budget are evidently more likely to ignore their conscience and buy value products, this analysis does not tell the whole story.
"We live in a world where 'it's all about me' and consumers are most likely to be actively enraged about controversies that are, quite literally, close to their heart," says Morris.
She says her firm has been paying keen attention to this 'Self-Preservation Society' trend.
According to their research programme, 83% of respondents agree their country's leaders should prioritise solving their own country's problems over reducing poverty globally.
This figure has risen from 76% in the last 5 years, during which time many have suffered financially.
PICTURES: Scroll down to see more images from the tragedy
Countless other surveys confirm that during times of austerity, levels of concern about environmental and ethical issues decline markedly, says Morris.
Closer to home, Trajectory data reveals that such attitudes are replicated on a domestic scale, with people exhibiting strong bias towards Government cut-backs in areas with the least direct effect on the respondent.
For example, young people would cut pensions by twice as much as those over 60, and those earning over £70,000 would cut tax credits by almost twice as much as those earning below £20,000.
"The Bangladesh factory tragedy, if handled with compassion and assurances of lessons learnt, will have scant long term impact on a cash strapped consumer shopping in Primark without, as Nick Clegg put it today, a 'moral calculator'," says Morris.
She adds that while technology firm Apple has been repeatedly dogged by controversies over appalling working conditions and employee suicides at the manufacturing plant of its supplier Foxconn in China, this has yet to translate into any meaningful consumer response.
"The launch of Samsung's Galaxy range had a far bigger impact on Apple's profits," Morris points out.
Rob Harrison from Ethical Consumer.org believes that only group action tends change to the fortunes of a retail company caught in a scandal.
"There are many similar incidents each year. They almost always make a difference to a brand, but only if an NGO of cluster of NGOs takes up the issue and seeks action from the company.
"Clean Clothes Campaign in Europe has been quick to draw attention to this case. But sometimes campaigns for a honourable response can run into years. Just think of Bhopal."