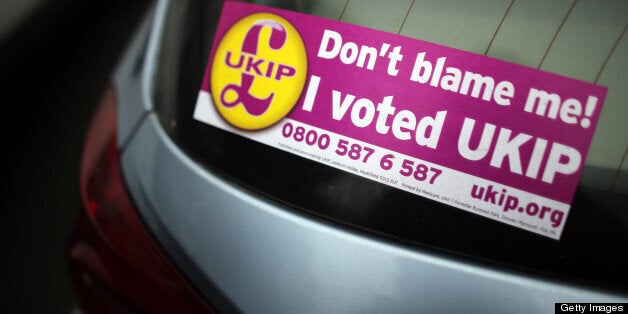 Ukip has suspended a member who allegedly made racist jokes on Facebook, saying he would destroy mosques, burn Muslims and posted pictures of Obama and his wife mocked up to look like chimpanzees.
North Yorkshire Police are investigating whether pensioner Tony Nixon, from Guisborough, committed any offence on the social networking site.
It is understood Mr Nixon had been canvassing for Ukip in Stokesley, North Yorkshire, ahead of Thursday's local elections.
His Facebook account listed pages he "liked", including numerous English Defence League sites and ones expressing strong anti-Muslim sentiments.
Simon Cressy, a researcher for the anti-racist pressure group Hope Not Hate, accessed the Facebook page after he befriended Mr Nixon.
There were also racist jokes about destroying mosques, burning Muslims or knocking over a Pakistani with a bus.
Mr Nixon also apparently wrote how he knew after canvassing 800 homes for Ukip that the main issue of public concern was immigration.
One post said Ukip "is a patriotic party which wants us to get back our sovereignty".
Another added: "If you are wondering about the EDL I tell you that it is not a political party but a street movement which has no membership. Its hard work has greatly helped in the rise of Ukip."
A Ukip spokesman said: "We are shocked to learn about the views of Tony Nixon expressed on Facebook, which are not representative of Ukip.
"His membership has been suspended pending an urgent investigation. We do not tolerate members with any links to BNP, EDL or other extremist parties.
"We do not condone racist or any other inappropriate comments and regard them as totally abhorrent and anyone else discovered acting in such an appalling way will be thrown out of the party."
A spokesman for North Yorkshire Police said: "We are aware of the issue and officers are investigating to establish if any offences have been committed. It would not be appropriate to comment further until these inquiries are completed."
Mr Nixon was not available for comment.
Mr Cressy said: "Tony Nixon is an example of some of the members of Ukip - not all of them - and the party needs to shed them.
"Until they get rid of people like Tony Nixon, we cannot take them seriously as a political party."