Deputy House of Commons Speaker Nigel Evans said on Sunday that allegations he raped one man and sexually assaulted another are "completely false". In a short statement outside his home, Evans said: "The complaints are completely false and I cannot understand why they have been made."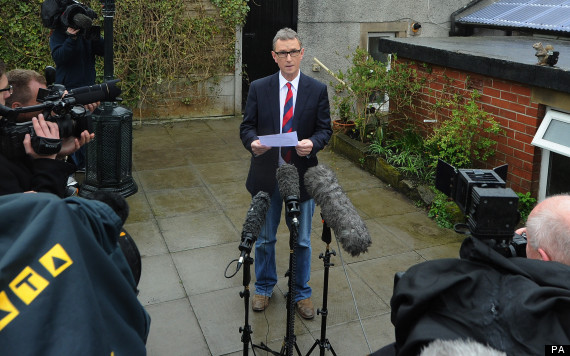 Evans speaking outside his home on Sunday
Evans, reading from a prepared statement, said: "Yesterday, I was interviewed by the police concerning two complaints, one of which dates back four years, made by two people who are well known to each other and until yesterday, I regarded as friends.
"The complaints are completely false and I cannot understand why they have been made, especially as I have continued to socialise with one as recently as last week. I appreciate the way the police have handled this in such a sensitive manner and I would like to thank my colleagues, friends and members of the public who have expressed their support and, like me, a sense of incredulity at these events. Thank you very much."
He did not answer any questions from reporters after making the statement. His solicitor Adrian Yalland said Evans is not intending to stand down, either as deputy speaker or as an MP.
Defence Secretary Philip Hammond said he had been "shocked" by the allegations about Evans. "I know Nigel well, I have known him for years. I'm obviously as shocked as everybody else is," he told BBC1's The Andrew Marr Show. He suggested that it could be "very difficult" for the MP to carry on as deputy speaker while the matter was being investigated.
"I think that is essentially a question the Speaker will have to consider," he said. "I stick rigidly to the view that we should treat people as innocent until they are proven guilty but it is quite difficult to carry out a sensitive and high profile role while being under this kind of scrutiny."
Speaking to Dermot Murnaghan on Sky News, William Hague said: "Of course we are all very limited about what we can all say about this, it's subject to legal proceedings. It's right to point out, and for me as a long-standing friend of his, to point out that he is a very popular and well-respected Member of Parliament and deputy speaker - I think that is true across the House of Commons actually for MPs of all parties, so we will all be very sorry to see this situation. It's not possible for us to comment in more detail on something subject to legal proceedings."
Earlier, Evans was released on bail after being arrested on suspicion of rape. The Ribble Valley MP is alleged to have raped one man and sexually assaulted another between July 2009 and March 2013. Both alleged victims are in their 20s.
Lancashire Police said on Saturday night: "A 55 year old man from Pendleton in Lancashire, arrested on suspicion of rape and sexual assault has today been released on police bail until 19th June 2013." It added the man was being questioned at a police station in the county.
It is understood that Prime Minister David Cameron has been made aware of the arrest. Evans has been MP for the Lancashire constituency since 1992. A popular figure at Westminster, in June 2010 he was elected as one of the three Commons deputy speakers.
Later that year, he came out as gay saying that he was "tired of living a lie". A villager who lives opposite him and who did not want to give her name said: "I am shocked. I like him. He is a good MP and he has done a lot for the Ribble Valley. Obviously he is well known in the village and goes to the local pub a lot."
Another Pendleton resident, who also did not want to give his name, said: "It's unbelievable, I know him very well. He is an excellent person and I would stand by him 100%."
Brian Binley, Tory MP for Northampton South and a friend of Mr Evans, said: "I was just deeply disturbed and shocked. "I've known him ever since I've been in Parliament and I came in in 2005. I consider him to be a very good friend. I know him to be caring, compassionate and in no way would he inflict himself violently on any other person. "He is a good enough friend to have come up last Friday to a fundraiser my partner Sally and I were holding for Macmillan nurses and so I do know him well. "I just hope and pray that this thing is cleared up sooner rather than later." Evans' house in Pendleton, Lancashire
Michael Ranson, the chairman of the Ribble Valley Conservative Association, said people in the constituency were "completely shell-shocked" at the news. "He is a very popular MP and a very good constituency MP. He's given assistance to a lot of his constituents over many years," he told Sky News. "Everybody's completely shell-shocked."
Evans was a vice chairman of the Conservative Party from 1999 to 2001. When Iain Duncan Smith became party leader in 2001, he was promoted to the shadow cabinet as shadow Welsh secretary - a post he held for two years.
When he came out, Evans told the Mail on Sunday that he been threatened with exposure by political opponents. "I could not afford it to be used as leverage against me. I couldn't take the risk. I don't want any other MP to face that kind of nastiness again," he told the paper. "I am sure there are other gay MPs who would like to be open about their sexuality but are fearful of the consequences."
A Lancashire Police spokeswoman said: "We take all allegations of a sexual nature extremely seriously and understand how difficult it can be for victims to have the confidence to come forward. "As a constabulary, we are committed to investigating sexual offences sensitively but robustly recognising the impact that these types of crimes have on victims.
"We would encourage anyone who has experienced sexual abuse, or who has information about it, to have the confidence to report it to us knowing that we will take it seriously, deal with it sensitively and investigate it thoroughly."
It was reported that Speaker John Bercow had agreed to a request from Mr Evans that he should be excused his duties chairing the Queen's Speech debate in the Commons on Wednesday due to the "inevitable added time pressure" that had been placed upon him.
Among the MPs supporting Mr Evans was Tory Andrew Bridgen who was accused of a sex assault two years ago only for police to drop their inquiries six days later.
"Fortunately in this country we have a rule that says you are innocent until proven guilty and I think that should be maintained," Mr Bridgen told Sky News.
"I personally think that Nigel should be able to continue as Deputy Speaker while the police, quite rightly, carry on with their investigations."
Comments are closed for legal reasons.