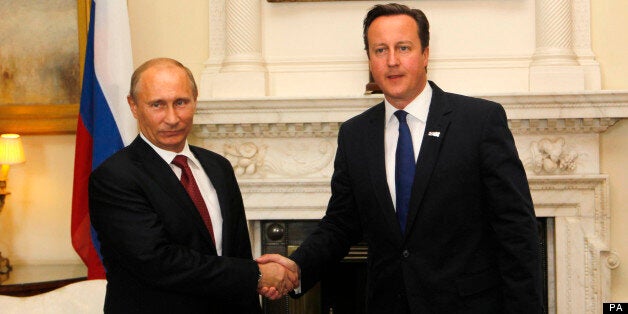 Prime Minister David Cameron will hold talks with Russian president Vladimir Putin this week on the need for diplomatic progress to end the conflict in Syria.
The visit to Russia comes as the UK steps up efforts to end a European Union arms embargo to enable the supply of weapons to forces opposed to Bashar Assad's regime.
After his Russian trip, Cameron is set to meet Barack Obama in the White House on Monday to discuss Syrian strategy.
The Prime Minister's spokesman said Russia was an "important player" in discussions about the conflict in Syria.
The spokesman said Mr Cameron will be "pushing for a political solution" and stressing "the urgent need to start proper negotiations and to force a political transition to bring the conflict to an end".
A leaked document has revealed the UK Government's arguments in favour of easing the EU arms embargo when the sanctions expire at the end of the month.
The British discussion paper sets out two options: lift the arms embargo against the Syrian National Coalition completely, or remove the words "non-lethal" from a list of exemptions, clearing the way for weapons to be sent to the country.
The Prime Minister's spokesman said: "The rationale behind exploring all the options, which is what we have long been saying with regard to the arms embargo, is the fact that we need to continue to, as part of pushing for a political solution, increase the pressure on the Assad regime. That's why we think that is the right thing to do."
Mr Cameron yesterday told MPs there was a "growing body of limited but persuasive information" showing that Assad's regime "has used and continues to use chemical weapons, including sarin".
"The room for doubt about this continues to diminish," he said.
Carla Del Ponte, a member of the United Nations panel examining allegations of war crimes in Syria, claimed at the weekend that the commission had indications that Syrian rebel forces used sarin.
But the Prime Minister's spokesman said: "Our assessment is that chemical weapons use in Syria is very likely to have been initiated by the regime. We have no evidence to date of opposition use."
Talks between US secretary of state John Kerry and the Russian leadership this week resulted in plans to convene an international conference on Syria later this month.
Mr Cameron is also expected to hold talks in coming days with US president Barack Obama and France's Francois Hollande.