Feminist icon Germaine Greer says she is in favour of rape victims being named.
Speaking on the BBC's Question Time show, Greer said complainants should not be ashamed of what had happened, and "ought to stand up there and face him".
Lib Dem and Tory MPs, who were also on the same panel, dismissed her suggestion, saying it would disuade victims form coming forward.
Greer had been asked about recent calls for people accused of sexual offences to be anonymous until they are found guilty.
"I have an unusual attitude towards this, because I'm not actually in favour of the accuser remaining anonymous," she said.
"I think if you want to put somebody away for seven years for offending you, by taking sexual liberties with you, then you ought to stand up there and face him.
"Because you shouldn't be shamed. He is the person who should be ashamed.
"The idea that the fact that this has happened has somehow damaged you, made you a person who can't show her face in public, to me that really doesn't work for me."
Greer said the whole category of rape should be changed, claiming the term's origins were that the woman 'belonged to someone else'.
She added: "I just think the whole thing needs overhauling, but we have all got to have the courage if you are going to stand up there and accuse someone of an offence that could send him to prison for seven years or whatever, I think you should show your face and you shouldn't be ashamed."
Her fellow panellists disagreed.
Lib Dem Business Minister Jo Swinson said: "If they did not have the anonymity then many of them would be dissuaded from coming forward, and I think that would be a great injustice."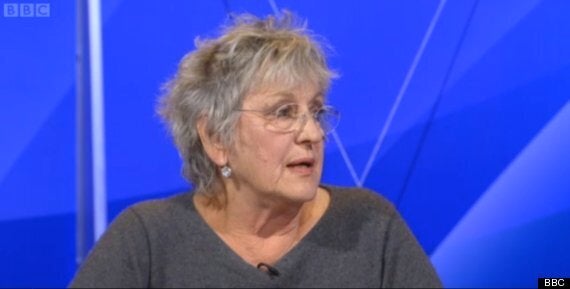 Greer's fellow panellists disagreed
Tory MP David Davis, the former Shadow Home Secretary, said: "Rape victims have already suffered once.
"When they go to trial, they suffer again. It's a miserable process for the victims.
"For that reason, and because we have had low conviction rates, I think we must preserve the confidentiality of the victim's position.
"I really can't see that we can reduce that at all."
Sarah Green, of End Violence Against Women, said she could understand Greer's argument, which comes from a "radical feminist perspective."
"It is absolutely nothing to be ashamed of, and I understand that view if you put it that way."
But she added: "If you do not have anonymity for victims, you do not get as many women willing to come forward.
"I respect Germaine Greer's intelectual thinking behind that but the reality is women and girls do not come forward and will be deterred from forward if they are of the view that everyone in their community will know what they are alleging."
Related