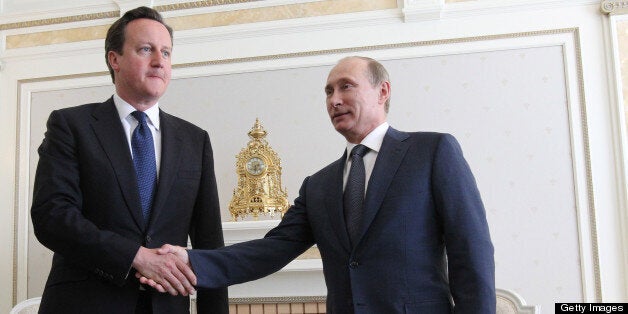 David Cameron will push for a political solution to end the Syrian conflict in talks with Vladimir Putin on Friday, as the UK stepped up pressure to end a European Union arms embargo preventing it from arming the opposition.
In a meeting at the Russian president's summer residence in the Black Sea resort of Sochi, the Prime Minister will stress "the urgent need to start proper negotiations and to force a political transition to bring the conflict to an end".
Russia has previously blocked international moves through the UN security council to impose sanctions on Syria.
A leaked document has revealed the UK Government's arguments in favour of easing the EU arms embargo when the sanctions expire at the end of the month.
The British discussion paper sets out two options: lift the arms embargo against the Syrian National Coalition completely, or remove the words "non-lethal" from a list of exemptions, clearing the way for weapons to be sent to the country.
Earlier this week David Cameron told MPs there was a "growing body of limited but persuasive information" showing that Assad's regime "has used and continues to use chemical weapons, including sarin".
"The room for doubt about this continues to diminish," he said.
Carla Del Ponte, a member of the United Nations panel examining allegations of war crimes in Syria, claimed at the weekend that the commission had indications that Syrian rebel forces used sarin.
But Downing Street stands by its assessment that chemical weapons use in Syria "is very likely to have been initiated by the regime" and says it has "no evidence" of opposition use.
Talks between US secretary of state John Kerry and the Russian leadership this week resulted in plans to convene an international conference on Syria later this month.
More than 70,000 people have died in the conflict since March 2011, according to the United Nations.
Popular in the Community