An online movement calling to free Boston bombings suspect Dzhokhar Tsarnaev is gathering pace – thanks to an army of teenage girls who believe he is "too beautiful to be a terrorist".
Nicknamed "Jahar", the 19-year-old, who is currently in custody and has been interrogated by the FBI over the April 15 explosions, has emerged as an unlikely heartthrob in the wake of the attacks, which killed three and maimed hundreds.
Facebook and Tumblr tribute accounts have been set up in support of the teen, and the hashtag #FreeJahar continues to periodically trend on Twitter.
Yes i like Justin Bieber and i like Jahar but that has nothing to do with why i support him. I know hes innocent, he is far too beautiful.

— OMG Free Jahar! (@FreeJahar97) April 25, 2013
i don't even care if jahar is a terrorist he's cute i don't want him to die.

— Selam. (@baddierauhl) April 20, 2013
The New York Post spoke to one 18-year-old who insists the evidence against him does not add up and had planned to get words from one of Dzhokhar's own last tweets inscribed on her permanently.
"Getting one of Jahar's tweets tattooed on me tomorrow. Guess you could say I'm a #FreeJahar supporter," @keepitbluntedd tweeted on May 7.
Alisha had earmarked Tsarnaev's April 7 tweet reading: "If you have the knowledge and the inspiration, all that's left is to take action" for a spot on her arm.
Since the story went live however, the waitress has had to put her plans on hold for now "out of respect of my family's wishes. For now. It's still something I definitely want," she Tweeted.
How many RT's for our boy jahar look at that beautiful face #freejahar twitter.com/laniquathompso…

— #freejahar (@laniquathompson) May 4, 2013
I'm not gonna lie, the second bombing suspect, Dzhokhar Tsarnaev, is hot. #sorrynotsorry

— M. (@Lovelessmariee) April 20, 2013
Meanwhile a Facebook group entitled Dzhokhar Tsarnaev Free Jahar Movement has close to 6,500 followers, with many speculating Dzhokhar and his older brother Tamerlan were set up.
Further accounts exist, with "fans" leaving comments such as "I love you, you bomb my heart" and posting photographs of themselves in underwear, holding pieces of paper with Dzhokhar's name scrawled across them.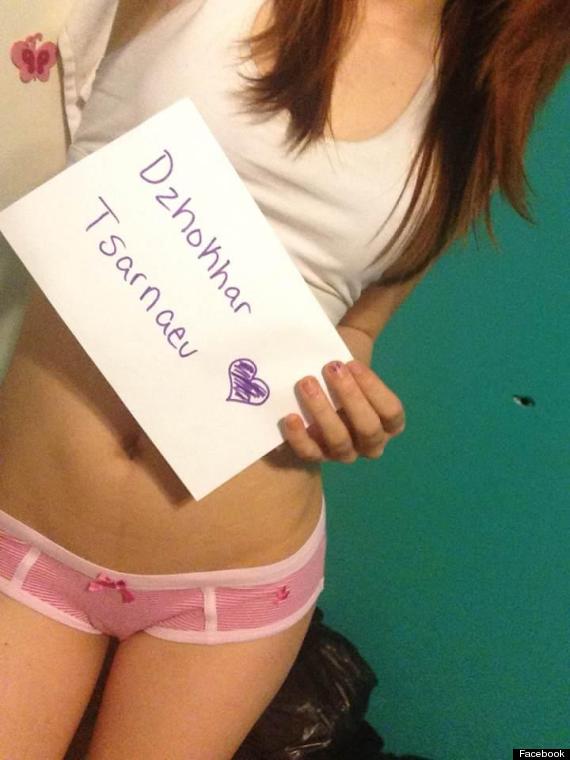 An image from a Dzhokar Tsarnaev Facebook 'fan' page
It's not the first time Dzhokhar's appearance has been commented on. Earlier this month, Mother Jones spoke to a woman who had a "fleeting fling" with the university student.
Speaking under condition of anonymity, she said: "I met him standing outside a building and honestly, his face was enough to capture my heart. "
Wired calls the #FreeJahar campaign "a mix of conspiracy theories, sympathy for Tsarnaev and skepticism of the official narrative surrounding his arrest." The Verge notes that for every message supporting Dzhokhar, "there's a user expressing vitriolic disgust that Tsarnaev supporters exist."