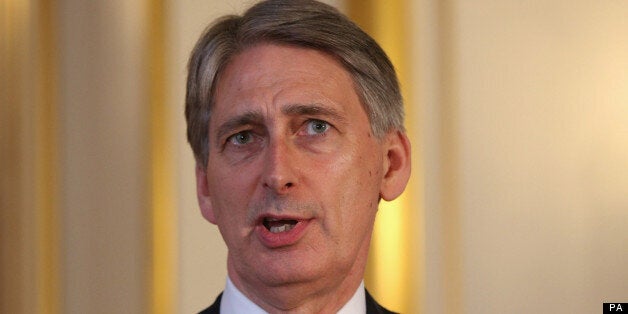 Tory eurosceptics were given a boost when two cabinet ministers publicly declared they would vote to leave the European Union on the basis of the present relationship with Brussels.
Both senior government figures insisted they backed David Cameron's bid to negotiate the return of some powers and put the resulting relationship to voters in an in/out referendum by 2017 if the Tories win the next general election.
But their comments will encourage backbenchers seeking to put pressure on the prime minister to bring forward legislation enshrining that pledge in law in a bid to win back voters from the UK Independence Party.
Gove said he was prepared to contemplate cutting formal ties with the EU, suggesting he was in line with public opinion in feeling it would be "perfectly tolerable" and indeed bring some benefits.
Asked about reports last year that he told friends he would vote 'no' if there was a referendum now, Gove told BBC1's Andrew Marr Show: "Yes, I'm not happy with our position with the European Union. But my preference is for a change in Britain's relationship."
Hammond later told Pienaar's Politics on BBC Radio 5 live: "If the choice is between a European Union written exactly as it is today and not being a part of that then I have to say that I'm on the side of the argument that Michael Gove has put forward."
"I believe that we have to negotiate a better solution that works better for Britain if we are going to stay in."
Pressure for action from the Tory right has been fuelled in recent days by exit calls from several party grandees including ex-chancellor Lord Lawson.
Hammond criticised that position as "defeatist" and said he believed Cameron had a "reasonable chance" of securing sufficient reforms.
The prime minister has said the status quo is not acceptable but wants to campaign for a 'yes' vote on an improved relationship.
"Let me be absolutely clear: I think it is defeatist to sort of say we want to leave the European Union," Hammond said.
"We should say no, this is a club that we are members of, and before we talk about leaving it, first of all we're going to try and change the rules and change the way it works and change the objectives that it has in order to make it something that works for Britain.
"And I think there's at least a reasonable chance that we can achieve that because of the coincidence of our needs and the needs of other important members of the eurozone Germany in particular, for reform, and of course the Germans are very, very influential in the overall European debate."
Hammond and Gove, along with Home Secretary Theresa May, indicated today that they would abstain in a expected Commons vote attackingthe failure to include legislation paving the way for a referendum in the Queen's Speech.
Ministers have been excluded from a free vote granted to Tory backbenchers to back the rebel amendment - with around 100 tipped to take the highly-unusual step of formally criticising their own government's legislative programme.
Tory MP John Baron, who organised a letter signed by 100-plus Tory MPs last year calling for legislation and tabled the amendment after Cameron said coalition government made it impossible, said without it the referendum pledge was "credible...but it is not yet believable".
Passing paving legislation "would be a concrete way of demonstrating serious intent".
But, writing in the Sunday Telegraph, he also said he and fellow members would use "every means possible" to bring forward legislation such as private member's bills in the coming weeks.
Downing Street has indicated that David Cameron is "relaxed" about the idea of Tory MPs expressing their discontent and is prepared to "look at all ways of strengthening his commitment".
The amendment is expected to be selected for debate by Speaker John Bercow in Wednesday's Queen's Speech debate.
The prime minister will be away for any vote on a visit to the United States.
Gove said the vote was about MPs "letting off steam".
"My ideal is exactly what the majority of the British public's ideal is, which is to recognise the current situation is no good, to say that life outside would be perfectly tolerable, we could contemplate it, there would be certain advantages.
"But the best deal for Europe and for Britain would be if Britain were to lead the change that Europe needs."
Gove dismissed Labour claims that the Conservative Party was in turmoil over Europe.
"You can't have a civil war when everyone is on the same side," he said.
"Fundamentally, the overwhelming majority of Conservative MPs would like to have a different relationship between Britain and Europe.
"Some of my colleagues are very exuberant and want to let off steam. That is fair enough. My own view is let the prime minister lay out our negotiation platform, make sure that he has a majority which I'm convinced he'll secure at the next election, and let's have the referendum then.
"I am going to abstain because while I believe that while we absolutely need to have a referendum at some point in the future, it is not appropriate at this stage and also, in a way, it is an exercise in letting off steam because we can't have a referendum bill because we are in coalition."
The amendment stands no chance of being approved with Labour leader Ed Miliband yesterday reiterated his opposition to a referendum promise and the Liberal Democrats also lined up against the policy.
Hammond said it would be "bizarre" if ministers defied collective responsibility by voting for the amendment.
"Voting in favour is absolutely out of the question because we have collective responsibility for the Queen's Speech," he told BBC1's Sunday Politics.
"But I would not want to vote against it and allow that to be misinterpreted as in any way questioning our commitment to, our belief in, the idea of a referendum."
He said the significance of the split vote had been "enormously inflated".
"We are all violently agreeing here: we all believe that there needs to be a referendum on Europe; we all believe that the British people need to have a say; and we also all agree that we need to make very clear to the public that commitment to a referendum.
"Now some of our backbench colleagues think that the best way to do that is to bring forward a Bill in this parliament that would be almost certain to be defeated because it won't be supported by the Liberal Democrats and it will be opposed by the Labour Party."
A draft Bill could instead be published before the election to demonstrate what legislation would look lie if the Tories win in 2015, he said.
Home secretary Theresa May told Sky News' Murnaghan programme she believed there was a need for change in Europe but declined to comment on whether she would vote to leave the union if a referendum was held tomorrow.
"Michael (Gove) gave his view, I've been clear in my comments I think there is a change that is needed... what I want see is work done to make sure we get a renegotiated deal, a renegotiated settlement, and then have that put to the British people."
Shadow chancellor Ed Balls said: "I think (a commitment to a referendum) is the wrong thing to do now, but I don't think we should set our face against consulting the British people.
"I don't think we should say anything which gives the impression we don't understand their concerns.
"But I think if we were to answer the question by saying maybe in two years' time, we play the same destabilising political, tactical short-term game... (that) is making David Cameron look like he's not really fit to be prime minister at the moment."
Number 10 later confirmed that the free vote would also be extended to parliamentary private secretaries - MPs acting as ministerial aides in the Commons - with only ministers being expected to abstain.
Ukip leader Nigel Farage, whose anti-EU party translated record opinion poll scores into a stunning surge in this month's local elections, said: "It is quite transparent that, like Banquo's ghost, Ukip, and its forthright and honest position on our membership of Europe and the need for a rapid referendum, is driving forward the ideas within the Conservative Party.
"As for the position of Labour, Mr Miliband is transfixed in the headlights of public concern, leaving him with little than to bleat soundbites."
Matthew Elliott, chief executive of the Business for Britain campaign said: "Michael Gove's comments reflect the feelings of many with regards to the deep problems that exist with the current terms of Britain's EU membership.
"Business for Britain believes that it is important to try and first renegotiate our EU membership before heading for the exit - but we also believe that any renegotiation must deliver substantial and wholesale reform if it is to make staying in the EU worthwhile.
"We are currently consulting our business supporters up and down the country to determine what powers they believe need to be returned to Westminster. Any future renegotiation must return these powers, not simply tinkering around the edges, to be taken seriously by the business community."