Topless women from female rights group Femen have caused a storm at the opening of the Barbie 'Dreamhouse' in Germany, screaming slogans and brandishing burning crucifixes, the charred bodies of the doll hanging from the cross.
Baring inscriptions across their bodies that read 'Life In Plastic Is Not Fantastic', a handful of women climbed on top of the giant pink shoes and other Barbie paraphernalia, before being led away by police.
The 'Barbie Dreamhouse Experience' in Berlin is designed to provide fans "a completely new insight into the living interior and lifestlye of the most famous doll in the world," according to the Barbie Dreamhouse website. After opening in Germany it will move to other European countries.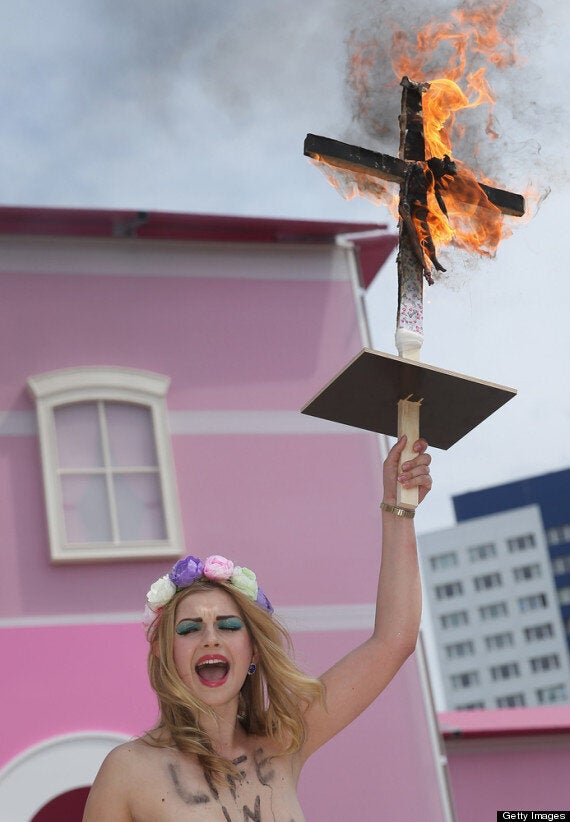 Femen activists were led away by police
Malibu Barbie's Eurotrip has not only angered Femen.
A group called "Occupy Barbie Dreamhouse," launched by members of the youth wing of Germany's far-left party Die Linke, plans to protest the opening too.
"Our protest isn't directed against parents who visit the Barbie House or against children who play with Barbies (although a real woman with Barbie's figure would be anorexic, wouldn't be able to walk, and would never get her period,) anti-dreamhouse activist Michael Koschitzki, 27, told Der Spiegel earlier this year.
"They present an image of cooking, primping and singing as if it were in some way life-fulfilling. The Barbie Dreamhouse is the expression of a conventional role model that isn't OK."
A post on their Facebook group today condemned the Femen activists, saying they only encouraged peaceful protest.
Femen, who describe themselves as sextremists, have made waves around the world with their visually loud demonstrations.
Earlier this week topless members of Femen were forcibly removed from a roof by firemen, as they unfurled banners and shouted hundreds of feet above a far right demonstration in central Paris, the women protesting against neo-Nazism.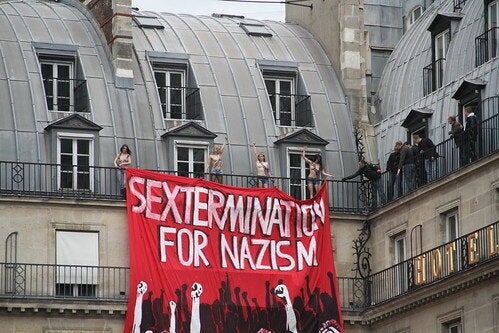 Tunisian activist Amina Tyler has revealed she was beaten, kidnapped and drugged by her family after posting pictures of herself baring her breasts online.
The 19-year-old was also forced to endure a humiliating "virginity test" in the aftermath of her protest, which inspired women's movement Femen to organise a "topless jihad" in support of her.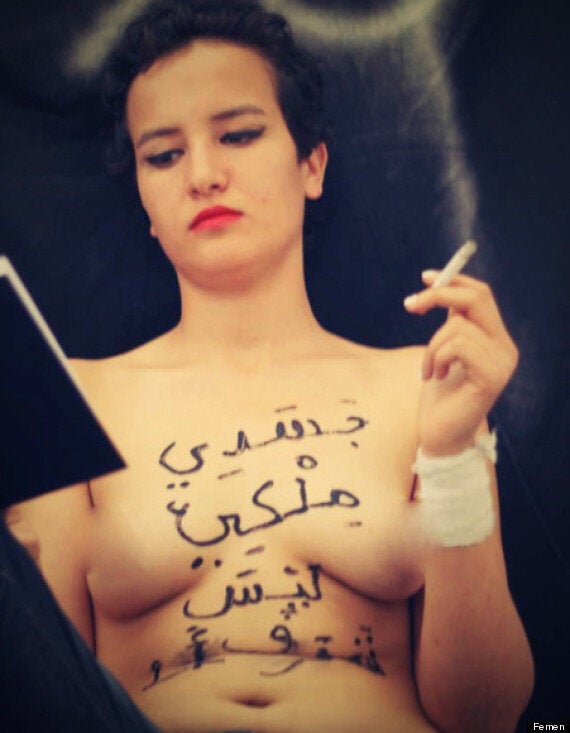 One of the pictures of Amina posted on the Femen Tunisia site
Speaking to Femen leader Inna Shevchenko from an undisclosed location via Skype, she told her harrowing story, but was adamant she will continue her struggle for women's rights in the Muslim country.
Inna told the Huffington Post UK: "Amina has became a symbol of liberation of women in the Arab world. We will not stop, now together with Amina, who is in danger, but still free."
Barbie manufacturer Mattel has seemed unfazed by the controversy: "Barbie has again become a tool for some to advance their own agenda," a spokeswoman for the company's German division told AFP.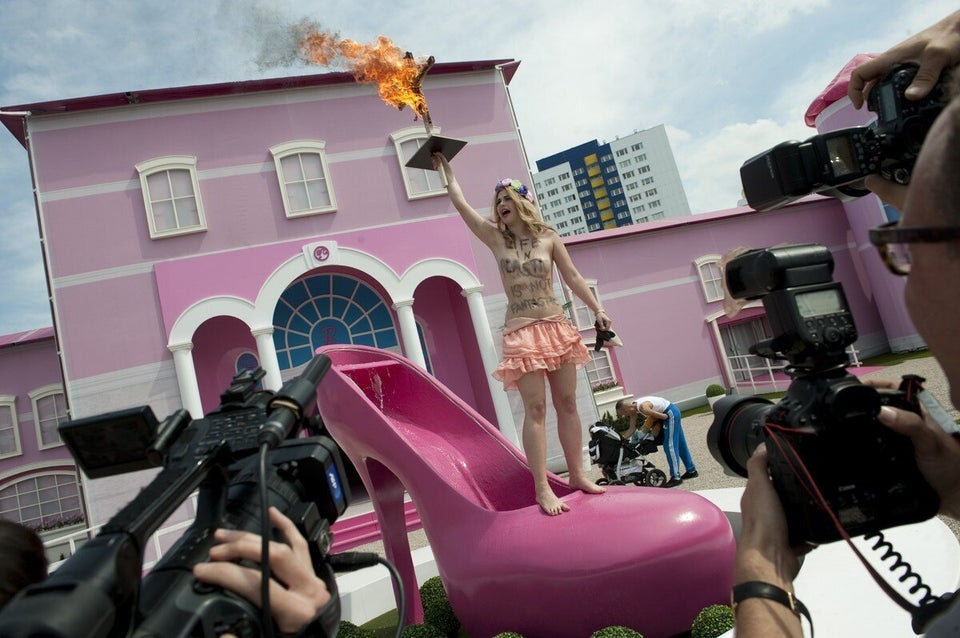 FEMEN ambush the opening of Barbie Dreamhouse Experience in Berlin