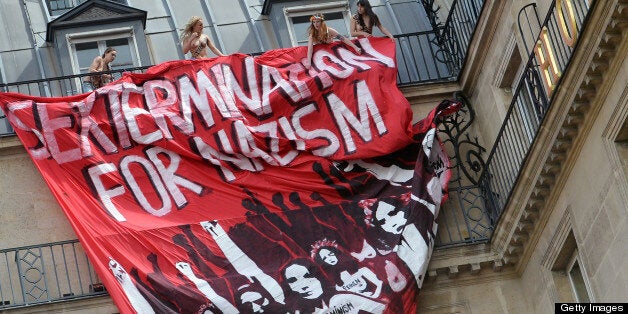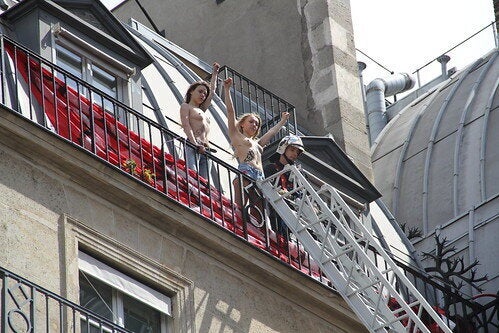 Topless Ukrainian feminists, Femen were taken off a roof by firemen hundreds of feet above a far right demonstration in central Paris this afternoon. Four women, including the groups leader, Inna Shevchenko occupied a balcony above a crowd of hundreds of members of extreme right wing groups to protest against neo-Nazism.
Video of moment when slightly bashful firemen reach the Femen activists. Source: Patrick Reevell
The women, appearing shirtless and in hotpants, joined hands above a huge red banner reading "Sextermination to Nazism" above Paris' Place de Pyramids, by the Louvre. Far right groups had gathered to commemorate Joan of Arc, adopted as an iconic figure by extreme French nationalists.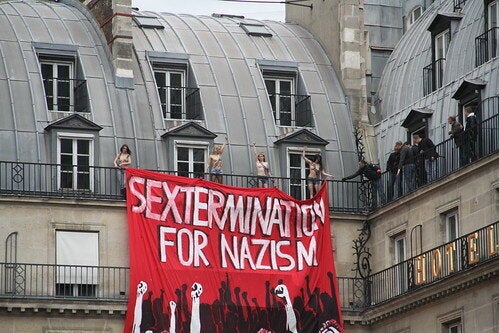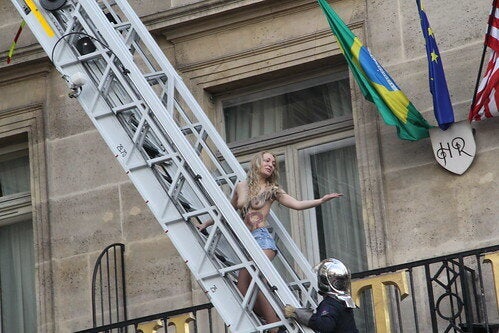 Inna Shevchenko, Femen leader, blows kisses to crowd of French nationalists and other far right groups.
The four women stood above the jeering crowd for roughly an hour while police attempted to reach them. Officers scaled the balcony of an adjacent hotel and began trying to pull in Femen's banner, as well as calling to the women to come down. Around 1pm a fire engine arrived, and a ladder was extended up towards the women. Simultaneously, a fireman began to climb across to reach them.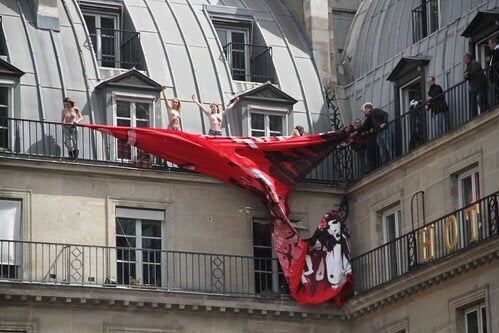 Paris firemen try to pull in a banner unfurled by Femen in front of the Regina Hotel. Source: Patrick Reevell
The Femen activists obeyed police instructions to descend once firemen reached them, climbing calmly down the ladder one at a time, helped by two sapeur-pompiers. Each woman turned to face the crowd and blow kisses from half-way up the ladder. The crowd below shouted insults at the women and chanted "Jump, jump!" over and over again. Riot police armed with batons and shields formed lines around the ladder, as far right demonstrators tried to approach.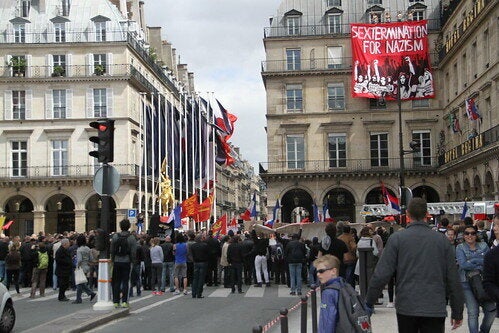 The women were hurried by officers into a police van as soon as they stepped off the ladder. When Inna Shevchenko, the third to descend, reached the ground, around 20 shaven headed men tried to break through police lines to her, shouting "whore". Officers used pepper spray to drive them back, while Shevchenko disappeared behind the engine.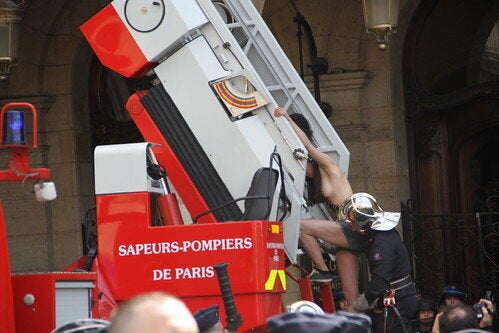 A French fireman helps one the women down from the ladder at Paris' Place de Pyramides. Source: Patrick Reevell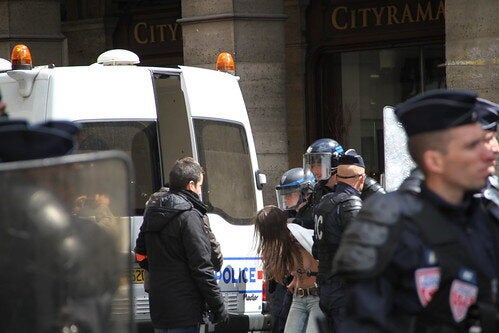 A Femen activist is led away by police, to be placed inside a police van. Source: Patrick Reevell
Other far right demonstrators stood by in ranks, holding French flags, while militaristic nationalist anthems played loudly. One women stood in front of the police lines and yelled, "Not feminists, not feminists" from the base of the gold statue of Joan of Arc which had drawn the demonstrators. Among the groups present were French royalists, far right skinheads, and conservative Catholics, with who Femen have clashed in November during a gay marriage march.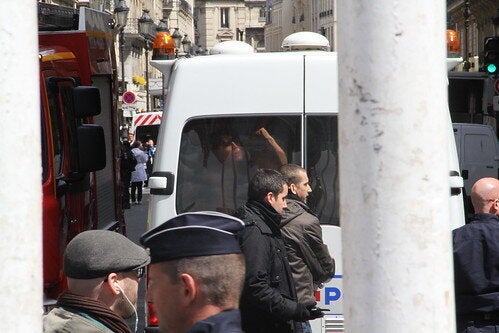 One of the Femen activists inside a police van, after being led off the roof. Credit: Patrick Reevell