 The sincerity of Conservative opponents of same-sex marriage who argue civil partnerships provide equal rights for gay couples has been questioned given their past voting record on gay rights legislation.
On Thursday defence secretary Philip Hammond said he believed the introduction of civil partnerships in 2005 had dealt with the "very real disadvantage" that gay couples faced in the past.
But he told BBC Question Time that David Cameron's plans to introduce gay marriage had upset "vast numbers of people" and led to a "real sense of anger" among voters.
"I have just never felt that this is what we should be focusing on," he said. "This change does redefine marriage. For millions and millions of people who are married, the meaning of marriage changes.
"There was no huge demand for this and we didn't need to spend a lot of parliamentary time and upset vast numbers of people in order to do this."
However Labour's Chris Bryant tackled Hammond over his voting record on gay rights, arguing it was insincere of him to act as if he supported civil partnerships.
"I'd accept your argument more if you'd ever voted for an equal age of consent, for gays to be allowed to adopt, for gays in the military to be able to peruse their career or for that matter if you had voted for civil partnerships," he said.
"There have been 23 votes in the time you've been in parliament on these issues, on 12 of them you've not even bothered to turn up and on 11 you've voted against."
Hammond voted against equalising the age of consent for gay people and straight people, was absent for the vote repealing Section 28 and was absent for the vote introducing civil partnerships.
Several other senior Tories voted against the introduction of civil partnerships including the current transport secretary Patrick McLoughlin, environment secretary Owen Paterson and John Hayes - the former energy minister who was recently made part of Cameron's Downing Street inner circle.
In May 2012 Paterson said the government was "rightly committed to advancing equality for lesbian, gay, bisexual and transgender people and has already taken action to do so by allowing those religious premises that wish to carry out civil partnerships" - despite having voted against their introduction.
On Monday the Marriage (Same Sex Couples) Bill, which has proved highly controversial with Tory MPs, will return to the House of Commons for two further days of debate.
Former education minister Tim Loughton has tabelled an amendment to the bill that would see civil partnerships for straight couples introduced alongside gay weddings. The move has the backing of both supporters and opponents of gay marriage, however the government is concerned the move is designed to disrupt the same-sex marriage legislation.
Loughton also voted against equalising the age of consent and was absent from the vote repealing Section 28 - however he did vote in favour of civil partnerships.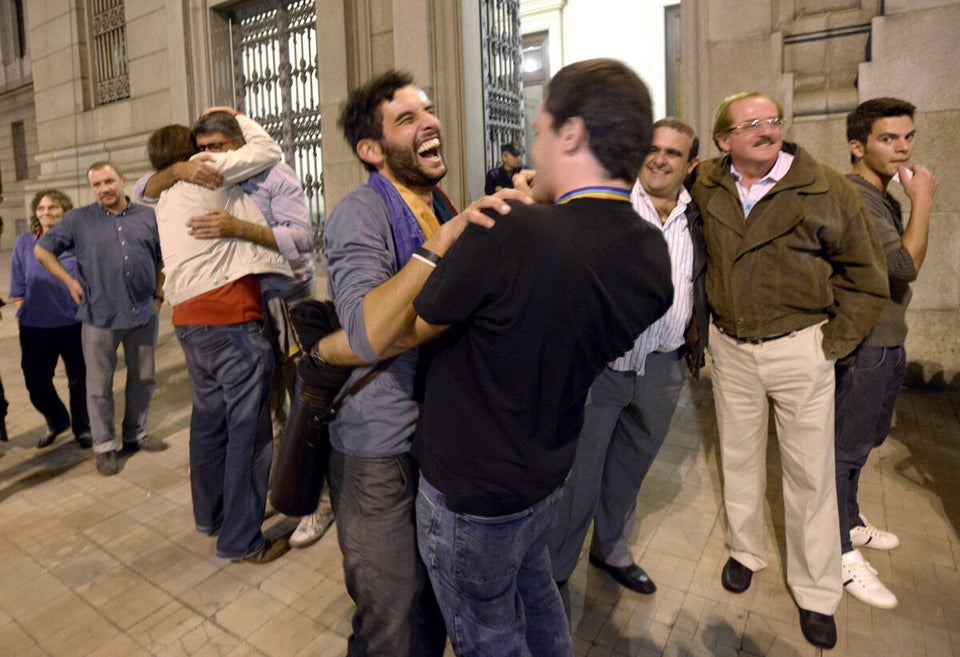 Gay Marriage Demonstrations And Celebrations In Uruguay And France