Prince Harry paid a surprise visit to see his charity Sentebale's garden being set up at the Chelsea Flower Show.
The prince, wearing a yellow high-visibility jacket, spent several minutes chatting to designer Jinny Blom as he was shown around the B&Q Sentebale garden on Friday. Prince Harry was making a 'private visit' to Chelsea
The unannounced visit was on the day after he arrived back from his tour of the United States.
The world-famous annual garden show opens to the public on Tuesday and will be visited by the Queen the day before.
Harry also had a look around the M&G Centenary Garden celebrating 100 years of the Chelsea Flower Show.
The casually-dressed prince, wearing a baseball cap and jeans, seemed to take an interest in the plants he was shown in both gardens.
A St James's Palace said: "It was an unannounced private visit."
Ms Blom, a renowned landscape gardener who was commissioned to create the garden to raise awareness of Sentebale, was kissed by Harry at the end of his visit.
She said she did not know he would be attending today until she saw him approaching the garden.
Ms Blom said: "I don't think even he knew he was going to be here today - he just decided to come on the spur of the moment.
"It's nice for him to be able to see the garden before Monday because I didn't know if he was going to get the chance.
"He was very, very pleased with it and likes it very much. He's such a nice guy. The great thing about today was that he was able to meet everyone who's been building it for the past month.
"He was asking about the poppies, which haven't come out yet. He said 'What does it take to get these to open?' - and I said we needed some sun!"
She said Harry had been heavily involved in the garden - even when he was serving in Afghanistan recently.
"We sent all the drawings over to him when he was in Afghanistan," she said. "He is passionately involved, which is great for all of us. The whole thing has been brilliant."
The Forget-Me-Not garden, a contemporary interpretation of the South African country of Lesotho, was "a year's hard work", said Ms Blom.
Its purpose is to "put Lesotho on the map" and educate people about how Sentebale helps its vulnerable children, suffering from extreme poverty and HIV/Aids.
"It is one of the world's poorest countries but it is absolutely beautiful," said Ms Blom.
"But trying to interpret a country of mountains and flowers has been a challenge."
The word Sentebale means forget-me-not and also represents the loss of Harry's mother Diana, Princess of Wales, and the late mother of Prince Seeiso of Lesotho.
Ms Blom said the presence of the flower in the garden reflects that and acts as a memorial to both women.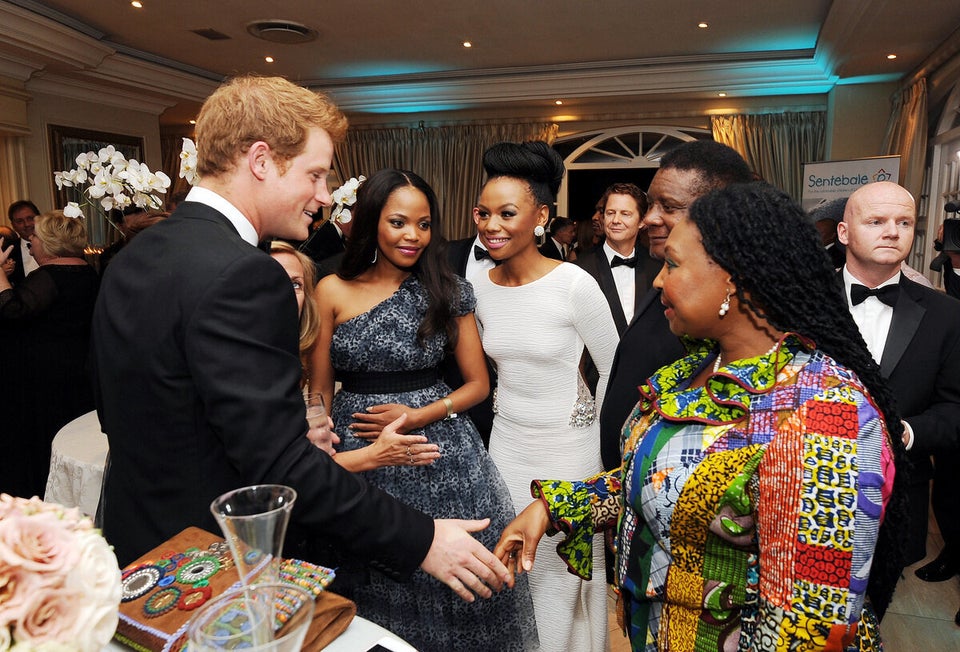 Prince Harry Visits Lesotho Feb 2013
A pattern based on the idea of hearts and crowns, cut into a floating stone in the middle of the garden, symbolises the Prince and his loss, as well as the children in Lesotho who have lost their own parents, she said.
The stone is surrounded by forget-me-nots and baby's tears, a mossy plant.
Ms Blom praised both princes, saying: "They are using their royal positions to do their duty of protecting the people of Lesotho and that's the message we're trying to put across."
According to the Chelsea Flower Show guide, the garden evokes mountains, tree houses and the designs of blankets that are Lesotho's national costume.
A Royal Horticultural Society spokeswoman said they had not been aware the Prince was going to visit today and that he had wanted to see for himself how the garden's construction was progressing.
Designer Roger Platts, who created the M&G garden which is next to the Sentebale garden, said he was called over by RHS shows director Stephen Bennett as he came back from a morning snack.
He said: "It wasn't until I saw him that I realised it was Prince Harry.
"I was introduced to him and he asked what it was like working alongside Sentebale - I said we like seeing their willow trees from our garden, and he said he liked seeing our summer house's thatched roof from their garden.
"He was very interested in the wild flower area, and in our kissing gate, asking where we had found it.
"I told him I had had it for a while and been looking for a way to use it.
"He also wanted to know how many varieties of plants we have - and I said I don't actually know yet.
"He was certainly drawn to the wild flowers. The visit was so unexpected. It was marvellous. Harry was really relaxed and so easy to talk to."
The garden was commissioned by show sponsors M&G and its design draws influence from 100 years of the Chelsea Flower Show.
Harry specifically asked to see the Trailfinders Australian garden and spent time chatting to volunteers who have flown in from Down Under to help in its creation.
Wes Fleming of Fleming's Nurseries in Victoria, Australia, said the prince had joked that a rope swing should be installed over a water hole at the heart of the garden - and said he would have jumped off it if there had been one.
He said: "I think it's part of Harry's nature to be a bit playful.
"He was in a delightful mood. He's a lovely young man and has that sparkle in his eye - or what my wife described as a cheeky grin."