Michael Gove faced the wrath of headteachers on Saturday over the state of the education system, just hours after they passed a landmark vote of no confidence in the Government's school reforms. The Education Secretary was greeted with the most hostile reception he has faced during his time in office as members of the National Association of Head Teachers (NAHT) warned that they are under intense stress amid major changes to education and the threat of Ofsted inspections.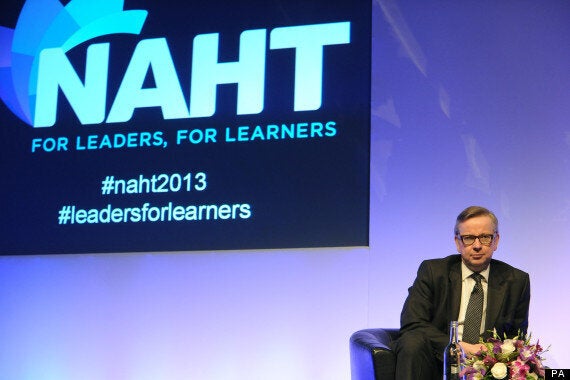 Gove launched a robust defence of his policies despite anger from the attendees
Gove was heckled as he told the NAHT's conference in Birmingham that they would "part company" over concerns about Ofsted, and was jeered by delegates when he suggested that no school would be marked down in national curriculum tests because one child was off sick. At the start of the question and answer session NAHT president Bernadette Hunter pointedly told Gove: "Those of us in education, leaders and learners, have never had it so bad. It is within your power to put this right."
Gove clashed repeatedly with delegates during the hour-long debate. Denise Wells, head of Field House Infant School in Ilkeston, Derbyshire said: "The culture we've got at the moment is one of bullying and fear, you ask why headteachers are going down with stress. It is because they are spending Monday, Tuesday, Wednesday waiting for Ofsted, not because they are not doing well, but because it (the outcome) depends on the people that come. It's because we're working in a culture of fear, not one of working together."
Gove told the conference: "If Ofsted causes you stress, then I'm grateful for your candour, but we are going to have to part company." One delegate responded with "Are you leaving them?" In a robust defence, Gove went on to say: "What I have heard is repeated statements that the profession faces stress, and insufficient evidence about what can be done about it." He added: "What I haven't heard over the last hour is a determination to be constructive, critical yes, but not constructive."
During the morning's session the union overwhelmingly passed a vote of no confidence in the Government's education policies. Many of Gove's reforms are "not in the best interests of children", it said. Heads raised particular concerns about the new national curriculum, major test and exam reform and schools being forced into becoming academies.
Bernadette Hunter: "Those of us in education, leaders and learners, have never had it so bad"
Lesley Wells of Outwood Primary School in Burton-upon-Trent said she faced an Ofsted inspection last week which had left one of her governors in tears. "I don't mind being challenged, I don't mind my staff being challenged, but I do not expect the volunteers that help me to be challenged in the way that they were."
Gove replied that he would need to see more details and would take the issue up with Ofsted, but added that inspectors ask "rigorous" questions that force individuals to think hard about how their school is performing.
Stephen Kirkpatrick, a deputy headteacher from Salford told of how a pupil had missed last week's national curriculum (SATs) tests. "My first thought was not 'what can I do to help that child', my first thought was 'that's 2% off our figures'." There were shouts from NAHT members as Gove replied: "If you were worried about an adverse judgment because a child was off, let me reassure you, that would never happen."
Primary schools are rated on their SATs results in annual school league tables. At one point Gove was greeted with laughter as he asked delegates "what are the drivers of your stress?"
Gerard Kelly, editor of the Times Educational Supplement, said: "They think you're one of them." The minister went on to say: "If it is stressful that we are demanding higher standards then I am not going to stop that."
Answering questions on the Government's new national curriculum, due to be introduced in September next year, Gove revealed that the draft history syllabus, which has proved controversial, is set to face "a more extensive re-write than any other". He said that they want to keep the stress on chronology and narrative. But he added that the break between primary and secondary history was "probably in the wrong place" and that "there should be room for a greater degree of depth of study".
The revision is also set address concerns that the draft history curriculum focuses too heavily on British history to allow "studies into other civilisations and countries", Gove suggested.
On Saturday morning, the NAHT became the first headteachers' union to pass a vote of no confidence in the Government's education reforms. Tim Gallagher, proposing the motion, said: "Enough is enough. This motion's intention is to send the strongest message possible to this government that many of their education policies are failing our children, their parents and the very fabric of our school communities."
The UK's three biggest teachers' unions, the Association of Teachers and Lecturers (ATL), the National Union of Teachers (NUT) and the NASUWT passed similar votes at their Easter conferences. The NUT and the NASUWT are already planning regional strikes in the North West next month in a continuing row over pay, pensions and workload with the prospect of a national walkout looming in the autumn. The latest vote of no confidence is a further sign of the worsening relations between the Government and the teaching profession.
The resolution called on the NAHT's executive to ensure that the government is left in no doubt that that the union represents the "serious concerns" of the profession. It was passed with 99.3% of the vote. Delegates also passed a second resolution raising concerns that "too much power is currently given to one person to determine national policy on the basis of personal preference and ideologically-driven assumption".
The NAHT represents around 85% of primary headteachers and 40% secondary leaders in England, Wales and Northern Ireland.
Related