Support for the UK Independence Party has reached a record 19%, according to a poll which saw both Labour and the Tories losing ground. Labour was down three points to 35%, the Conservatives were down one to 29% and the Liberal Democrats were unchanged on 8%. The high poll rating comes on the same day as 16 Ukip councillors in Lincoln refused to sign an anti-racism pledge set up to ensure all county residents are treated equally and have the same rights to services.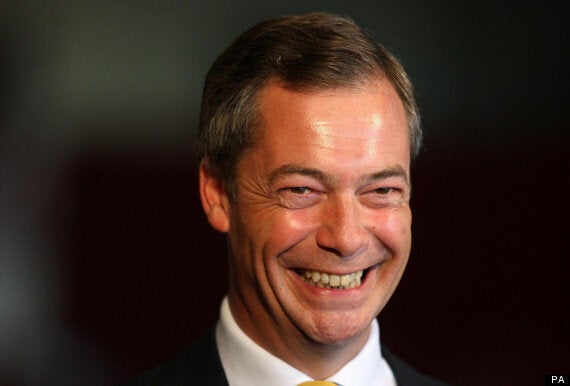 Farage's Ukip has hit a record high in the polls
The ComRes poll for the Sunday Mirror and Independent on Sunday found support for Nigel Farage's party was up 4% since the last survey a month ago and gives Ukip the highest share recorded by any pollster. According to the study 46% of Britons would vote to leave the European Union in a referendum now, compared with 24% who would stay in.
But if some powers were returned to the UK from Brussels 43% would vote to remain in the EU, with just 24% determined to see Britain leave. The poll found just 26% said David Cameron was a good Prime Minister, a record low in ComRes studies, while 31% believed Ed Miliband was performing well as Labour leader, a new high. The survey revealed that 57% of voters believed Cameron's party was more divided over Europe than it was under Sir John Major, with 14% disagreeing.
But there was some comfort for the Prime Minister, with 49% of voters saying the offer of a European referendum would be important to them at the next general election, with 27% disagreeing. And 32% believed Cameron would make the best prime minister of the party leaders, with 24% opting for Miliband.
He said "as far as we are aware" the reported remarks were not actually made. Asked who said the words, Shapps told Channel 4 News: "Unfortunately I can't reveal the answer to that, simply because I was not there and as far as we are aware it was not even said, but we just don't know."
Shapps added: "I don't believe anyone senior would say this type of thing, it's not an attitude or a view I have ever heard expressed in No 10, in Central Office, we respect and work with people who work incredibly hard as volunteers, unpaid, for the party. I'm trying to make clear, I don't believe it's ever been said. You can always run a story that said there were 250 people in a room and one of them said this. The trouble is with this story we don't know who is supposed to have said it. The problem there is actually how can you then have the conversation about it?"
Geoffrey Vero, Conservative association chairman in Michael Gove's Surrey Heath seat, told Channel 4 if the comments were made the person responsible should be sacked. "If I had a person like that who was so incredibly rude about your own people, I think he has to be fired," he said. Vero said although he and Cameron disagreed on gay marriage they respected each other's positions. "Therefore, for one of his aides to be calling us loons I think is very divisive and is throwing petrol on what is a complex issue," he said.
:: ComRes interviewed 2,017 British adults online on May 15/16. Data were weighted to be demographically representative of all adults and by past vote recall.