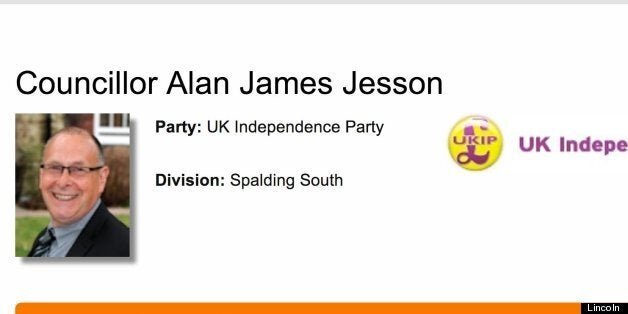 A second Ukip councillor from Lincolnshire council appears to have made racist and homophobic remarks on Facebook, suggesting he is about to take the law into his own hands "to rid the country of foreigners."
A Facebook account appearing to belong to Ukip's Alan Jesson, who was voted in as councillor for Spalding South in this year's local elections, tells a Polish woman to "f**k off" and another man his "culture is not welcome in the UK". He later to tells the man to "go home and eat wildlife."
Anti-racism campaigners Hope Not Hate called the posts "disgusting" and said the local council appeared to be "blighted with hatred and bigotry".
Speaking to the Huffington Post UK, a spokesperson for Ukip would only say that the party was looking into the matter.
A series of rather confusing posts by an account under Jesson's name claim marriage should only be between a man and a woman, according to God, and insists all gay people are heterophobic.
Claims are then posted that all Mosques should be banned until they adopt sexual equality and gay relationships.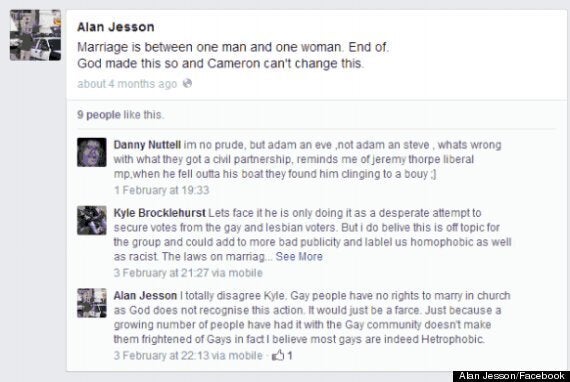 Jesson appears to make both Islamaphobic and homophobic remarks
In another post below an article he appears to have written: "No Mosques should be entertained in this country. Islam is anti Gay [sic] and anti women [sic] . It can never be part of English culture."
Jesson also appears to suggest under an article about that a Turkish man should be put in prison merely for being Turkish.
Demanding residents take the law into their own hands with patrols, he appears to claim he will push Eastern European people who are fishing into the water. A post reads: "We need to take the streets back. One by one." He also appears to predict civil war in the UK over immigration in the next five years.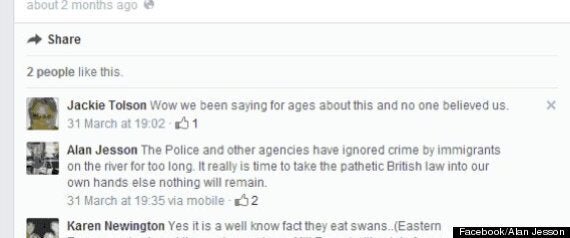 Jesson appears to say he is willing to take the law into his own hands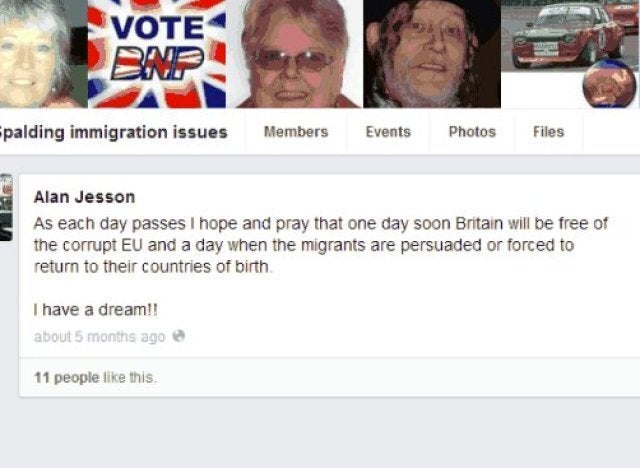 In an inversion of Martin Luther's speech, Jesson appears to long for a less diverse Britain
He also appears to make a series of angry posts over the relaxing of border controls in Europe, saying "There's 14 million more coming" and "Bulgarians and Romanians will make the lot we have currently look like angels ."

He appears to tell a Polish woman to go home
Councillor Alan Jesson held an anti-immigration protest in Spalding on Tuesday, speaking to around 150 people waving banners calling for 'No More Immigration' and 'Jobs and Homes for British' reported Spalding Today.

Held 45 years to the day since the 'Rivers of Blood' speech by Enoch Powell, the meeting was also attended by councillor Chris Pain, who has also found himself at the centre of a race row over a number of Facebook postings.
Pain came under attack earlier this week after refusing to sign a 'multicultural' anti-racism pledge along with his Ukip colleagues, including Jesson.

Jesson appeared to quote Enoch Powell
On Monday Ukip spokesman, Gawain Towler, told the Skegness Standard Pain could be ejected from the party: "They are serious allegations and if proven true there is no way Chris Pain could remain a councillor with UKIP.
"However we don't hang a man until he's proven guilty and at the moment Chris is saying that his account was hacked."
Ukip leader Nigel Farage has insisted he would not expel members for voicing "old-fashioned" views about homosexuality, as he accused the government of "picking a war with middle England" over gay marriage.