Members of the English Defence League (EDL) clashed with police in Woolwich on Wednesday evening following the death of a soldier in what is being investigated as a likely terror attack.
More than 50 EDL supporters gathered at Woolwich Arsenal train station, throwing bottles at police, before moving to a nearby pub. The group then marched to the town centre where they were surrounded by police. No arrests are being reported.
On Tuesday afternoon, the leader of the EDL, Tommy Robinson, had called to place "feet on the streets" in South London following the murder.
The EDL's Facebook news feed said that it had received "3,000 new page likes" subsequent to the attack, while a post on that page suggested "EDL leader Tommy Robinson on way to Woolwich now".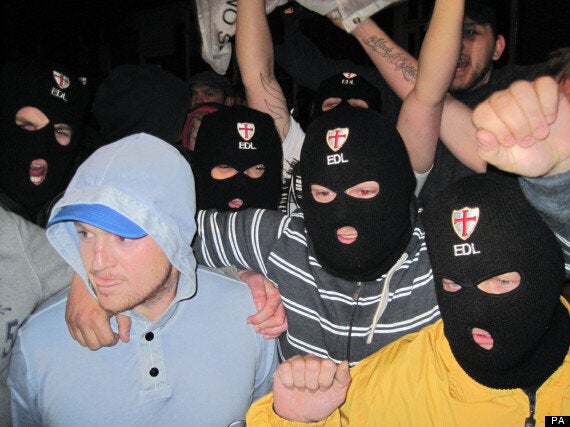 The EDL gather in south east London
According to Essex Police, a 43-year-old man from Braintree was arrested on suspicion of attempted arson after walking into a mosque with a knife.
He was detained on suspicion of possession of an offensive weapon and attempted arson and remains in custody. No on was injured. Essex constabulary said earlier that they were drafting in "additional patrolling resources to reassure our local communities".
Theresa May confirmed that security was to be increased at army barracks across the capital. On Tuesday evening Metropolitan Police Commissioner Sir Bernard Hogan-Howe said that Britain's counter-terrorist unit were in charge of the investigation into the Woolwich murder.
He said: "It is hard to comprehend the shocking and horrific scenes we have seen this afternoon on a busy street as Londoners went about their day as normal. We have launched a murder investigation, being led by the Counter Terrorism Command. Two men have been arrested in connection with that murder."