Sergeant Barry Ward said he was "a loving father" to his two-year-old son Jack, and had "a very bubbly character".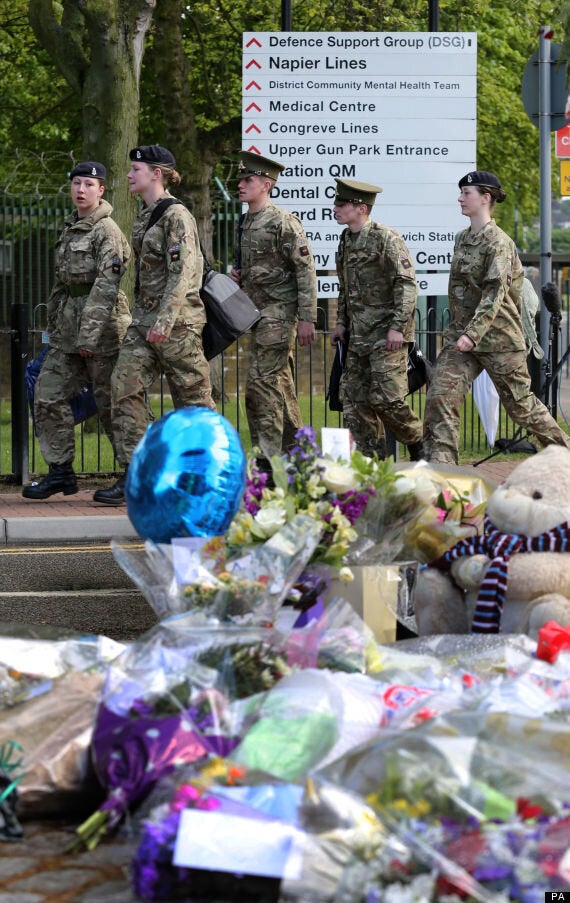 Tributes to Drummer Lee Rigby of 2nd battalion Royal Regiment of Fusiliers
A shocked and tearful neighbour outside the family home, a council house on the Langley estate in Middleton, Greater Manchester said: "He had always wanted to be in the army since he was knee high."
The woman, who did not want to be named, added: "He was a lovely lad, he lived around here for years and went to Middleton Tech."
A steady stream of relatives and friends visited the house throughout the day to support the family.
Police and PCSOs also stood guard outside the house and patrolled the street.
Drummer Lee Rigby, who joined the Army in 2006, had served in Helmand province, Afghanistan, where he was a member of the Fire Support Group in Patrol Base Woqab.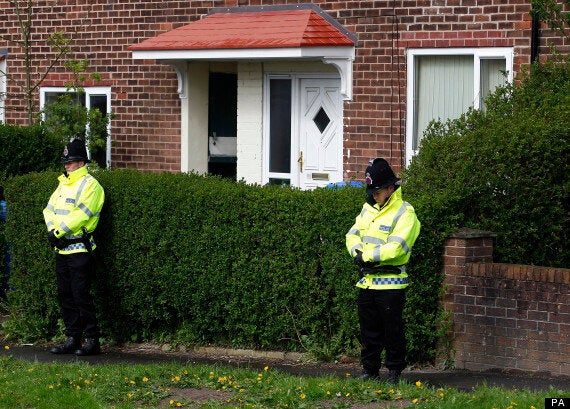 A general view of the police outside the family home of murdered serviceman Lee Rigby in Middleton, Manchester
A life-long Manchester United fan, he had also stood outside the Royal Palaces as part of his battalion's public duties commitment.
Lieutenant Colonel Jim Taylor, Commanding Officer Second Fusiliers, said Drummer Rigby was a "real character".
He said: "Larger than life, he was at the heart of our Corps of Drums.
"An experienced and talented side drummer and machine gunner, he was a true warrior and served with distinction in Afghanistan, Germany and Cyprus.
"His ability, talent and personality made him a natural choice to work in the recruiting group. He will be sorely missed by everyone in the Second Fusiliers."
The Rt Revd Mark Davies, The Bishop of Middleton, said; "The nation has been shocked by Lee's death. But the greatest burden is carried by those he knew and loved. Our prayers and sympathies are with his family, friends and those he served with."
Drummer Rigby was brutally murdered in the street in Woolwich, south east London, yesterday by two attackers who were British and of Nigerian descent.
The pair, who were shot by police, were known to security services, and apparently shouted "Allah Akhbar" as they struck.
It is believed that the serving soldier was run over and then hacked to death, yards from a primary school.
Alfie Swain, who said he had met Drummer Rigby, told BBC News: "I can't explain it, how much it hurts. It's just disappointing.
"I'd met him in and out of the Army base itself. Hearing that he's gone is just destroying. He was a nice man. He was caring, loving. To hear that he's gone is just disappointing.
"I'm just terribly, terribly upset. I just want to burst into tears right now."
Popular in the Community