Muslim groups have united in condemning the attack in Woolwich as un-Islamic.
The Muslim Council of Britain said the killers' use of "Islamic slogans" indicated they were motivated by their faith.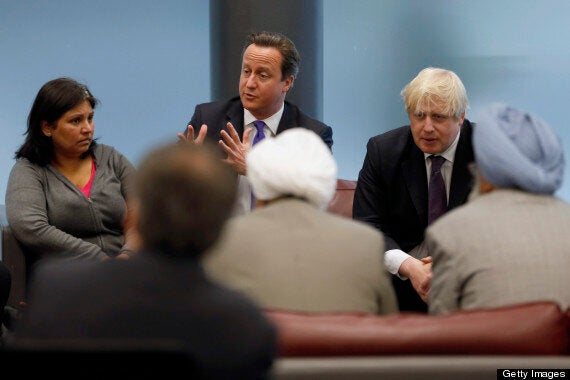 David Cameron and Boris Johnson met with members of the local community in Woolwich on Thursday
A statement from the council said: "This is a truly barbaric act that has no basis in Islam and we condemn this unreservedly. Our thoughts are with the victim and his family.
"We understand the victim is a serving member of the Armed Forces. Muslims have long served in this country's Armed Forces, proudly and with honour.
"This attack on a member of the Armed Forces is dishonourable, and no cause justifies this murder."
The group called for vigilance and solidarity between "all our communities, Muslim and non-Muslim", and for police to "calm tensions".
Paul Salahuddin Armstrong, of The Association of British Muslims, said the attackers' actions had "removed them from Islam, because there is no grounds to justify attacks of terrorism".
"If you go back to the Qu'ran, there is no grounds for this kind of behaviour, no grounds for murder."
Akbar Khan from Building Bridges condemned "the killing of an innocent person" and "all forms of extremism wherever they are."
Mohammed Shafiq from the Ramadhan Foundation said on Wednesday: "I wish to condemn the evil and barbaric crime carried out in Woolwich," adding the attack "was at every level evil".
He said: "London and our nation will come together and will not be divided. The terrorists will never win and succeed in their evil plans."
Fiyaz Mughal, the director of charity Faith Matters, said: "The cold-blooded killing of a serving British soldier is a crime that sickens every member of every community in the UK.
"We must come together, isolate those who believe that extremism and violence are acceptable, and work to ensure that they meet the full force of the law.
"We must send a clear message to anyone that an attack on a serving soldier going about their daily activities is something that must be utterly condemned."
Julie Siddiqi, of the Islamic Society of Britain, told the BBC Radio 4 Today programme: "We can't allow the voices of Nick Griffin and the far right to become louder than ours in the coming days. They will say what we have to say and it gives us even more incentive to speak out and come together and not allow people like that to divide us as a country.
"The people who did this act yesterday do not speak in my name, do not speak for my community or the rest of the country. We have to come out with the strongest condemnation, which is what I'm seeing this morning.
"All of the Muslim organisations have come out with the strongest possible terms to say there is absolutely no excuse whatsoever, no justification for anything like this.
"This is one of the most shocking things I have seen in recent years and to have the people of Woolwich have to experience that so close to them, I just feel is absolutely horrific."
In a statement, the trustees of the Greenwich Islamic Centre strongly condemned the killing, describing it as a "barbaric murder" and offering their condolences to the victim's friends and family.
It read: "We are all very deeply shocked and saddened to have witnessed a terrible crime in our neighbourhood.
"The local Muslim community has always enjoyed an excellent relationship with the people from all walks of life regardless of their religion, colour or ethnic background.
"We do not and will never support such evil acts, and strongly suggest that both of these men should be severely punished as criminal and not as so-called 'Muslims' for the crime they have committed, with full force of law."
Former home secretary Lord Reid condemned the "brutal, inhumane and terrible murder of an innocent person".
Lord Reid speaking on BBC Radio Scotland's Good Morning Scotland said although the threat from terrorists was continual, they would not succeed in their bid to "impose their will on others" in the UK.
"The macabre manner of the killing and the propaganda associated with it was meant to terrify and frighten people, because that is the nature of what terrorists do - which is to try to impose their will on others, through fear and indiscriminate violence," he said.
"But it won't work. It never has in the past in this country and it won't in the future."
Meanwhile, Jahan Mahmood, a community worker who has advised the Home Office and British Army on Muslim affairs, said an attack of this nature had "been coming for a long time".
"I am surprised an attack like this hasn't happened earlier, and there is perhaps some small comfort that it has taken 10 years to come about - albeit with terrible consequences," he said.
"I don't know how we can deal with these people, who appear to be individuals acting alone.
"I work with a lot of Muslims and there was a time when people would speak up about and express a view and it would give us a chance to go in and talk to those people.
"But it has moved into places like the gyms and away from the mosques, and they are having private conversations there so we have had to change how we work to try and talk with those people, and say if you do something like this, it is your community which suffers, your family which suffers, and change their thinking.
"The Muslim community in places like Birmingham, where there was initially some denial about the problem of extremism, have woken up to the issue and are saying 'we do need to tackle this, and we are going to do something'."
Faith and communities minister Baroness Warsi, who attended Thursday's meeting of the government's Cobra emergencies committee, told BBC Radio 4's World at One: "What I've been incredibly impressed with, coming out of this tragedy, is the way in which the British Muslim communities have so unreservedly and unitedly condemned these barbaric acts and said very clearly 'These are not in our name, not in the name of the faith of nearly three million people in this country', and have expressed their support for our servicemen and women.
"There will always be individuals and groups who will try and use these moments to divide us. Let's not forget that the terrorists' ambition themselves was to divide and terrorise us as a nation.
"What we are seeing coming out of this tragedy and what is emerging is faith communities coming together and showing a unified condemnation of this."
The Armed Forces Senior Imam, Asim Hafiz, described the attack as "horrific, heinous and totally unprovoked".
In a statement he said: "I would like to offer my condolences to the family and friends of the victim of this crime. This attack was a horrific, heinous and totally unprovoked crime which has no place in Islam and the British Muslim community has unequivocally condemned it.
"There are nearly a thousand Muslims serving in the Armed Forces. They are proud to serve alongside their comrades one of whom they tragically lost yesterday. The Armed Forces are about defending the United Kingdom and everyone who lives in this country - Muslim and non-Muslims.
"Muslim personnel make equal sacrifices alongside their comrades in the Armed Forces and I have provided support to families who have lost loved ones and those who have returned injured. The UK Armed Forces belongs to all of us as a nation and the tragic loss yesterday is a huge loss for all of us."