PICTURED: The soldier killed in the attack has been named as Lee Rigby of 2nd Battalion, Royal Regiment of Fusiliers
The man killed in a suspected terror attack in Woolwich on Wednesday was a member of the armed forces, Scotland Yard has confirmed.
Police said on Thursday morning the victim had yet to be formally identified, in line with his family's wishes his identity will not be released at this stage.
Two men have been arrested after the soldier (since named as Drummer Lee Rigsby), believed to be wearing a Help for Heroes t-shirt, was attacked with a machete just yards from the Royal Artillery Barracks.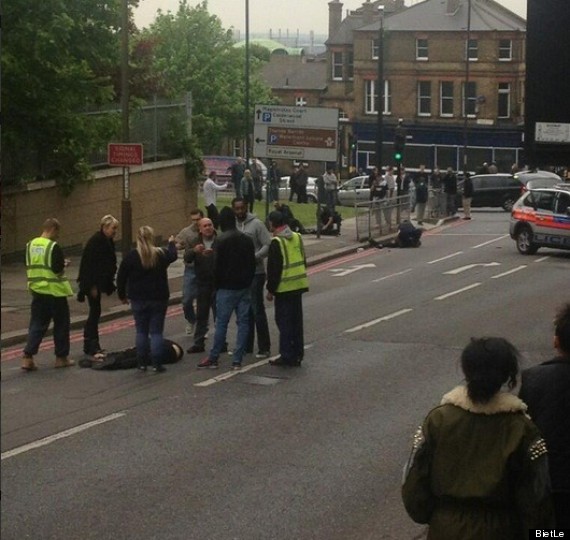 A body lies in the street after the incident in Woolwich
A man with bloodied hands swore to "never stop fighting" as emergency crews rushed to the scenes.
Footage obtained by ITV news showed the man carrying knives, speaking into a camera.
It shows the suspect, wearing a dark jacket, jeans and a beanie hat, calmly walking towards the camera with what appears to be two large knives clasped by the handles in his bloodied left hand.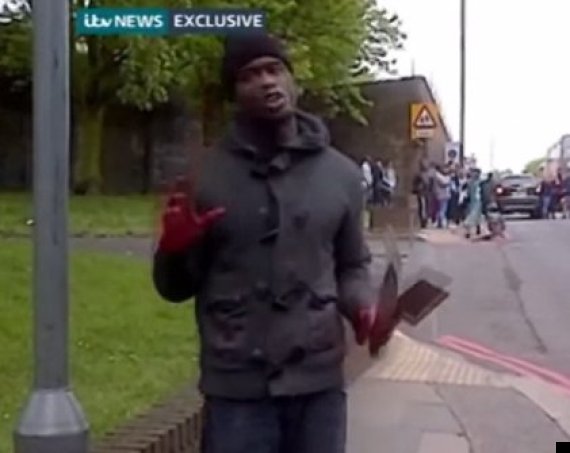 The man was holding knives and had bloodied hands
Gesticulating with both hands - while gripping the weapons - the man points to his own face as he says: "We must fight them as they fight us. An eye for an eye, a tooth for a tooth."
A mother-of-two confronted the attackers, urging them to hand over their weapons and warning them: "It is only you versus many people, you are going to lose".
Ingrid Loyau-Kennett, 48, told the Daily Telegraph that one of the attackers said to her that they "want to start a war in London tonight".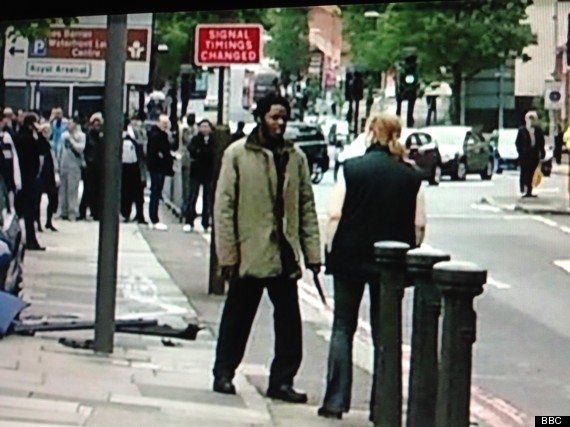 Ingrid Loyau-Kennett confronts the man
The mother of two, a Cub Scout leader from Cornwall, added: "Being a Cub leader I have my first aid so when I saw this guy on the floor I thought it was an accident - then I saw the guy was dead and I could not feel any pulse."
Prime Minister David Cameron cut short a visit to Paris to return to Britain in the wake of the attack to chair an emergency Cobra meeting.
He said: "People across Britain, people in every community, I believe, will utterly condemn this attack.
"We have had these sorts of attacks before in our country and we never buckle in the face of them."