Abercrombie & Fitch may want their clothes to only be worn by cool people, but it seems even they may not be buying the brand.
Sales have fallen 15 per cent in the last year, according to the Reuters . The decline was most pronounced at the Hollister chain, the company's largest. A&F also lowered its profit forecast for the full year by 20 cents.
The drop in sales was recorded before the re-emergence of controversial comments made by the company's chief executive Mike Jeffries to Salon, where he said he does not stock XL or XXL clothes because fat kids are never part of the "in crowd".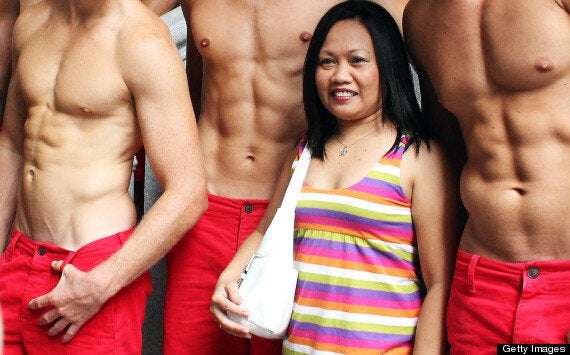 Half-naked models pose with the customers during the opening ceremony of the Abercrombie & Fitch flagship store in Hong Kong
"Those companies that are in trouble are trying to target everybody: young, old, fat, skinny. But then you become totally vanilla. You don't alienate anybody, but you don't excite anybody, either," he said in the interview.
He posted on Facebook: "I want to address some of my comments that have been circulating from a 2006 interview. While I believe this 7 year old, resurrected quote has been taken out of context, I sincerely regret that my choice of words was interpreted in a manner that has caused offence. A&F is an aspirational brand that, like most speciality apparel brands, targets its marketing at a particular segment of customers.
"However, we care about the broader communities in which we operate and are strongly committed to diversity and inclusion.
"We hire good people who share these values. We are completely opposed to any discrimination, bullying, derogatory characterisations or other anti-social behavior based on race, gender, body type or other individual characteristics."
The retailer was forced to make another apology after a group of teen activists went to Abercrombie's headquarters in Columbus, Ohio, to protest Jeffries. After meeting with the activists, Abercrombie issued a statement stating that the brand is committed to "anti-bullying in addition to our ongoing support of diversity and inclusion."
The university released a statement saying its students were "adults" and were able to decide whether or not they wanted to engage with A&F.
Related