Bruce Forsyth has hit back at Simon Cowell after he labelled him 'grumpy' for saying children shouldn't be allowed to perform on 'Britain's Got Talent' - and reckons it's all because the music mogul is still smarting from 'The X Factor' being beaten in the ratings by 'Strictly Come Dancing' last year.
The TV stars have been having a war of words ever since Brucie said kids shouldn't be put through the 'ordeal' of appearing on 'BGT', believing the pressure could be 'disastrous' for them.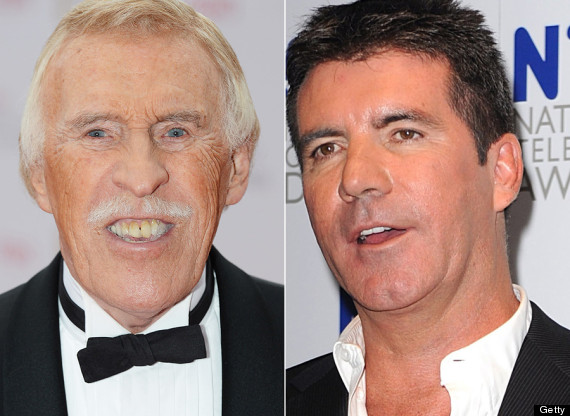 Bruce Forsyth and Simon Cowell
Simon responded by labelling him 'Mr Grumpy' during the first live semi-final show on Monday, but Sir Bruce thinks it's Simon who's the grumpy one.
He told The Sun: "I didn't see Simon call me Mr Grumpy but people told me about it and it gave me a good laugh.
"Maybe Simon's a bit grumpy himself about Strictly beating X Factor in the ratings?
"I don't mind him calling me names. He says mean things to everybody - I would be offended if he didn't say mean things about me. I don't mind him calling me Mr Grumpy. But I don't know what to call him back."
And the 'Strictly' host says Simon should launch a children's version of 'Britain's Got Talent' but if he does, he wants a cut!
"I'm trying to make Simon money," he said. "If he had Britain's Children Got Talent as well he would make even more.
"The older performers on Britain's Got Talent are in the back seat at the moment because the children are always going to get the 'aaaah' factor, so he should have two separate shows.
"It's my idea so I think I should get a rake-off. I'm sure I could help him."
Yesterday, opera singing finalists Adam and Richard Johnson lent their support to their boss by saying Bruce was wrong to say that children shouldn't be allowed to perform on the show.
LIKE US ON FACEBOOK | FOLLOW US ON TWITTER