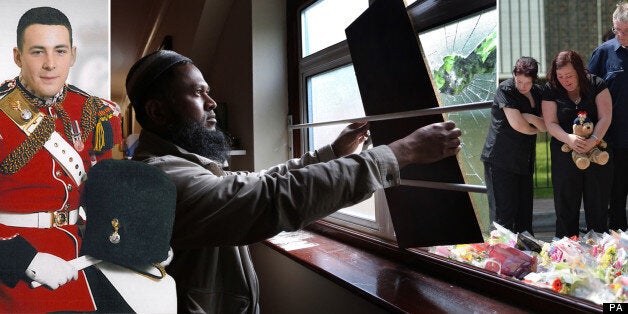 The family of murdered soldier Lee Rigby would not have wanted people to use his name as an excuse to attack others, his family have said.
Drummer Rigby's relatives urged people to "keep calm and show their respect in a peaceful manner."
It came as his regiment said it was "wrong and disgraceful" for far-right groups to attempt to "exploit" his death.
And a memo from Army bosses warned serving soldiers and veterans not to risk be seen to support the EDL's "inflammatory agenda."
In a message circulated by Army HQ, serving personnel and veterans are warned: "Racism of any kind is completely unacceptable. It impacts on operational effectiveness by damaging individual morale and team cohesion.
"It is appreciated that veterans do not follow orders from their Associations, however, some veterans with sympathies for the Rigby family and the Army in general, may not recognise the threat to the Army's reputation if they are perceived to be supporting the EDL's inflammatory agenda.
Grimsby mosque targeted by petrol bomb attack
"Please take care that this recommendation is not misinterpreted as an attempt to stifle support for the Rigby family from within the military community; I expect the support the RRF are providing to the Rigby family will be of the utmost value to them."
In a separate post, on the Fusiliers' Association Facebook page, retired Regimental Secretary I R Liles said: "It is wrong and disgraceful that the death of one of our own should be exploited in this manner and that dishonour, by wrongful association, is brought onto the Regiment.
"We are to remain dignified with our heads held high and respect Fusilier Rigby in the way we have all our dead; with honour and pride.
"We will pay our respects in the correct manner and remember him as a band of brothers. Anger and revenge are understandable emotions but they achieve nothing other than fostering hatred.
"We are not to be moved from what we know is the right path."
In their statement released on Friday morning, Drummer Rigby's family, including mother and stepfather Lyn and Ian, wife Rebecca, and son Jack, said: "We would like to emphasise that Lee would not want people to use his name as an excuse to carry out attacks against others."
The 25-year-old's death had had a devastating effect on them, but said they were amazed by the worldwide support they had received.
"The generosity, kindness and sympathy expressed by everyone we have come into contact with has been truly staggering and is giving us the strength to carry on," the statement said.
"We have been amazed by the messages of support we have received from all across the globe."
They said they were "deeply touched" after visiting Woolwich, where Drummer Rigby was killed on May 22, and thanked those who had given them time and space to pay their own tributes.
"We all loved Lee deeply and we know that he loved us - we all miss him so much.
"He was a fun-loving, approachable young man with a smile that always managed to light up a room.
"We have heard so many stories about him from so many people and they have brought us great comfort.
"Lee loved life and he loved people. He had many friends from different walks of life - some with different religious beliefs and cultures. But this made no difference to Lee - he always treated others with the greatest of respect.
"Finally, once again we would like to thank everyone for their support. It has been very much appreciated and it is helping us so much during these difficult times. Thank You."