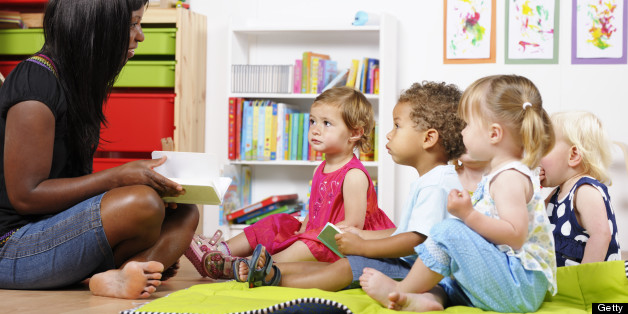 Getty
Deputy Prime Minister Nick Clegg has blocked Tory plans to allow nursery staff and childminders to look after more youngsters.
Loosening the rules was unlikely to cut the cost of childcare and could end up actually costing parents more, the Liberal Democrat leader said.
The announcement comes after a Coalition stand-off over the key plank of the Government's flagship childcare reforms.
Proposals announced by Tory Education Minister Liz Truss were due to see rules on nurseries and childminders eased from September.
Each member of staff would be able to look after four children aged under one rather than three. The ratio for two-year-olds would rise from four to six per adult.
But childcare experts raised concerns about the move and last month Clegg said he was not persuaded the changes were right.
On Wednesday, Clegg wrote to Truss telling her the plans did not have his support, effectively blowing them out of the water.
Aides said the move was "genuinely about the susbstance" of the proposals and insisted Clegg had been "remorselessly led by the evidence" that emerged following a consultation on the plans.
The Department for Education's assessment that family childcare bills could be cut by more than a quarter was flawed and based on an "unrealistic model", the aide suggested.
Truss had been asked early on in the process to come up with amended proposals after concerns were raised by the DPM but chose to "write back with exactly the same policy", they added.
The plans were part of a whole package of childcare reforms, which took months of coalition wrangling to assemble and include a new system of tax breaks for working parents.
Clegg said: "One of my absolute top priorities in government is to deliver better quality, more affordable childcare for parents up and down the country.
"I will relentlessly champion and pursue policies that deliver that - like 15 hours a week of free childcare for every three and four year old and tax-free childcare for working families.
"When you are talking about something this important to parents, I think it is imperative to be led by the evidence - which is overwhelmingly against changing the rules on ratios.
"The proposals to increase ratios were put out to consultation and were roundly criticised by parents, providers and experts alike.
"Most importantly, there is no real evidence that increasing ratios will reduce the cost of childcare for families.
"The argument that this will help families with their weekly childcare bill simply does not stack up.
"I cannot ask parents to accept such a controversial change with no real guarantee it will save them money - in fact it could cost them more."
"I have concluded that, because it will not reduce costs for parents or increase the quality of childcare, the proposed ratio changes for pre-school children cannot proceed.
"Ratios for pre-school children is just one part of a wider package of reforms being looked at in government.
"I will continue to work closely with ministerial colleagues in this area and the Coalition Government will come forward with other proposals in due course."
Shadow children's minister Sharon Hodgson said: "This just goes to show that David Cameron does not have a credible plan to help families access good quality, affordable childcare.
"The Government's own experts were agreed that cutting childcare staff numbers would have seriously endangered quality and safety, and would not have cut costs to parents. Ministers have wasted a year on these flawed plans while childcare costs have kept on rising and thousands of childcare places have been lost."
Neil Leitch, chief executive of the Pre-school Learning Alliance, said: "We are absolutely delighted that the Deputy Prime Minister has intervened and listened to the concerns and evidence gathered by the sector, parents and early years experts which dismantled the arguments for taking forward this ill-advised plan.
"It is a real testimony to the strength of those practitioners and parents who campaigned so actively over the past few months to challenge these plans.
"The sector is supportive of the Government's aims to raise the status and quality of the childcare workforce. But this proposal was not the way to achieve this. There is no doubt that relaxing ratios would have lowered the overall quality of childcare in this country. Not only would children have received less one-to-one support from childcare workers, but their well-being would also have been put at serious risk.
Liz Bayram, joint chief executive of the Professional Association for Childcare and Early Years, said: "Pacey is relieved to hear today that the Deputy Prime Minister has announced he will not go ahead with proposals to change current childcare ratios. Pacey, with the support of our members, childminders, nannies and nursery workers, has continually lobbied the Government to ensure it understands the quality and safety concerns of both childcare professionals and parents around increasing ratios.
"Whilst today's announcement is good news for children and families, there remains a great deal of sector concern around other Government childcare proposals. We share the same ambition as Government, to provide children and families with high quality affordable childcare, but believe there needs to be a more full and open discussion with the sector and parents around how to make this a reality."