A couple have bravely celebrated their wedding on the streets of Istanbul in Turkey, amid violent anti-government protests.
The newly married couple posed for their wedding picture at Istiklal street near Taksim square in Istanbul, with the groom accessorising with a gas mask.
The picture comes as a woman in a red dress was pictured being sprayed by riot police. Other pictures have also emerged of Turkish protesters donning unusual protective gear, includingbras, water bottles and cling film.
Turkish Prime Minister Recep Tayyip Erdogan has accused protesters of walking "arm-in-arm with terrorism", but the only embrace that can be seen here is between the young couple.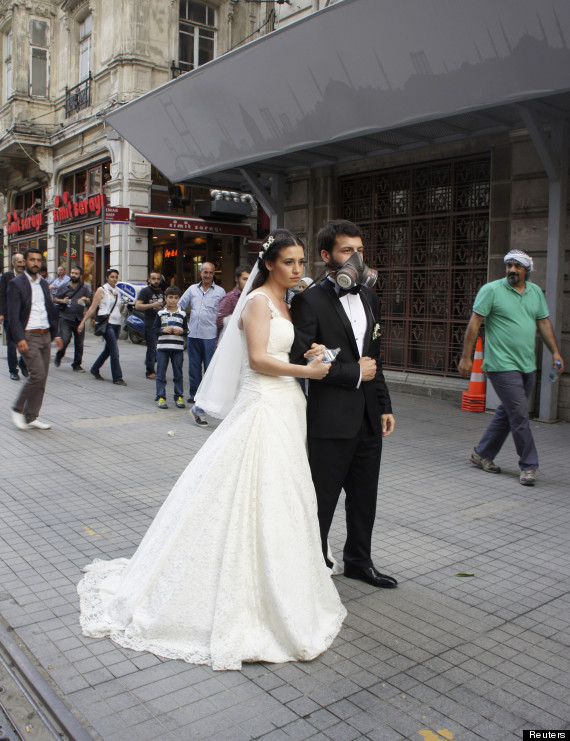 The couple got married in Istanbul
Hundreds of police and protesters have been injured since Friday in the riots, which began with a demonstration to halt construction in a park in an Istanbul square and grew into mass protests against what opponents call Erdogan's authoritarianism.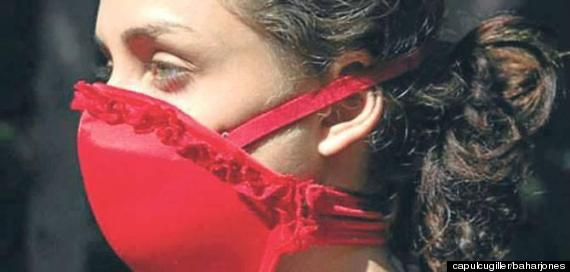 One protester improvised with a bra
Perhaps the most iconic picture of the uprising in Turkey is of what social media users have dubbed "woman in the red dress" who is sprayed by riot police as she stands peacefully.
Ceyda Sungur, an academic at Istanbul's university, stood defiantly in Taksim Square as she was set upon by an officer in riot gear firing pepper spray, an incident that many cite as the spur for activists to take to the streets en masse.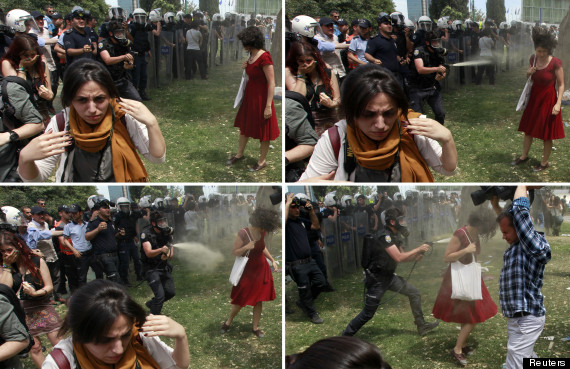 Sungur's defiance has become on of the iconic images of the unrest
She is one of the so-called "extremists" who Prime Minister Erdogan and his government are blaming for the demonstrations.
Deputy prime minister, Bulent Arinc, was forced to issue an apology for the police response which has included tear gas and water cannon.