Politicians are deserting counter-extremism group Student Rights, the Huffington Post UK can exclusively reveal, following the group's controversial campus extremism report, as well as links with a right-wing think tank.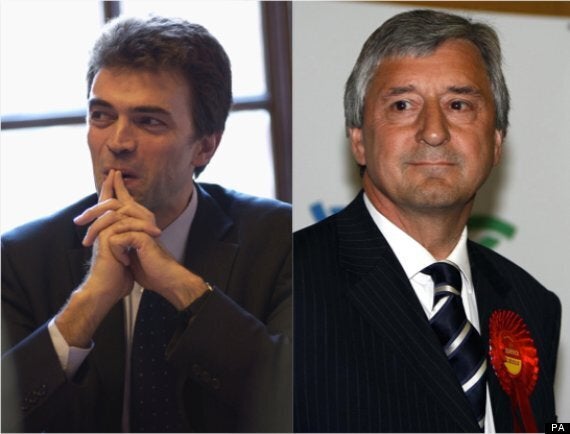 Tom Brake, left, has resigned, while Jim Fitzpatrick is considering removing himself from the board
In an email, Brake told HuffPost UK blogger Hilary Aked: "I am no longer listed on their website and I have also asked for my name to be removed from the Student Rights advisory board."
Brake has already been replaced by Ghaffar Hussain, director of training at the Quilliam Foundation, another group which "challenges extremism".
Labour MP Jim Fitzpatrick is also looking to distance himself from the group.
Aked emailed Fitzpatrick voicing her concerns about Student Rights' "poor research methods and muddling the debate about extremism with the issue of segregation on campuses".
Fitzpatrick, MP for Poplar and Limehouse, replied saying he had requested his name be removed from Student Rights' advisory board "in light of these developments" and the group's "recent conduct".
However Fitzpatrick has since told HuffPost UK he has asked to be removed from the board but "decided to seek a meet with them first to clarify some recent issues before doing so completely".
The MP declined to disclose which issues he would be discussing.
Aked, a student at Bath University, said: "It's a positive sign that two MPs have decided to disassociate themselves from Student Rights, a non-transparent pressure group with no legitimacy among actual students and a track record of producing shoddy research.
"As a project of the Henry Jackson Society whose political support is also hemorrhaging because of Douglas Murray's Islamophobic statements, this further dents its credibility and hopefully it will reduce the platform the mainstream media gives it to spread its toxic narrative which only serves to whip up fear and mistrust."
LibDem Councillor Lord Monroe Palmer said he would not be resigning immediately but as a result of the study he would "monitor" his position as advisor as well as future Student Rights reports.
Student Rights' campus extremism study, which was published in May, was heavily criticised by student communities - both Muslim and non-Muslim. Mohamed Harrath, a student union executive at the London School of Economics, said the group was trying to "ramp up" the effects of Islamophobia on Muslim students.
"There is only one voice that is speaking about extremism on campus and it [Student Rights] completely distorts everything", he said at the time. "Other voices must be heard."
Pete Mercer, vice-president welfare officer for the National Union of Students dubbed the report a "witch hunt".
"We would welcome an open and balanced discussion about gender issues and religion but it's important that contributions aren't hysterical and that the word 'extremism' isn't thrown around without justification," he said. "A witch hunt which makes sweeping judgments about student Islamic societies without knowing the details denies the women involved the very equality it claims to wish for them."
Following the backlash over its report, Student Rights released a statement blaming newspapers for "inaccurate" headlines which read: "At no point did we try to claim that our figures were representative of all student events, and those... who have an issue with inaccurate headlines should remember that for many media outlets the temptation to round up to the nearest exaggeration is often difficult to resist."
Other political figures on the advisory board include Robert Halfon, a Conservative MP, and Rt Hon Dr Kim Howells, a former Labour MP and minister of state.
Student Rights has yet to comment on the recent events.
Correction notice: The HJS was previously described as "far-right". The description has now been amended to "right-wing".
Related