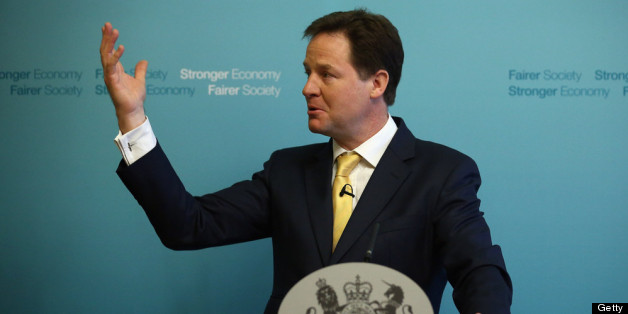 Getty
Has Nick Clegg got his cojones back? On Thursday morning, the deputy prime minister killed off Tory plans to allow nursery staff and childminders to look after more kids - apparently without telling Downing Street or the Department of Education that he was going to do it.
Proposals announced by the education minister, and rising Tory star, Liz Truss were due to see rules on nurseries and childminders eased from September. Each member of staff would be able to look after four children aged under one rather than three. The ratio for two-year-olds would rise from four to six per adult.
But childcare experts raised concerns about the move and last month Clegg said he was not persuaded the changes were right.
Speaking on his call-in show on LBC Radio this morning, the deputy prime minister said he accepted the view of many childcare providers that it was a "bad idea" and that could actually increase childcare costs.
He said: "If you have an idea which is controversial, you ask people what they think. When you ask them what they think you listen to what they say. What on earth is the point of consulting people if you're not prepared to listen."
However it has been widely reported that David Cameron and No.10 were not prepared for Clegg to kill off the plan. A Downing Street source told The Guardian: "It is a bit premature to brief before the final package has been agreed,"
Clegg's intervention on childcare comes amid reports he is also leading cabinet opposition to arming the Syrian rebels. The Independent reports the Lib Dem leader warned a recent meeting of the National Security Council that supplying weapons to the Free Syrian Army might escalate the conflict.
On Wednesday MPs tabled a cross-party motion demanding parliament be given the right to vote on any decision to send weapons to the region.
And Clegg has also recently put his foot down over the controversial Communications Data Bill, or 'snoopers charter', amid fears it would infringe on people's civil liberties.
Such is the Lib Dem opposition to the legislation it has been suggested the Tories could actually form an alliance with Labour against their coalition partners to push some of the measures through.
In the wake of disappointing local election results, rumblings about Vince Cable's ambitions and with less than two years to go until the next election Clegg is ramping up differentiation from David Cameron. The show of strength led one Tory MP to ask The Times: "Who does this guy think he is?". The answer is he thinks he is the leader of the Liberal Democrats.