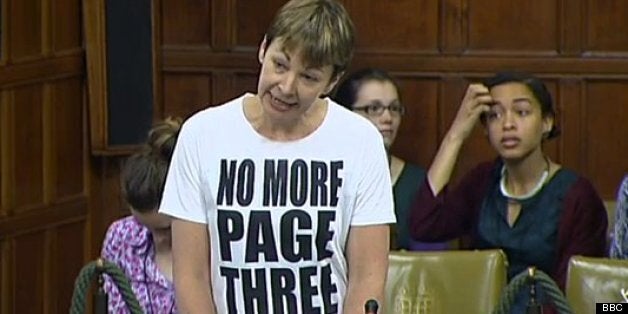 Green MP Caroline Lucas has written to the House of Commons authorities asking for The Sun newspaper to be banned from the palace of Westminster.
In the letter Lucas demands the tabloid be removed from shops in parliament until it bins its 'Page Three' section which features half naked women.
"I do not think that a newspaper that persists in carrying images which are degrading to women should be widely available across the parliamentary estate," she says.
"I am sure you will be aware that there is a strong link between the portrayal of women as sexual objects with attitudes that underpin violence and discrimination against women and girls."
On Wednesday morning the Brighton Pavillion MP was forced to cover-up a 'No More Page Three' t-shirt as she led a Commons debate on media sexism.
Having agreed to put her suit jacket back on, Lucas said: "It does strike me as irony this t-shirt is regarded as an inappropriate thing to wear in this House, yet it is deemed appropriate for this type of newspaper to be available to buy in eight different outlets on the palace of Westminster estate."
Lucas also wore the t-shirt during prime minister's questions. However she was unsuccessful in drawing further attention to the campaign as she was not chosen to ask a question of David Cameron - despite repeated attempts to catch the Speaker's eye.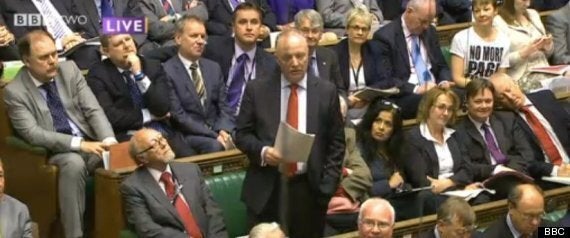 Caroline Lucas Wore The 'No More Page Three' Shirt During PMQs
In her letter to the Commons authorities, Lucas says: "prejudicial attitudes to women are so deeply entrenched and normalised in our society, specifically the significant role played by the media. 'Page Three' is a symbol of this problem .
"It 'normalises' the idea that women are there primarily for men's sexual pleasure and, whilst I and other MPs can chose not to buy the paper, we are, nonetheless, through the choices of others including in this instance the Commons authorities, unable to avoid 'Page Three'."
She adds: "It's presence is insidious and typical of how the idea that women's bodies should be instantly available as a resource for men's sexual gratification pervades our media."
Lucas said 'Page Three' should be consigned "to the rubbish bin where it belongs".
"I hope the House of Commons will likewise agree to throw out The Sun until it removes Page Three, in acknowledgement of the damage it does and the fact that I and others should not have to put up with such images in our workplace."
Speaking during the debate, Lucas said the "clock is ticking" on 'Page Three' and that if it had not been removed by the tabloid by the end of the year the government should consider banning it.