Cregan, 30, described by Greater Manchester Chief Constable Sir Peter Fahy as a "scourge on our society", was given a whole life sentence at Preston Crown Court by Mr Justice Holroyde QC at the end of a trial which laid bare the sheer brutality of Manchester's underworld.
One-eyed Cregan was already on the run for the murders of David Short, 46, and son Mark, 23, when he killed policewomen Nicola Hughes, 23, and Fiona Bone, 32, in a horrifying gun and grenade attack.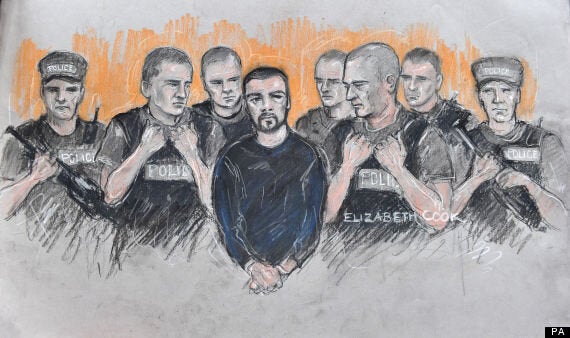 Court sketch of Cregan in court
Sentencing Cregan, Mr Justice Holroyde said he had "acted with pre-meditated savagery" in the "quite appalling" murders.
"You, Cregan, drew those two officers into a calculated trap for the sole purpose of murdering them in cold blood," he said.
Cregan was cleared today of a charge of attempted murder involving a grenade attack on Sharon Hark, which he denied.
But during his trial he had admitted the four murders and the attempted murders of three others, along with a count of causing an explosion with a hand grenade.
Nine other defendants faced trial alongside him on various charges linked to the deaths of the Shorts. Four of them were cleared today.
Cregan went on the run days before he killed David Short last August after he gunned down his son, Mark, in a pub in Droylsden, Greater Manchester, three months earlier.
The manhunt reached a ghastly conclusion on September 18 when he lured the constables with a bogus 999 call to a house in Abbey Gardens in Hattersley.
His last comment to the call handler as he was told officers were on the way was: "I'll be waiting."
He opened the front door as they walked up the front garden path and shot them in the chest with a Glock handgun.
Pc Hughes was hit eight times, including three strikes to the head as she lay on the ground.
Pc Bone was hit up to eight times after she managed to draw and fire her Taser at Cregan, who fired 32 bullets in total in barely half a minute.
He then left his "calling card" of a military grenade, which he threw it on the path where the officers lay.
The killer then dropped his gun and drove a short distance to Hyde police station where he calmly walked up to the counter clerk and said: "I'm wanted by the police and I've just done two coppers."
Cregan put his arms out to be handcuffed and said he was there to hand himself in.
He then told an officer: "I dropped the gun at the scene and I've murdered two police officers. You were hounding my family so I took it out on yous."
The spiral of violence began on May 25 last year when a balaclava-clad Cregan stepped into the Cotton Tree pub in Droylsden and shot Mark Short, who died in the arms of his father.
On August 10, Cregan targeted Mr Short senior outside his home in Clayton as he unloaded furniture from his car.
He chased him through his house and shot him numerous times before throwing a grenade at him with "devastating consequences" , the first recorded time one had been used in the UK in this way.
At 1.10pm, on the 77th day of the trial and on the sixth day of deliberations, the jury came back into court with unanimous verdicts on all counts. The defendants were ordered to remain seated.
The first lot of verdicts were delivered in silence in the packed courtroom save for some stifled gasps as 'not guilty' was recorded on some counts.
Fiona Bone's sister, Vicky Bone shook her head and her father Paul Bone leaned back in his seat.
David Short's wife Michelle Kelly, sitting with members of her family, also shook her head and wiped away tears.
As Cregan was cleared of the remaining count he faced, there was a shout of "Yeah!" from the back of the dock and Cregan turned around with a smile
He smiled and shook hands with the other defendants after the verdicts. His co-accused Anthony Wilkinson looked directly at the public gallery where the victims' families were seated, with a broad smile on his face.
Leon Atkinson, 35, from Ashton-under-Lyne, Ryan Hadfield, 29, from Droylsden, and Matthew James, 33, from Clayton, were cleared of the murder of Mark Short in the Cotton Tree pub and the attempted murders of three others in the pub.
Luke Livesey, 28, from Hattersley, and Damian Gorman, 38, from Glossop, were found guilty of those charges.
Anthony Wilkinson, 34, from Beswick, pleaded guilty during the trial to murdering David Short and possessing a firearm with intent to endanger life. He was cleared of one count of attempted murder of Mrs Hark on the same day and cleared of causing an explosion with a hand grenade.
Francis Dixon, 38, from Stalybridge, was acquitted of the murder of David Short, the attempted murder of Mrs Hark and causing an explosion with a hand grenade.
Jermaine Ward, 24, was found guilty of the murder of David Short but cleared of the attempted murder of Mrs Hark and causing an explosion with a hand grenade.
Mohammed Ali, 32, from Chadderton, was found guilty of assisting an offender.
The Crown had alleged that last summer's violence was sparked by a "long-standing feud" between two rival Manchester families - the Shorts and the Atkinsons.
The Cotton Tree shooting was said to have been ordered by Atkinson and carried out by Cregan with the help of others.
Atkinson looked at the floor and put a hand on his head as he was cleared of all charges.
Dixon shouted "Yes!" as he was cleared. Ward, sitting behind him, burst into tears.
Roderick Carus QC, defending Atkinson, asked for his client to be discharged, along with the other defendants cleared of all charges - Hadfield, James, and Dixon.
Dixon is on a life licence for his past serious convictions, which the jury was not told about as they were ruled inadmissible before the trial.
Cregan shook hands with Wilkinson and Ali as they were taken down past him in the dock.
Some of the senior detectives looked grim-faced as the men left court.
Sentencing Cregan, Mr Justice Holroyde said he had no doubt that he had expected one or more unarmed officers to attend his false report of a crime.
He said the two constables were performing their public duty when they responded to the call and that Cregan would have seen they were unarmed policewomen as they approached the front door.
"You opened fire with the advantage of surprise," he said, "and opened fire before your victims had the chance to do anything to protect themselves."
He added: "You pursued them with a cold-blooded ruthlessness - determined to end their lives."
After the sentencing, Pc Hughes's father Bryn Hughes said the family's lives were "ripped apart beyond belief" on the day she was killed.
"She was brutally and callously murdered in the most despicable and cowardly way," he said.
He added: "Thankfully, as a result of the whole life tariff imposed by the courts, this person will never experience freedom again."
Mr Hughes said today saw "another part of this nightmare draw to a close".
The judge said the "murderous use" of hand grenades was a crime that "must be met with severe punishment" and the courts must do what they can to deter a similar offence.
He said a whole life term was only applied in an "exceptionally serious case".
The aggravating features in Cregan's crimes "inescapably" led him to the conclusion that he should never be released from prison.
He had murdered two or more people, with each case involving a substantial degree of pre-meditation or planning.
The judge said the fact that Cregan had pleaded guilty to the four murders during the trial was a factor in his favour, but only to a minimal extent.
"I have no doubt that your guilty pleas were timed to suit your own purposes and do not reflect regret for what you have done."
Addressing Cregan and his co-accused in the dock, the judge said he had had ample time to observe them and noted that they had shown no remorse.
He told them: "I have seen no hint of any real remorse or of any compassion towards your victims.
"None of you have shown any sign that you care at all. Self-interest has been the motivating force for each of you."
The family of Pc Hughes said their lives had been "completely devastated" by the murder of their "beautiful, loving, thoughtful, caring, hard-working and happy" daughter.
A statement was read outside court on behalf of Pc Hughes's mother Sue, stepfather Mike, brother Sam and boyfriend Gareth.
It said: "She embraced everything she did throughout her life with total commitment and enthusiasm.
"She touched the hearts of everyone she came into contact with and who were part of her life."
The statement said the lives of Pcs Bone and Hughes were taken in the "most unnecessary and brutal circumstances".
"As for the man convicted of her murder, he has lost nothing. He had already committed two murders and was destined for a life in time behind bars," the family said.
"He chose on that day to murder our daughter and leave our lives completely devastated, a life barely worth living without her.
"Now the trial has concluded, he will return to his cell to live the rest of his natural life.
"We, however, will live with what he did every single hour of every single day for the rest of our lives."
Popular in the Community