The controversial leader of the English Defence League has admitted his real name is Stephen Yaxley, and that he is a former member of the BNP, in an piercing interview on mosque attacks, Nazi salutes and violence convictions.
"Stephen Yaxley is the name on my birth certificate. I was born to a father by the name of Yaxley, who I have nothing to do with. He is not my Dad, my dad is Thomas Lennon," the EDL leader admitted.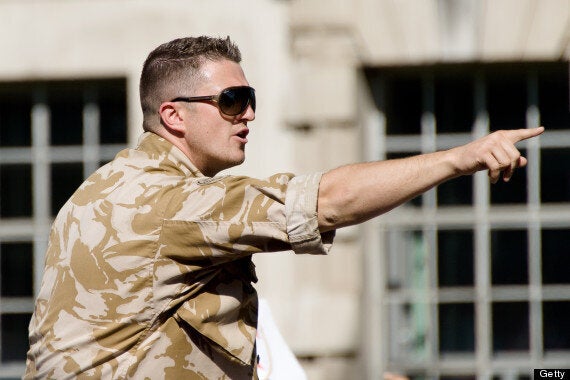 EDL leader Tommy Robinson gestures as he addresses supporters of the far-right English Defence League
He also admitted having been a member of the BNP in 2004, aged 20. "I was looking for a way out, I was looking somebody to be addressing this Islamic extremist problem.
"I joined for one year, I didn't know Nick Griffin was in the National Front, I didn't know non-whites couldn't join the organisation. I joined, I saw what it was about, it was not for me," he said.
Robinson drew fierce criticism for a speech in 2011, at a demo in London, you said: "Every single Muslim watching this... You had better understand that we have built a network from one end of this country to the other end, and we will not tolerate it, and the Islamic community will feel the full force of the English Defence League if we see any of our citizens killed, maimed or hurt on British soil ever again."
When challenged on that speech, Robinson insisted that 'the full force' meant democratic process.
"It is not a threat, it is a promise. We will keep tackling these issues. We are a pressure movement to put pressure on the government and the Islamic community."
"You didn't say you'd raise it with your MP, you said they would feel the 'full force of the English Defence League," Neil said incredulously. "And you said 'the Islamic community'."
"I don't think the Islamic community has done enough to address these issues. You are twisting the words.
"We said they would feel it "through the democratic process. All I said is that they would feel the force."
Robinson, who has several convictions, was challenged on whether he was a "violent man making violent threats".
"I am a working class man from Luton, I have made mistakes," he said. "What has got me on to this programme is what I am seeing. My violent offence was 10 years ago as a young man. I have done things I am not proud of. But I have been to jail and I have seen militant Islamism in jail. It is a threat not being tackled.
"We don't have people doing Nazi salutes, the pictures are manipulated, Islamism and Nazism are the same coin, we oppose both.
"Has anyone from the EDL blown anyone up or killed anyone? There is a massive undercurrent of anger. You have to harness that anger, to show people they can have their voice heard. Any time you criticise Islam, you get hit with a big stick that says 'racist'."
The BBC's Today Programme was been criticised for running a "gentle" interview with Robinson who used the pre-recorded interview to claim "the non-Muslim working class don't have a voice" and warn that "it's not going to end pretty".
He denied any EDL involvement with recent attacks on mosques, even suggesting the attacks had been carried out by Muslims, a claim he repeated on the Sunday Politics.
Related