The Moors Murderer is being assessed during a mental health tribunal which will rule if he can be moved to an institution that does not force-feed inmates.
The 75-year-old murderer, who has been on hunger strike since 1999 and is force-fed through a tube, claims he has faked psychotic episodes in the past, the tribunal heard.
The hearing, held in a room inside Ashworth Hospital on Merseyside and relayed by video to Manchester Civil Justice Centre where journalists and victims' relatives watched on TV screens, gave the first public sighting of the child killer in decades.
He and partner Myra Hindley were responsible for the murders of five youngsters in the 1960s.
Brady has been on hunger strike for over a decade. If the move is approved it will effectively allow him to starve himself to death.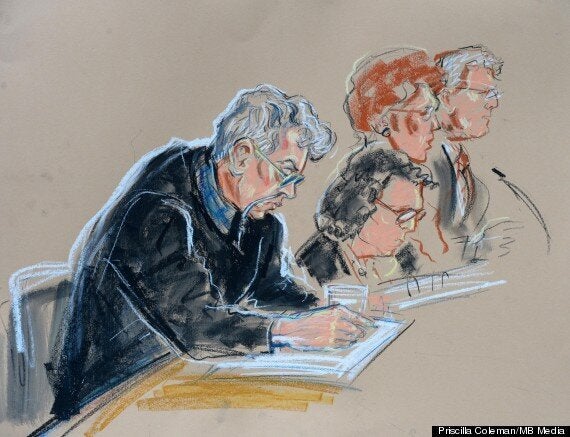 Ian Brady appeared in court via videolink
The first witness at the maximum security Ashworth Hospital, Merseyside, was Dr Cameron Boyd, a forensic psychiatrist, who is the medical member of the panel.
Dr Boyd gave a brief outline of what was said during four interviews he conducted with Brady over recent months.
"I asked if he wanted to die. He refused to answer that question," Dr Boyd said.
"I asked about previous behaviour that might be seen as abnormal, regarding to his offences.
"He said it was an existential exercise, personal philosophy and interpretation and in some way his behaviour was petty compared to politicians and soldiers in relation to wars."
It is the first time the killer has been seen in public for nearly five decades.
He could be seen occasionally on screen during the evidence, his pale face covered partly by metal-framed dark glasses, his wavy, greying hair in an untidy, Teddy Boy style.
Wearing a dark jacket, he sat hunched over, elbows leaning on the desk in front of him, between two female members of his legal team. A tube crossed his cheek, going into his right nostril and at times he appeared to be making notes off-screen with his right hand.
Dr Adrian Grounds was then called to give evidence, taking questions from Brady's lawyer, Nathalie Lieven QC.
Dr Grounds was taken through mental health notes made about Brady since he was first jailed.
The witness said Brady's behaviour was sometimes insulting, angry and hostile and he had been observed talking to himself on a number of occasions, giving rise to discussions as to whether these were symptoms of psychosis. The tribunal is the first time in decades that Brady has been seen in public
Dr Grounds said at times in the past there had been "very occasional" but "striking" episodes where Brady appeared to be hallucinating when he was talking to other people while alone in his room.
He said Brady had told him he feigned mental illness after learning the symptoms while working as a cleaner inside Wormwood Scrubs jail and adopting "acting techniques".
Dr Grounds said his conclusion was that evidence of psychosis was "equivocal" and, as Brady had received no treatment for such a condition, it showed they had not reached the threshold for compulsory treatment.
The witness said that, in his opinion, Brady has a very severe personality disorder, which he described as "paranoid narcissistic".
He added: "Characterised by superiority, self-centredness, contempt, hostility."
Dr Grounds said: "He's spoken on a number of occasions about wanting to go to prison so he would be able to die.
"He has no hope of release, he's realistic about that and although he would like a better quality of life in future he knows that won't happen and he thinks in prison he would be more free to end his life in his own way than is possible in hospital."
The witness said Brady was of the view that: "He could not be force fed in prison."
Eleanor Grey QC, representing Ashworth Hospital, which opposes any bid to transfer Brady to prison, cross-examined Dr Grounds.
Miss Grey said there had been "concerns" since 1967, raised by other medical experts, that Brady had been suffering from psychotic symptoms, possibly since his teens.
Dr Grounds agreed with Miss Grey that there was evidence that Brady concealed his condition, which had worsened in the years before he was transferred to hospital from jail.
Before that, Brady had claimed his cell was bugged, "rays" were being beamed into his cell, he was being given injections and taken out of prison under cover of darkness, which led the hospital to conclude, since 1987/88, that Brady was a paranoid schizophrenic.
Dr Grounds said: "That's correct at that time. We are 15 years on now and one has to take account of the evidence. The clinical picture has changed."
He said Brady had shown clear evidence of illness and the course of schizophrenia usually leads to a more general deterioration of personality and mental function - but that had not happened to Brady.
"I don't accept that he has schizophrenia," Dr Grounds added.
Earlier Judge Atherton told the hearing there would be no questions about the likely place of the body of Keith Bennett, who has never been found.
"The reason we shall not be making these inquiries is they are not relevant to the issues we have to decide.
"The whereabouts of Keith Bennett's body is not a matter we have authority to inquire about."
The hearing was adjourned until Tuesday.