A TV interview with the leader of the English Defence League has prompted complaints to the BBC - because some viewers grumbled that Andrew Neil was "too aggressive".
The corporation had previously drawn criticism for giving airtime to Tommy Robinson, whose far-right group has mounted a number of demonstrations in the wake of the killing of Lee Rigby last month.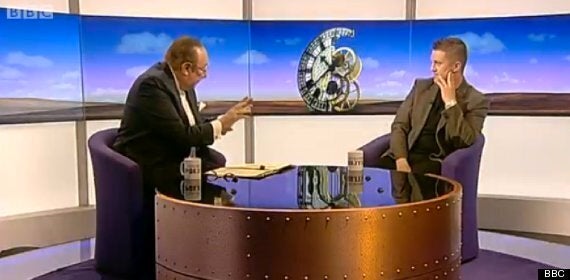 Tommy Robinson being interviewed by Andrew Neil
Programme bosses said the interview was fair and "well conducted" after complaints about the the way it had been conducted from some viewers.
In a message on the BBC complaints website, the programme team accepted some viewers may have found it "frustrating" that both Neil and Robinson had talked over each other towards the end of the slot.
They defended the decision to give him airtime as "editorially valuable" in light of the EDL being accused of an increase in Islamophobic attacks and said viewers had a chance "to understand more about the organisation through a testing interview".
Programme representatives went on: "Given that the EDL is not a political party but a loose organisation, discussion of the character of the group and its leadership is particularly relevant. It was a robust interview, as our viewers would expect, given the importance and significance of the issues being discussed.
"Mr Robinson was given ample time and space to reply to Andrew Neil's questions. He was shown video and stills of himself, and other EDL members, and again was given time and space to respond.
"Mr Robinson had 15 minutes on BBC1 on one our flagship political programmes and had the opportunity to put his case forcefully and clearly which he did. It is true that towards the end of the interview, Mr Neil and Mr Robinson talked over each other a few times and we appreciate some viewers may have found this frustrating.
"However, we believe the interview was fair, forensic and well conducted."
After EDL interview I've had death threats, been called a Muslim (whatever), an IRA sympathiser and of course a c***. All in a day's work.

— Andrew Neil (@afneil) June 16, 2013
Many on Twitter argued that Neil's stance was not unusual and he took similarly tough lines with all guests from across the political spectrum. The BBC presenter also tweeted that he had done a similarly harsh interview with Anjem Choudary, an extreme Islamist activist who led banned organisation Islam 4 UK.